by
posted on April 1, 2016
Kelsey Fields, 19, was awarded her Distinguished Expert qualification in the Winchester/NRA 50-foot standing course of fire at the Zeppelin Rifle Club Youth League's February 7 meeting.  Kelsey, the daughter of John and Kim Fields, has been shooting in the Youth League since 2012.
Kelsey entered Akron Early College in 9th grade, and earned her Associates degree at age 17 in arts at the University of Akron (UA). Upon graduating from the Akron Early College, she was awarded scholarships from the Akron Honors College, the Parent Teacher Association at Smith Elementary, Akron Early College, UA and the Masonic Lodge.  Kelsey has made the Dean's list at UA since her freshman year, having maintained a GPA of 3.95.  She is currently an interior design major and minors in business. 
Kelsey is a peer mentor at UA, and is employed at the service desk at Home Depot. She enjoys boating, camping, her golden retrievers, and is rumored to have great skill firing her dad's Model 19 Smith & Wesson wheelgun. 
Kelsey is a poised and intelligent young woman and she's one heck of a shot with a rifle!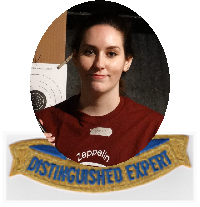 Way to go, Kelsey!  Congratulations!
This shooting club is full of talent!  Missy Snyder is another Distinguished Expert and member of Zeppelin Rifle Club Youth League.