by
posted on September 15, 2022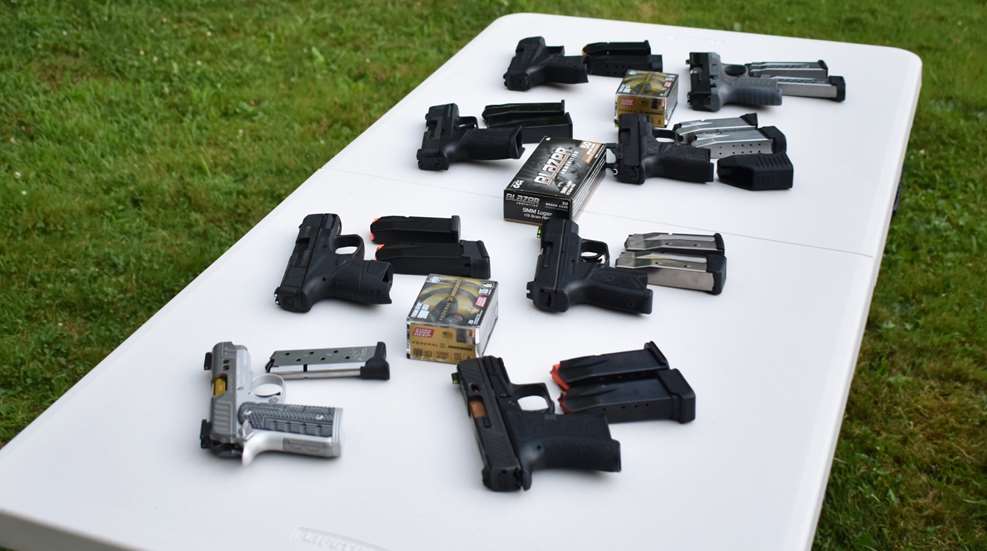 "What 9mm defensive gun do you recommend for me?"
This is a tricky question — one I've always been hesitant to answer. Every person is different and has varying needs, levels of comfort and abilities. What fits one person doesn't necessarily fit another. This brings up another point of contention: What is "fit"? Small concealed carry guns generally aren't a perfect fit for most consumers, simply because few hands are as small as a micropistol. They aren't usually as comfortable to hold or shoot as a full-size gun, but they are much easier to conceal.
Some contend there is a superior style of gun, a superior grip angle, a perfect size, etc. I've always contended that "superior" is in the grip of the beholder, so for this review I worked with eight different 9mm semi-automatic concealed carry pistols to get some answers. Most of the group were optics-ready, but magazine capacity, sights, style, weight, safeties and size varied. The motley crew consisted of a Kimber Micro 9, Mossberg MC2sc, Ruger Max-9, Savage Stance, Shadow Systems CR920 Elite, SIG SAUER 365X, Springfield Hellcat and Taurus GX4 T.O.R.O..
After ensuring each gun was unloaded, I laid them all out on a table next to one another. I enlisted my parents to be extra subjects in the experiment. Each of us picked up one gun at a time, held it, manipulated it and dry-fired it. I focused on the feel of the gun in my hand, the weight and break of the trigger, and how easy it was to acquire the sights. Each one of us had a different favorite, all for different reasons. What surprised me most is how my favorites changed when I loaded up the magazines and shot each gun.

Barrel Length: 3.4"
Capacity: 11+1, 14+1 extended, (10+1 available)
Sights: Optic-Ready, White 3-Dot sights, TruGlo sight option available
Weight: 19.5 oz. (Unloaded), 25 oz. (Loaded)
Safety: Trigger safety, manual safety (optional)
MSRP: $556, Retail: approx. $430
I've spent a lot of time with the Mossberg MC2sc, both personally and at Gunsite Academy where I put it through a few days of strenuous use including drawing from a holster, loading, unloading, and use under pressure. Besides an affordable price with great extended-mag capacity, the unique grip angle and stippled finger pads made this gun one of the most comfortable of the group to hold.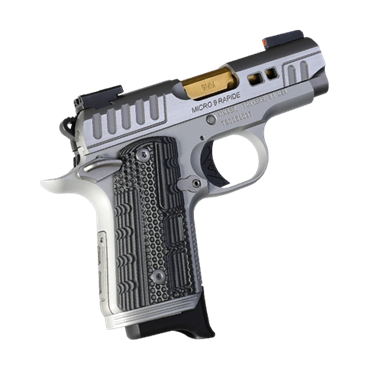 Barrel Length: 3.15"
Capacity: 7+1
Sights: Tru-Glo TFX Pro Day Night Sights
Weight: 15.6 ounces (unloaded)
Safety: Manual Safety, Loaded Chamber Indicator
MSRP: $986, Retail: approx. $886
As a big 1911 fan, I've carried a Kimber Micro .380 ACP for several years and I like the Micro 9 just as much. Though you lose out on capacity, this classic design is intuitive, and the exposed hammer makes it easy to see if it is loaded. This gun does have a small loaded-chamber indicator, but the brass blended in with the gold barrel of my test gun. Kimber boasts an incredible variety of Micro 9s with many color and grip options. I personally favor the Rapide series as I found the grips and serrations both aesthetically pleasing and highly functional. It was very easy to get a good grip on this gun. Kimber has optics-ready Micro 9s in the works as well.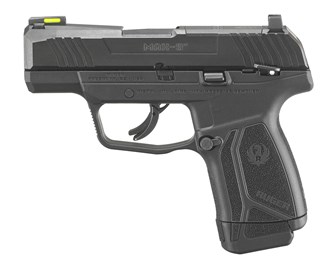 Barrel Length: 3.2"
Capacity: 10+1, 12+1 extended
Sights: Optic-Ready, Tritium Fiber Optic front sight, drift adjustable rear sight
Weight: 18.4 ounces
Safety: Trigger safety, manual safety (optional), loaded chamber indicator
MSRP: $579, Retail: approx. $430
The standout feature of this gun is the tritium fiber optic front sight. The green insert has a white ring around it, making the front sight even more eye-catching. This made it very easy to keep my eye on the front sight for accurate shots. It is compact and fits well in the hand with front and rear slide serrations for easy operation. The Max-9 quickly became my mom's favorite.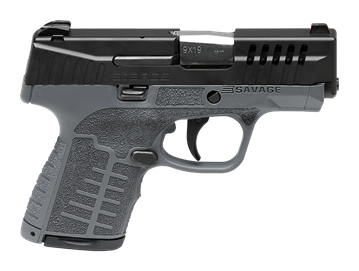 Savage Stance Gray Manual Safety Night Sights
Barrel Length: 3.2"
Capacity: 7+1, 8+1 extended, 10+1 magazine now available
Sights: 3-dot or Tru-Glo Tritium
Weight: 22 oz.
Safety: Manual safety (optional)
MSRP: $548, Retail: approx. $400 - $475
This is a new category for Savage, so I wasn't sure what to expect, but was pleasantly surprised. The gun was on the heavy side, so it wouldn't be my first choice for on-body carry, but the extra weight absorbs recoil and the gun was quite comfortable to hold. This model came with tritium front and rear sights and two interchangeable backstraps on a heavily stippled frame.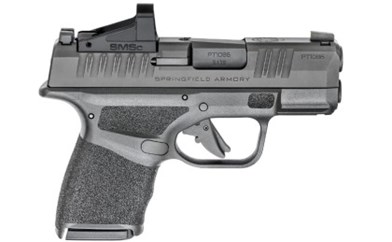 Springfield Armory Hellcat 3" Micro-Compact OSP Handgun w/Shield SMSC
Barrel Length: 3"
Capacity: 11+1, 13+1 extended, 15+1 magazine available, (10+1 available)
Sights: Optic-Ready with Tritium/Luminescent Front, Tactical Rack U-Notch Rear
Weight: 17.9 oz. w/flush mag, 18.3 oz w/extended mag
Safety: Loaded chamber indicator, trigger safety, manual safety (optional)
MSRP: $587 (no optic) to $827 with SMSc red dot
Retail: approx. $510 (no optic) to $705 with SMSc red dot
My test model had a red dot pre-installed, but the iron sights co-witnessed nicely. The rear sight had a unique U, which made acquiring a good sight picture quick and easy. The frame had aggressive stippling and stippled finger pads for reference. I found the grip angle a little sharp, so I'd personally consider an aftermarket grip or sleeve to make it more comfortable.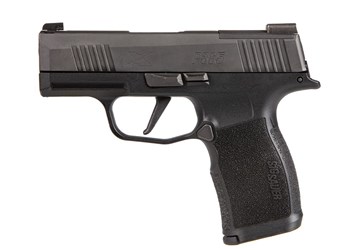 Barrel Length: 3.1"
Capacity: 12+1, 15+1 round available
Sights: Optic ready with X-RAY3 Day/Night Sights
Weight: 17.8 oz.
Safety: Manual safety optional
MSRP: $679.99
Retail: Approx. $642
My first few shots from this gun fell into a nice little group. I wasn't even really trying, which was likely the key, but I found it very easy to shoot accurately, at least at short distances. Smooth lines make this lightweight gun unlikely to snag while the extended beavertail prevents slide-bite. Day/night sights were easy to acquire. The gun feels a bit front heavy when empty, but balances nicely with a full magazine.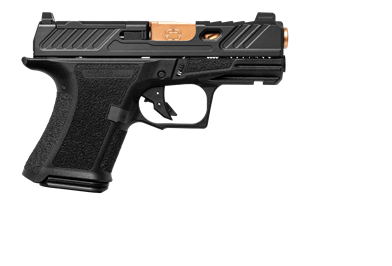 Barrel Length: 3.41"
Capacity: 10+1, 13+1 extended
Sights: Optics-ready, front Night Fision tritium and rear black
Weight: 17.8 ounces
Safety: trigger safety, loaded chamber indicator
MSRP: $940 for elite, $799 for combat model
Retail: Approx. $799 for elite, $679 for combat
The CR920 is very similar to a Glock 43x, but .75 inches shorter with the flush magazine and .25 inches shorter with the extended mag, plus three extra rounds. While a familiar platform, Shadow Systems integrated a host of both aesthetic and practical upgrades including generous stippling on the grip, backstrap and finger pads, and a window cut on the elite model. The standout feature of this pistol is a patented multi-footprint optic cut which allows for direct-to-slide mounting of many red dots with small inserts for a tight fit. The included sights co-witness in the lower third of most popular red dots.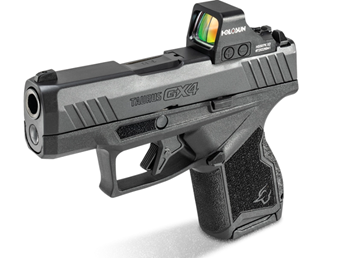 Barrel Length: 3.06"
Capacity: 11+1, 13+1 extended, (10+1 available)
Sights: Optic-ready, fixed steel white dot front, serrated drift adjustable rear
Weight: 18.7 oz.
Safety:  trigger safety, loaded chamber indicator
MSRP: $468.18
Retail: Approx. $355
The most affordable pistol on this list, the Taurus GX4 T.O.R.O. is a great value. Optics ready with front and rear slide serrations and 13+1 extended round capacity, it has all the basics covered. Night sights are not offered as a factory option, but companies like XS Sights have a wide variety available. Also missing is a Picatinny rail, but I wouldn't call that a deal breaker for most.
I would not hesitate to recommend any one of these guns for personal protection. Each is concealable and functioned reliably with Federal target and personal defense ammunition. Which you choose largely depends on your budget, preferences and needs. What do I mean?
The Kimber Micro 9 was the lightest of the bunch at 15.6 ounces unloaded, but had the lowest capacity (7+1) of all guns tested. If capacity matters most to you, the Springfield Armory Hellcat, Shadow Systems CR920 and Taurus GX4 T.O.R.O. are all good options with 13+1 extended magazines. The Hellcat's flush magazine edges out the CR920's and GX4's flush magazine capacity by one round and the SIG SAUER P365x by two.
However, both the Hellcat and 365X have 15+1 magazines available, tying them for top prize in this category. While many of these guns are available with a manual safety, of the guns tested, the Ruger Max-9 and Springfield Armory Hellcat OSP had the most safety features available with a trigger safety, manual safety and loaded chamber indicator. Looking across several popular retail sites for updated pricing, the Taurus GX4 T.O.R.O. leads the affordable category with an approximately $355 retail price tag. This gun gives you a lot for the money. Moving the budget to $450 and under, options open to the Savage Stance, the Mossberg MC2sc and the Ruger Max-9.
As you can see, the question of which 9mm deep-concealment pistol is actually best answered not by me ... but by you. Whenever possible, try before you buy, because you may just be surprised by which gun works best for you!