by
posted on June 2, 2021
Shooting started out as nothing more than practice for hunting for rising shooting star 19-year-old Reanna Frauens. She grew up hunting with her father and shot clay targets to practice for bird season. Eventually they joined Quail Creek Plantation and began shooting sporting clays every month just for fun.
According to Reanna, the outdoors has always been a major part of her life. She began competing in archery at age 9 and continued until age 15, when clay shooting took over. Reanna joined the club's SCTP (Scholastic Clay Target Program) youth team, the Young Guns of Quail Creek, as a high school freshman. "As a hunter," Reanna says, "I grew up shooting firearms and developed a love for shooting that has allowed me to propel within the sport."
Reanna is a two-time SCTP Lady HOA National Champion and has also claimed multiple regional and state titles within the SCTP. In 2020 she won the NSCA (National Sporting Clays Association) Lady Fitasc National Championship Title and the K-Kup Lady National Championship Title. This year, she was named Captain of the 2021 Ladies All-American Team as well as the 2021 Florida State Sporting Clays and Fitasc Lady Champion.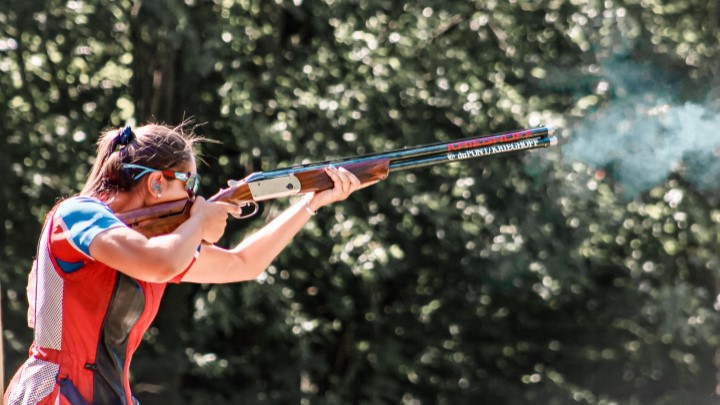 Currently sponsored by Krieghoff International, duPont Krieghoff, PMS Firearms and Remington Ammunition, her journey is well supported. She competes with a 12-gauge Krieghoff K-80 Sporter with 30" barrels. PMS Firearms supplies Pilla Performance Eyewear and custom molded ear plugs. She shoots Remington STS in sporting clays and Remington Nitros for Fitasc, all while wearing a Shoot the Moon custom vest.
"As a national competitor," she said, "shooting has taught me more about myself and the way I perform under pressure than any other sport I have ever participated in. It has taught me perseverance, courage, dedication, poise, grit, and confidence, just to name a few. As a full-time college student, I've learned the importance of time management and balancing between being a great student and competitive shooter. Also, being a female in a male-dominated sport has taught me how to embrace the challenges thrown my way and overcome adversity."
She has truly taken these things to heart, aspiring to make Team USA for Sporting Clays and FITASC, and win a world title. She would also like to win US Open and National Sporting Clays Titles. Looking beyond the women's category, Reanna desires to win an overall title against all competitors.
Marksmanship doesn't discriminate. The inclusivity of the shooting sports is Reanna's favorite thing about it. "One's height, weight, agility, strength, speed, age, or gender does not determine whether or not that person will become successful. Competitive shooting consists of a level playing field that houses athletes of all physiques."
Whether you are new to shooting sports or looking to improve, Reanna suggests you find a coach whom you connect with personally and mentally. "It is often difficult to switch between multiple coaches when they all teach different ways of approaching certain target presentations. By finding a successful coach who teaches a style in which you feel comfortable, you will propel within the sport and become a consistent shooter."
Off the range Reanna is a full-time college student majoring in Animal Science at the University of Florida with plans to become a large animal veterinarian. In addition to shooting, archery and hunting, she is also an equestrian. "I've been an equestrian for many years and currently volunteer at a therapeutic barn where I train horses and teach handicapped children how to ride. I am also a volunteer coach for my former SCTP team and enjoy passing on my knowledge of the sport to novice shooters." In all these areas of her life, Reanna looks to give back, making her an even more wonderful role model in the outdoor space.