by
posted on March 1, 2021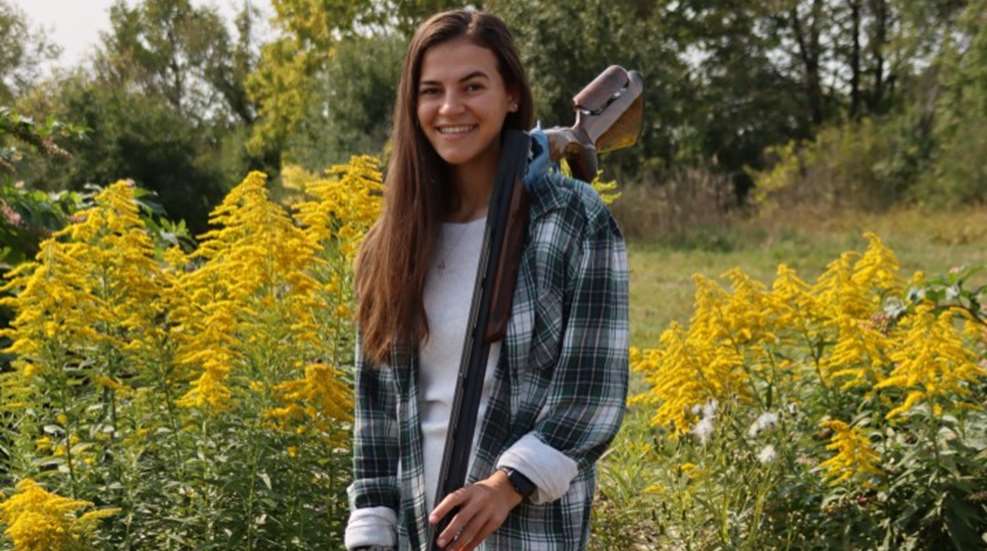 Sometimes inspiration comes in a 12-gauge shell. Eighteen-year-old Amy Cawley of Rochester, New York, never thought she would be looking there and never dreamed she would be entering college as a sponsored shotgun shooter.
Amy's first experiences with firearms came at age 12, along with an extra kick. "The gun I had been using clearly did not fit me," she said. Not a fan of the recoil, she made the conscious decision to stick with soccer and to only shoot "once in a great while." Several years later, during her freshman year of high school, Amy was forced to make a difficult decision. "I suffered several injuries and was faced with the choice of getting surgery or hanging up my cleats for good."
She decided that she did not want surgery and ended her soccer career. As a competitive person she immediately sought out another sport to fill the void, and decided to try shooting once more. This time, something clicked. She competed with the USA High School Clay Target league for two years and began competing with the Scholastic Clay Target Program in the fall of 2019.  
Her older brother, Michael, had been competing in the National Skeet Shooting Association for years prior to Amy's involvement. Amy says that it was her brother's passion for the shotgun sports that led her to get involved competitively when she was searching for something new.
Amy competes in skeet, trap and sporting clays, and spends about equal time on each, though skeet is her favorite. She competes with a Kolar Max Skeet 30-inch 12-gauge and carrier barrel (adjustable rib) and a full tube set. Sponsored by Gustin Sports Optics and ESP, she uses the Pilla Outlaw X7 series glasses and ESP Apex model hearing protection. It isn't just about sponsorships, but relationships. "Mr. Gustin [of Gustin Sports Optics] was really one of the first people to believe in me when I first began my shooting journey," Amy says. "When he set me up with my Pillas and I put them on for the first time, I was determined to achieve great things."
It follows that Amy's favorite things about competitive shooting are the people and positive community spirit. "When I played soccer, the other team was your 'enemy', but that's not the case in shooting. At competitions, your competitors cheer you on and close friends quickly become like family. There is truly nothing like attending a big competition and coming home with new friends from all across the country."
Few outside the shooting sports truly understand the bonds formed between competitors and others with the same interests. Amy seeks to share this with others through content creation and social media. She is a contributor to Junior Shooters Magazine as well as a YouTuber (@hershootingjourney) and up-and-coming Instagram influencer (@hershootingjourney). She also describes herself as a dedicated student and passionate Christian.
Her shooting journey has taken her many places. She placed 3rd in Skeet at the 2020 SCTP National Championships and recently signed with Winchester Ammunition for the 2021-2022 season. She will also be attending Midland University in Nebraska as a member of the shotgun sports team and plans to study communications and digital marketing.
Besides scores and titles, Amy is most proud of improving her mental game, a specific goal she has been working towards over the past two years. She also noted how resilient the shooting sports have made her. "It's important that even if that last target didn't break, you immediately set your focus on the next one," she said. "This is not a sport that allows you to dwell on the past, and those who have allowed those thoughts inside their head know it will only cost you targets. Recognizing that lost targets are opportunities to learn is what will help you to grow into a strong, successful competitor. Hard work and continuing to get back up time and time again is the only way to build consistent results."
While Amy talks in terms of targets and clays, lessons learned on the range truly apply to other areas of life. When faced with a life-changing injury, Amy chose to pick herself up and pursue a life-changing path, one that she now cannot imagine any other way.
Though starting something new can be scary, she advises new competitors to step outside their comfort zone and talk with others. "Building those connections now," she says, "will be hugely beneficial in the long run." The shooting sports are for everyone. You can begin competing at any age and continue for as long as you desire. Amy considers herself blessed and is grateful for the friends she has made in her fellow competitors, friends she looks forward to shooting alongside for years to come.