by
posted on June 30, 2022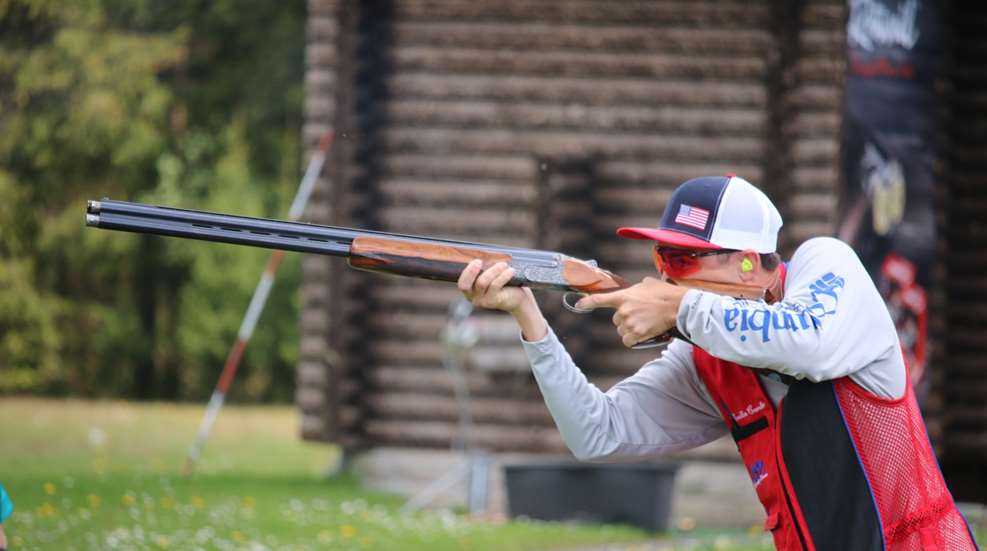 Grassroots programs play a significant role in recruiting youth into the shooting sports. For 18-year-old Emilio Carvalho, it was the Kerman 4-H program. Coach Mike Kissenger introduced Emilio to Fresno Trap & Skeet when he was in elementary school. As he grew older, Emilio joined the Los Banks Tiger Trap Youth Team in Los Banos to compete in California Youth Shooting Sports Association (CYSSA) events. 
Currently a resident of Tranquility, California, Emilio specializes in shotgun sports, specifically trap. He has competed in CYSSA, SCTP and ATA events for years, having shot American Trap since the age of 9. At age 13, Emilio reached a 27-yard handicap, the distance assigned to only the most skilled shooters.
A year after achieving this monumental goal, Emilio applied to the SCTP Olympic Trap Development Camp and was selected to attend. The five-day camp was held at the Olympic Training Center in Colorado Springs and offered Emilio the opportunity to train with current national team members and coaches. This experience set Emilio on a journey to an even higher level of competition.
That same summer, Emilio made the 2018-2019 SCTP Olympic Trap National Team. The following year, he joined the USA Shooting National Development Team after earning a bronze medal in the Junior Olympics. Keeping on this impressively fast track, 2020 brought Emilio a spot on the USA Shooting National Junior Team. Sadly 2020 also brought strange times for the entire world and cancelled the Junior World Championships Emilio was to attend in Suhl, Germany.
Undeterred, Emilio continued to train and put in work, making the USA Shooting National Junior Team for the second time in 2021. He finally had the chance to travel, competing at the Junior World Championship in Lima, Peru. "I ended the competition in 8th place, igniting my passion for competing on a world level," he said.
This January Emilio expanded beyond the junior level, not only beating out his peers but others older than him for a spot on the USA Shooting National Men's Team. "I am the 6th member of the six-man team," he noted. "This team consists of the (2) 2020 Olympians, (2) US Army Marksmanship Unit members, Jake Wallace, and myself, [an] 18-year-old high-school student." A high school student on a team with former Olympians and members of the elite Army Marksmanship Unit…Emilio is not your average teenager.
In addition to the National Men's Team, Emilio competed with the USA Shooting National Junior Team in men's trap this year in Suhl, Germany. "During our match my teammates and I battled out against team India, earning ourselves the GOLD Medal! It was a humbling experience to be on top of the podium with my teammates, and to have them playing our National Anthem while we were in Germany nonetheless, was extremely humbling."
Finally having the opportunity to travel to Germany after the cancelled 2020 Junior World Championships confirmed Emilio's nascent love for international competition. "I've learned I enjoy meeting other athletes from all the other nations," he said. "We may not speak the same languages, but the love of the game is universal enough."
Even with his world experience, Emilio hasn't forgotten his roots. "When I am not training or competing, you can find me working on our agricultural farm here in Tranquility. As the fourth generation to be working alongside my dad and grandpa in our row crops, almond and pistachio trees, it's here where I remember my biggest supporters; my small community." Emilio graduated Summa Cum Laude this spring and will be attending Cal Poly in San Luis Obispo to pursue Ag Systems Management this fall.
Aside from his remarkable list of accomplishments at such a young age, Emilio is impressively grounded and grateful for the opportunities he has had. "My time spent in USA Shooting has been filled with much growth, mentoring, and taking in as much knowledge as I can," he said. "I have been fortunate to be trained by world class athletes and Olympians. I look forward to my future endeavors with USA Shooting."