by
posted on March 23, 2018
The weather is changing and so should your purses. Here's our list of concealed-carry accessories, purses and bags you need to match your colorful, fun and fast summer lifestyle.
Packin' Neat Tactical by Kristin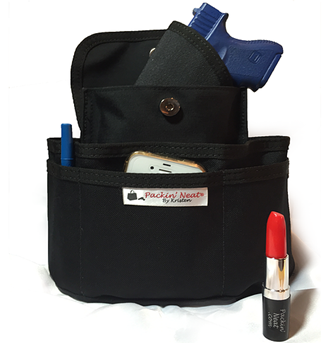 The Packin' Neat Tactical by Kristin is a concealed-carry purse insert that fits into a variety of bag sizes and shapes. The combination holster and organizer has numerous pockets and pouches for your gun, additional magazines, wallet and other items. The gun holster is located on the backside of the Packin' Neat Tactical—it has a magnetic snap to conceal your firearm and is manufactured with gripping products to firmly secure your gun. The holster comes with four inserts—compact, sub-compact, revolver and other—that fit into the holster, fasten, and position your gun at the ready. The Packin' Neat Tactical is an economical investment for the women who is never without her gun and never without a new purse. Visit their website for a video demonstration, customer reviews and to place your order. MSRP $79.95.
Gun Goddess Buffalo Leather Concealed Carry Duffel Bag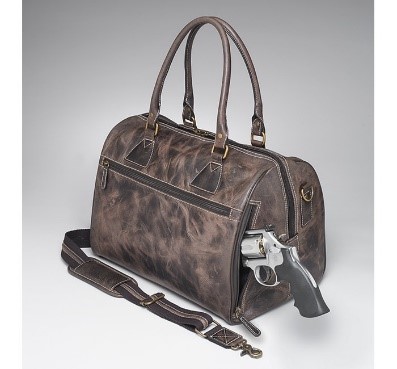 If there's one thing to look forward to when summertime comes around, it's traveling! Kids are out of school, the weather is wonderful, and seasonal summer towns come back to life. The Buffalo Leather Concealed Carry Duffel bag produced by Gun Tote'n Mamas is available at Gun Goddess. The bag opens wide for easy packing, can fit a change of clothes as well as toiletries and has a textured basketball pvc bottom for protection against wear. The zippered gun pocket is ambidextrous, lined with padding to prevent gun printing, and includes a holster. The slash-resistant shoulder straps are lined with 11-ply steel wire. The bag itself is beautifully made with vintage tanned, full-grain distressed buffalo leather. Take this bag on weekend trips or as an easy-to-access smaller bag for longer vacations. Order yours today! MSRP $249.
Concealed Carrie Smooth Red Leather Tote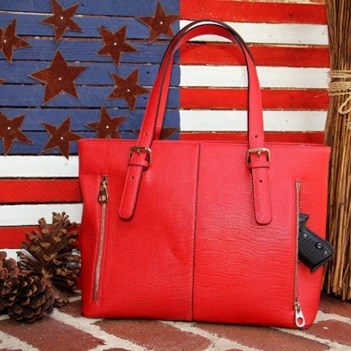 This summer do not hold back on your brightest of bright colors—this tote sure isn't! The Smooth Red Leather Tote by Concealed Carrie has a classic tote shape and is made of eye-catching red leather. The large cotton-lined main compartment with a zipper closure offers plenty of space and pockets for your personal items, and the adjacent compartment is large enough to hold a tablet. The separate concealed carry pocket is accessible from the interior magnetic closure or zippered exterior and allows for access to the firearm for right- or left-handed shooters. Aren't you already planning out a few outfits with this purse? Order at shop.ConcealedCarrie.com. MSRP $249.
Cody Deluxe Paisley Range Bag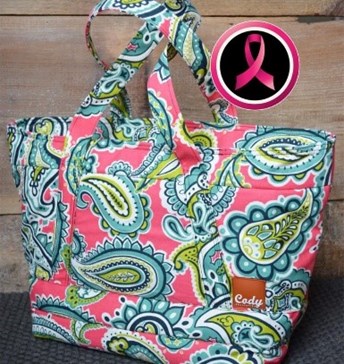 What's better than going to the outdoor range on clear day, with blue skies, a nice breeze and a temperature of 85 degrees Fahrenheit? All that and showing up with the cutest range bag. The Cody Deluxe Range Bag in Paisley available on Gun Handbags.com, has room for your shooting gear and then some. Small accessory pockets on each end hold little things like eye protection, cell phones and keys. The roomy center can hold two handgun cases and has eight magazine slots. The bag is fully padded and features a nylon lining for durability and easy cleaning. Order yours here. MSRP $179.95.
Galco Solitaire Holster Handbag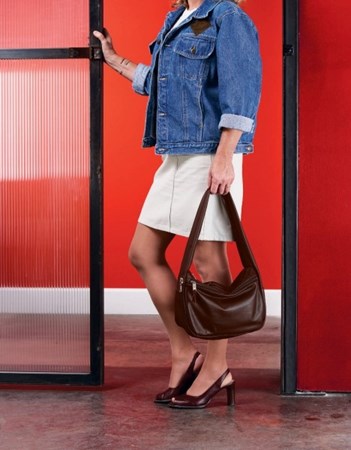 The Solitaire by Galco Gunleather is a soft hobo-style bag that comes in brown or black full-grain leather. It's a concealed carry purse that's really suitable for all seasons and would be the perfect accessory for a warm day or night on the town. The durable bag has a zippered main storage compartment for all your personal items and another zippered pocket in front. The self-contained side-entry holster compartment accommodates small and large-frame firearms. An elastic holster pocket with a Velcro safety strap is mounted on a reinforced panel that can be placed at the back or center of the bag. The holster holds the handgun at a position conducive for a quick confident draw. Order yours today! MSRP $172.95.
NRA Rio Bravo CCW Leather Briefcase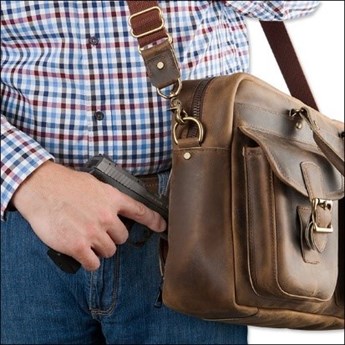 This is the satchel for gun owners. The Rio Bravo CCW Leather Briefcase was designed exclusively for the NRA Store by Coronado Leather. The bag is made from thick, tough saddlebag cowhide, is hand sewn, and designed with a distressed vintage style. Along with looking like Indiana Jones' doppelganger, this bag will help keep you safe. The backside of the satchel has a key-locking CCW holster pocket for reliable concealed carry. Loaded with detail and top quality accessories, the NRA Rio Bravo CCW Leather Briefcase is for anyone who carries concealed day in and out. Visit the NRA Store to place an order. MSRP $239.95.
Sweet Daisy Defense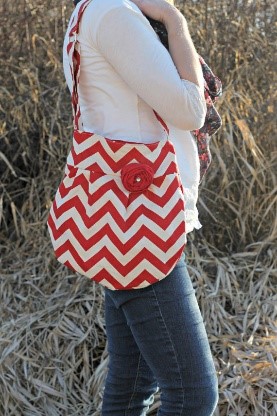 I have to say, I was surprised that this was a concealed-carry purse. CCW purses are usually leather and/or sit upright and adhere to a certain style. Sweet Daisy Defense decided to break the traditional mold.
Their line of concealed-carry purses are fashionable, tactical, versatile and meet a bohemian-type style yet to be tapped in the concealed-carry purse world. Sweet Daisy Defense's red chevron small cross-body CCW handbag measures 13 inches wide and 13 inches high. It features an adjustable strap, strong magnetic snap closure, and two inside pockets. The separate padded concealed-carry pocket can be accessed from either side of the purse, has an optional Velcro or zipper closure and is manufactured with a universal holster mounting system. If you carry concealed, carry your way over to Sweet Daisy Defense on Etsy and order yours today! MSRP $74.99
Gun Tote'n Mamas Blue Town Tote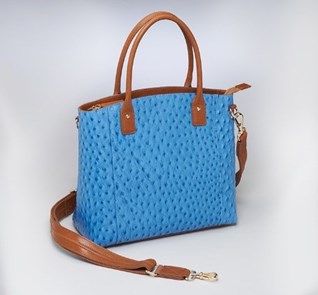 This bag was made for summers. Gun Tote'n Mamas have combined a bright, eye-catching blue with a complimentary warm tan leather to make a really attractive purse. The purse is made of American debossed ostrich pattern cowhide, features slash-resistant straps, and an outside back zippered pocket.
The gun you will be tote'n is stored in the back. A special padding in the concealed-carry pocket prevents gun imprinting, and the compartment can be accessed from either the right or left. It's also been tested with over 10 firearms. It's durable and features metal footing on the bottom to further prolong the life of the purse. Visit Gun Tote'n Mamas for more details on this bag, as well as many others, and order yours today! MSRP $235.95.
Can Can Concealment Garter Holster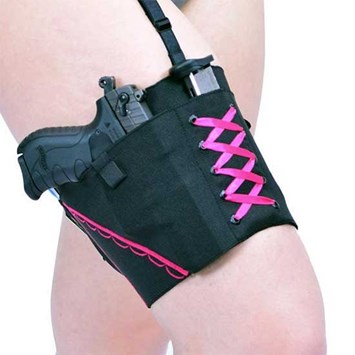 Get out your pleated skirts, maxi-dresses, circle skirts, lace dresses, asymmetrical skirts, flared dresses; get out all the skirts and dresses! OK, this isn't technically a purse, but we couldn't pass up the garter holster by Can Can Concealment. It's for those who ditch the pants and shorts when warmer weather arrives. The five-inch military-grade elastic is combined with hypoallergenic non-slip tacti-grip to keep your holster in place, and thus your firearm in reach. The Garter Holster comes in three different sizes depending and each size holds an extra magazine. If you want thigh carry and you want comfort, look no further. Visit Can Can Concealment for all their products and to order your Garter Holster today! MSRP $66-75. 

If you enjoyed this article, click here for our chic CCW picks for fall/winter 2016! !

Why not sign up to receive our weekly newsletter? It's free and membership is not required. We do not sell or rent e-mail addresses to entities outside the NRA.