Interested in unique, handmade CCW purses? Click here for a photo gallery of some 2017 must-haves.

Why not sign up for our newsletter? It's free and membership is not required. We do not sell or rent e-mail addresses to entities outside the NRA.  

Purses are an effective way to transport all your essentials (and "essentials"), in a fashionable way. And if one of those essentials is your handgun, well then we have a list for you. Below are our favorite 10 concealed-carry purses, bags and carriers ranging in size, price and looks.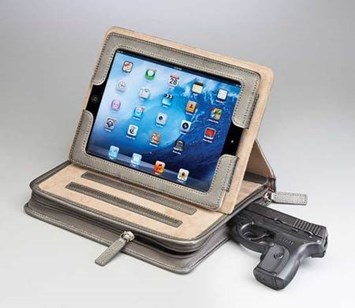 1. Gun Goddess Leather iPad
Concealed Carry Case
How absolutely convenient would it be to have your iPad and handgun in one case? Well, Gun Goddess knew how convenient, and they're even offering it in four designer colors. The Leather iPad Concealed Carry Case, found on Gun Goddess, is made from tumbled, full-grain, drum-dyed leather, holds iPad 2, 3 and Apple Air or similar-sized tablets, and is equipped with an easel that props up to make three different positions. Your iPad or tablet sits on top protected by suede material, while your handgun and extra magazine cozy on in underneath. The Leather iPad Concealed Carry Case has an MSRP of $105, and can be ordered here.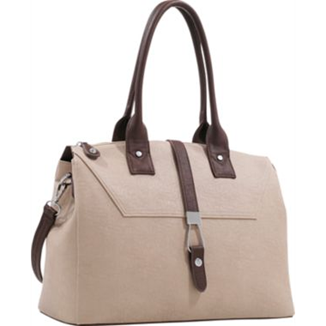 2. Emperia Concealed-Carry Tote
Emperia has found a gorgeous medium between concealment necessities and aesthetic appeal. Their Concealed-Carry Tote is constructed in faux leather, offered in three colors, and has a fully-padded concealed compartment for your firearm. The purse's main compartment comes with a plethora of pockets for organization—or over-packing—and the full-padded concealed compartment is lined with heavy-duty cotton canvas to protect and conceal your weapon. Currently Cabela's, indeed the World's Foremost Outfitter, is offering this handbag for $59.99 (plus tax and S&H) so visit now and order yours!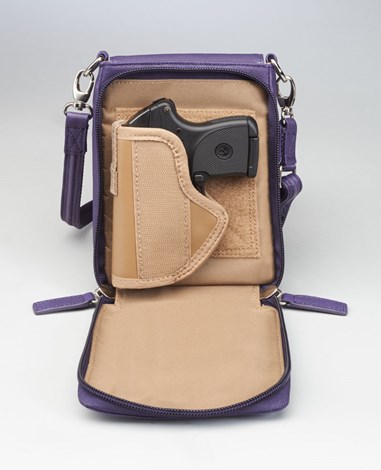 3. Gun Tote'N Mama's X-Body Smart Phone Pouch
For those who pack light on a daily basis, or who need a bag for a night out when only the essential of the essentials are needed, adding Gun Tote'n Mamas X-Body Smart Phone Pouch to the accessory trove is a good choice. Its front flap opens to hold your smart phone (or that reliable Nokia 5140i), a flat wallet, keys and other small items, while the back dual-zipper pocket contains your handgun (tested to hold the Kahr 380, Kahr 9 and Ruger LCP, and will fit guns of similar size). And of course the back pocket has special padding to prevent gun imprinting, but this bag goes above and beyond. It's also made with straps that are reinforced with 11-ply steel wires, making them slash-resistant. Go knock on Mama's door, and order yours today in either black, blue, purple (pictured) or gunmetal metallic. MSRP of $74.95.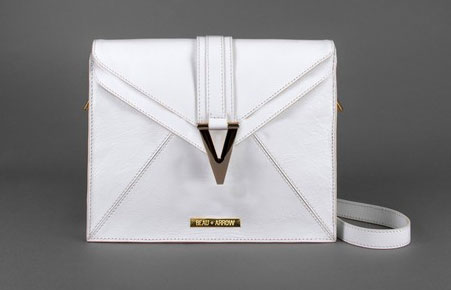 4. Beau + Arrow Lillian
Beau + Arrow is known for their sleek, haute style, long-lasting materials and top quality manufacturing, and ability to hide your firearm until you need it. Their Lillian bag is no different. Made of 100% Texas leather, this cross-body bag is petite enough to not be a cause for distraction or inconvenience, yet can contain your phone, wallet, keys and other small items, all while discreetly containing your firearm. The concealed compartment is ambidextrous, with zippers located on both sides, and includes sturdy Velcro backing for a fitted, removable holster with trigger guard. Don't let the MSRP dissuade you, for it's a bag that will help you last a lifetime. MSRP $405, visit Beau + Arrow for more information and beautiful handbags. (To learn more about the company, check out our interview with the company's owners here.)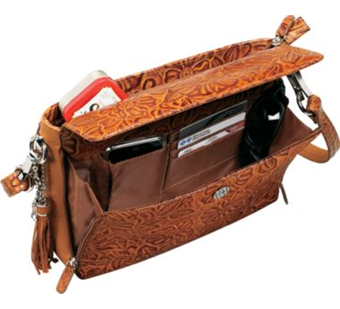 5. Gun Tote'n Mama's Concealed-Carry Tooled Handbag
The Concealed-Carry Tooled Handbag is another beautiful bag from the secret lair of the Gun Tote'n Mamas. This purse is made of tooled leather, and with its floral imprint, offers that vintage look that is so hot right now. Separated into two major compartments, this bag offers plenty of room for your daily items and necessities in its main compartment, and the outside back compartment zips open on three sides for easy and sure access to your firearm. Gun Tote'n Mama's know how on-guard purse carries need to be, so for ease-of-mind the straps of this Concealed-Carry Tooled Handbag are slash-resistant. Visit Gun Tote'n Mamas or Cabela's to order yours in either cherry or tan (pictured). MSRP $95.99.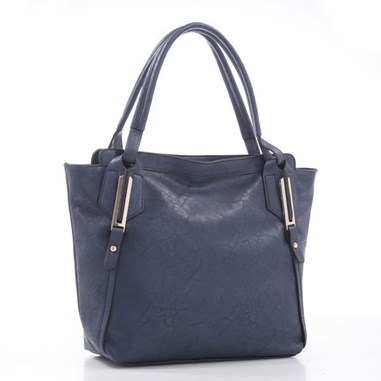 6. Gun Goddess Cherokee Concealed-Carry Hobo
Hobo totes are the modern-day Mary Poppin bags. They are able to store everything you need (cell phones, wallet, Band-Aids) and everything you don't (Blockbuster cards, lamps, blow dryer). Yet, do you still feel like you're missing something? Well, Gun Goddess has improved the hobo bag, made it functional for concealed-carry, and now you can bear your handgun discreetly and safely. The zippered main compartment features an interior zipper pocket and open cell phone pockets. The concealed compartment is located on the back of the purse, has two zippers and comes with a removable holster so that your gun is stored securely, but within reach. Ride the rails over to Gun Goddess to order your concealed-carry hobo today. MSRP $69.99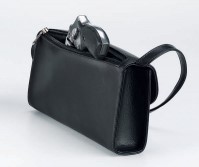 7. Galco Leather Bebe Holster Handbag
The Bebe Holster Handbag by Galco Gun Leather is terrific for an evening out. Its sophisticated look and compact clutch size, make it a perfect accessory for when you need to look your best in every facet. Yet, what really makes this handbag the best purse to go along with your classic evening outfit is what it's designed to hold: your firearm. Upon opening its full-length zipper, you'll see the bag has an elasticized holster to secure your handgun. The holster is set at an angle for easy access, and the purse's interior is fully lined to adhere to Webster's definition of "conceal." The Bebe Holster Handbag is made to fit compact semiautomatics and small-frame double-action revolvers. So before you pick between scallop sashimi or pork rillette, pick out Galco's Bebe Handbag as your clutch of choice. MSRP of $299.95.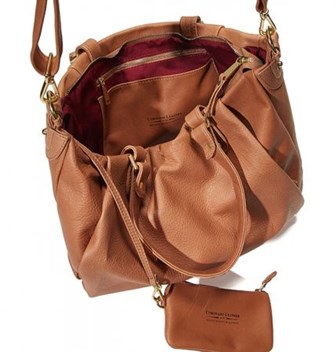 8. Coronado Leather Adele Tote
Another tote bag needed to be added to our list, and that tote could be none other than the Coronado Leather Adele Tote. It's beautiful, and made from full-grain naked cowhide leather, with solid brass hardware. It is large enough to use as an overnight bag, yet so stylish you'll want to wear it out, and often. Its exterior pocket is where you conceal your firearm. The pocket is made of a tough inside liner that withstands the weight of your gun, contains an adjustable and removable holster and an inside hook-and-loop surface to secure the holster and firearm at an angle that suits you best. The Adele Tote bag has pockets, zippers and pouches galore, providing ample space and separation for you items. Order yours now, MSRP $399.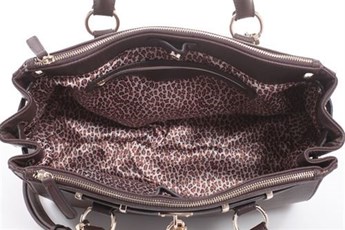 9. Lock Satchel The Well Armed Woman
Deemed "THE bag for ladies who love compartments," The Well Armed Woman website features the Lock Satchel in black or brown. Reminiscent of the Buxton Over the Shoulder Organizer, this multi-compartment bag is a blessing for those who need constant organization as well as proximity to their handgun. Its main compartment features a snap closure, zipper pocket and two open pouches. Additionally the Lock Satchel features large exterior zippered pockets on both sides, yet none of the aforementioned pockets, pouches or compartments are for your concealed-carry weapon, that's next! The concealed compartment on the back of the bag and has zippers on each end for right- and left-handed carriers. The thick exterior guards against printing, and a removable holster is included. The Lock Satchel has an MSRP of $75.99 and can be purchased at The Well Armed Woman web site.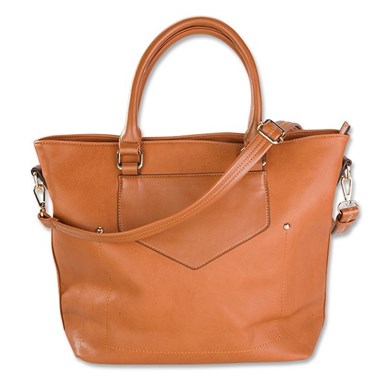 10.  NRA CCW Shoulder Bag
For this great find you don't have to brave the endless and overwhelming Amazon…Amazon.com that is. The NRA store has a wonderful selection of concealed-carry purses, such as their shoulder bag. The NRA CCW Shoulder Bag is roomy. It's outfitted with pockets to hold your valuables and an open main compartment for large items, so it's a challenge to over pack. The concealed lined pouch is equipped with a hook-and-loop and a repositionable holster that can hold most small- to medium-frame handguns. The Shoulder Bag comes with a removable adjustable straps, making this bag versatile. Order your NRA CCW Shoulder Bag here, MSRP $44.95.