If you've made the conscientious decision to carry a firearm off your body, you'll want the best bag you can afford. Here are three tried-and-true manufacturers of superior concealed carry bags in the industry. Here are some important design features that these companies include in their lines.

Gun Tote'n Mamas—Fastest Bag Draw on the Planet
In 2008, Kingport Industries, parent company to Gun Tote'n Mamas, rented a booth at the Shooting, Hunting, Outdoor Trade (SHOT) Show thinking it would be a perfect venue for its leather luggage and leather goods company, and that buyers would glom onto its leather luggage and new wildlife wallet series. 
"No one bought any of the luggage or wallets, but more than 100 people asked if we could make concealed carry handbags," said Claudia Chisholm, president and co-owner of the company. She continued, "With so much input at that show, Gun Tote'n Mamas was born and we came back to SHOT 2009 for our real launch." Chisholm hung the company's now highly recognizable poster in the booth as the only decoration. It features some of the women of the company, wearing black shades and expressions similar to "Men in Black."
"I still remember how our poster stopped everyone long enough to see quality and affordability," added Chisholm, who said the company still uses that photograph as a testament to female empowerment.
Gun Tote'n Mama's bags offer easy, safe and immediate access to a firearm. "It can't look like it holds a firearm, otherwise the bag defeats the purpose," stated Chisholm. "And it must be made with quality materials and construction—such as seams that can't rip and zippers that don't fail." Nothing can impede the split-second draw necessity, which means the bag's body must not collapse over the gun pocket.
The company offers 51 styles in various colors, with 10 of those styles introduced this year. One of the most popular bags, the vintage messenger bag, is co-ed ready and comes in American range buffalo—a distressed finish. Watch for a rolling range bag later this year.
With input from acclaimed firearms instructor Kathy Jackson, it sells what "SWAT" magazine has tested, in a field of six other companies, to be the "fastest bag draw" item (GTM 99) on the market.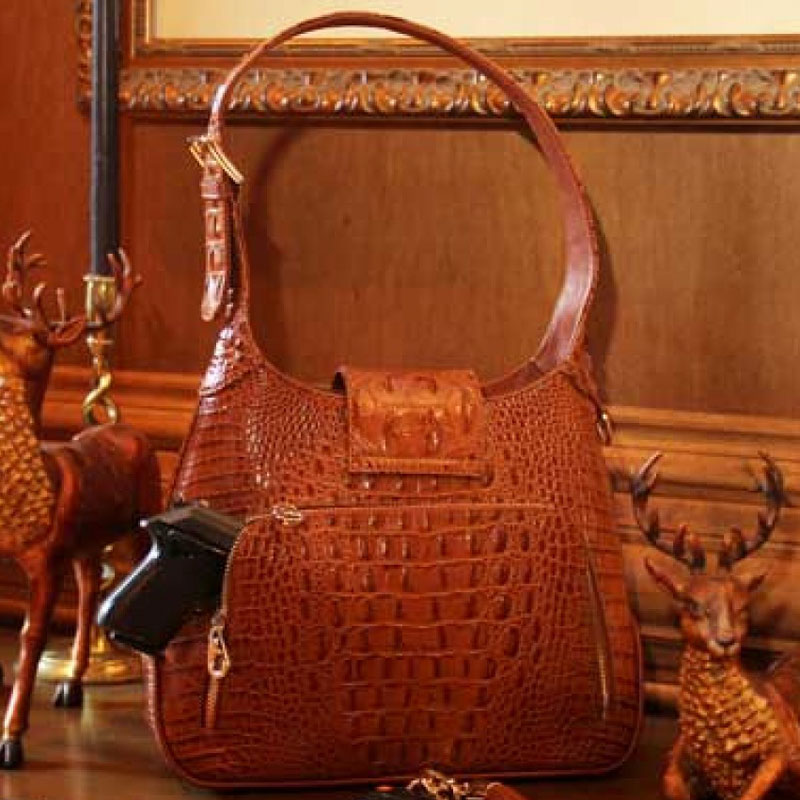 Concealed Carrie—Fashionista Philosophy
Leslie Deets owns Georgia's largest indoor shooting range in Roswell, along with her husband and father. As a result of wanting to learn more about the business, she began taking shooting courses and discovered the world of unsightly and unfashionable handbags for concealed carry. She also noticed that many women rejected the current market offerings in the line of carry bags, and chose instead to carry in their standard purses.
Add to that revelation Deets' own history as a victim of violence and she felt compelled to launch Concealed Carrie—a company that offers fashionable bags to women who want to be able to defend themselves with lethal and/or non-lethal options.
"I believe fashion is a large part of concealed carry for a woman," said Deets. Now in its third year, Concealed Carrie bags must meet these criteria: easy access, ambidextrous-draw capability, and the bag must fit any size firearm a woman wants to carry. If a woman wants to add a Taser or pepper spray to her defensive line, Concealed Carrie bags can accommodate with specially made holsters that attach inside.
In fact, Deets has partnered with Taser and Sabre to create holsters for associated lines of products.
"A lot of women just aren't comfortable with on-body carry," added Deets, "and there are women who work in areas where they cannot legally carry firearms, or who attend college, are too young to carry legally and need personal defense protection."
Currently, the inventory includes 22 bags and includes a Casual Carrie line to its Classic Carrie full-grain leathers. Guests at the online store can also purchase pepper spray and holsters for a universal Taser C-2 or a universal self-defense pepper spray. The hook-and-loop holsters can attach to either one of the bags, and to Concealed Carrie's athletic shirt.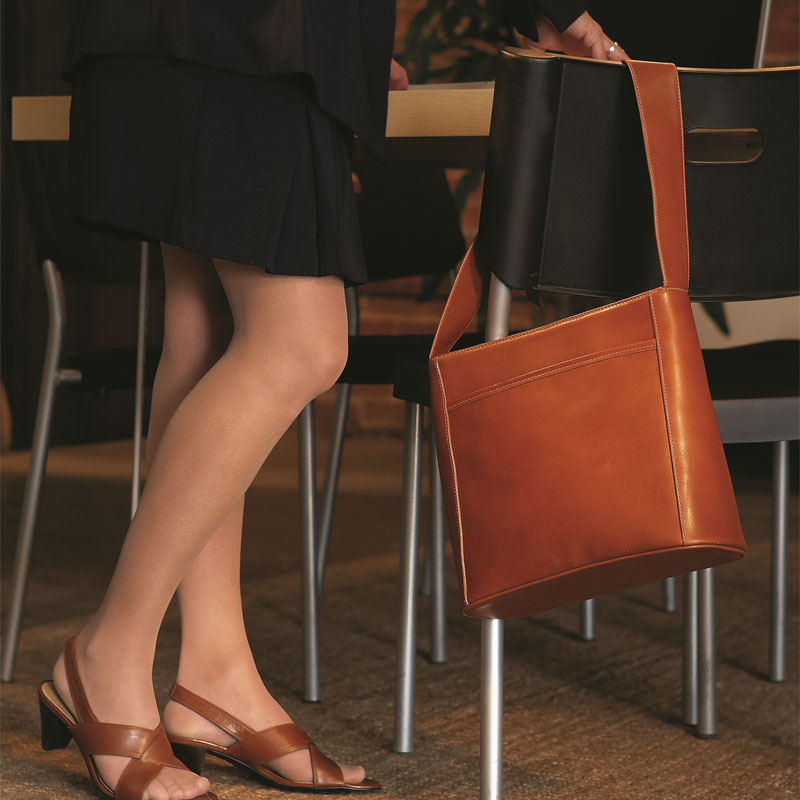 Galco Gunleather—Designed for Distress
Galco has been making holsters that concealed-carry permit holders have been using daily and admiring on protagonists in the movies for 47 years. The company has been making holster handbags (the company's preferred term) since the mid-1990s.
"We looked around and saw some flaws in the handbags being made by our competitors at the time, and knew we could do better," said Mike Barham, Media and Public Relations Manager for Galco. "Others were using Velcro, for example, which is loud to open (a tactical liability in some scenarios) and not lockable. Also, some of our competitors in the 1990s were misguidedly using a wire cable in their shoulder strap, a concept with which Galco completely disagrees."
Barham noted that the company believed the quality of those concealed carry bags fell into the discount store, mass-produced quality, and Galco wanted to match the quality of a Coach bag.
In order to meet Galco's strict definition of a fine quality handbag, it has to do the following: (1) have a separate area for handgun, (2) ensure the firearm is not visible when looking/reaching into the main compartment as one would during normal handbag use, (3) secure the firearm in a lockable area when bag is out of reach/sight, (4) keep the firearm properly oriented for the draw, and easily accessible when in "Condition Orange."
The company's best sellers include the Del, the Metropolitan and the Pax. "The reality is, even with all the talk of women being the largest growth segment in shooting, holster handbag support from retail gun shops is still grossly lacking, even after two decades. Some of that is because holster handbags are slow-turning inventory (relative to holsters, for example), since higher-end bags like Galco are fairly expensive and women still constitute a minority of gun carriers," said Barham.
Galco offers nine CCW bags online.
Editor's note: If you enjoyed this article, check out this one from author Barbara Baird. Or you can click here to read about the latest in CCW fashion.