by
posted on October 26, 2016
It's no secret that finding the right concealed-carry handbag can be challenging—it can be tough to find exactly what you're looking for without spending what seems like an eternity browsing the internet. With that said, with fall's arrival, we figured—what better time than now to introduce the season's latest and greatest concealed-carry handbags? Whether your focus is on your concealed-carry handbag being versatile, trendy, functional, understated or a combination of any of those, we have some great options to share with you—so let's get started!

Beau + Arrow Rose 
Who doesn't appreciate a luxury handbag? Known for their long-lasting, high-end product, Beau + Arrow could easily be considered the Louis Vuitton of the concealed-carry handbag market. Claiming to be the "it" purse of the season with a new bold body shape, the Beau + Arrow Rose (pictured above), made of 100 percent Texas leather, is a definite show-stopper. The convertible shoulder- to cross-body handbag features plenty of space to store your personal items on either side of the ambidextrous exterior zippered concealed-carry compartment, located in the center of the handbag, which includes a removable holster with a trigger guard. Available in maroon (pictured above), dark brown and black, the Beau + Arrow Rose is a classic, functional concealed-carry handbag that is built to last. Visit the Beau + Arrow website to order. MSRP $425.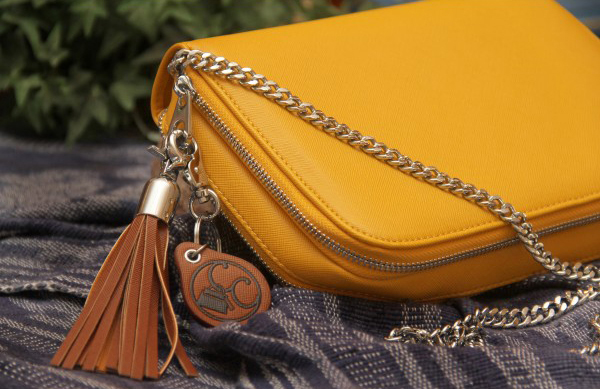 Concealed Carrie Compact Carrie 
Need something functional and trendy to take out on the town this weekend? If you're like me and are up on what colors are en vogue this fall, Concealed Carrie's mustard-colored Compact Carrie is the perfect concealed-carry handbag for you. The double-sided design acts as a wallet on one side to hold essentials such as your phone, credit cards and lipstick, while the other side is dedicated to safely concealing your firearm. The double-zippered concealed-carry compartment comes with a Velcro adjustable holster and accommodates any single-stack compact or sub-compact handgun. The Compact Carrie comes with a removable wrist strap for easy carry, but the 60-inch Silver Compact Carry Chain (MSRP $15) designed specifically for the Casual Carrie Mustard Compact, is too chic to pass up! Visit the Concealed Carrie website for demonstration videos, information on how to care for your handbag and to place your order. MSRP $109.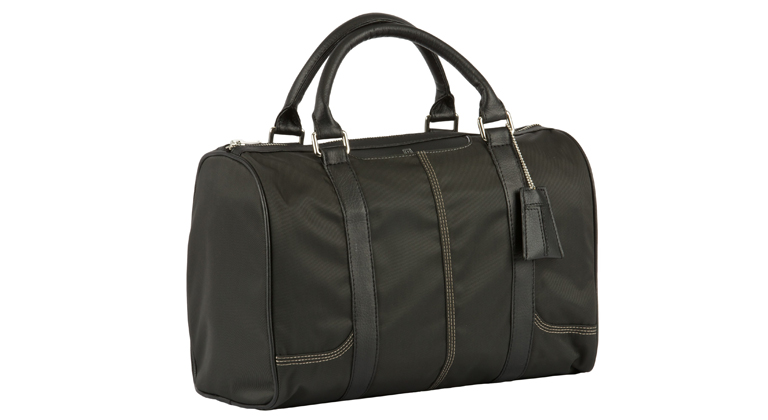 5.11 Tactical Sarah Satchel 
Looking for something a bit more neutral and/or understated? The Sarah Satchel by 5.11 Tactical is the definition of a functional yet inconspicuous concealed-carry handbag. The handbag is made of Nylon Twill—which is water- and stain-resistant—and its exterior magnetic closure concealed compartment is compatible with 5.11's well-known TacTec System. The capacious interior allows for plenty of everyday essentials, and the entire handbag is fitted with reliable self-healing YKK zippers. With an MSRP of $99, 5.11 Tactical's Sarah Satchel is an excellent everyday concealed-carry bag for those who don't want too much glitz and glam. To check out the specs or to purchase, click here.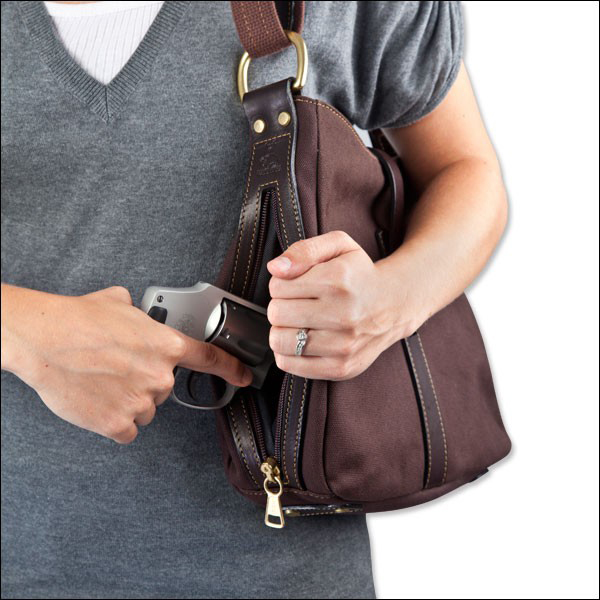 NRA Crossbody Hobo Concealed-Carry Handbag 
Due to its versatility, the NRA's brown canvas Crossbody Hobo is a great option for women who are consistently on the go. The heavy duty double-strap is 1¼ inches wide and is adjustable from 20-30 inches, allowing it to comfortably be worn over the shoulder or extended for a cross-body carry. The side-entry concealment pocket includes a universal elastic holster that will fit most any pistol from compact to full-size. The roomy interior includes dual gusset leather utility pockets, a brass swivel clip for your keys and a zippered pouch, allowing for quick, easy access to your personal items. Order your NRA CCW Crossbody Hobo Bag by clicking here. MSRP $139.95.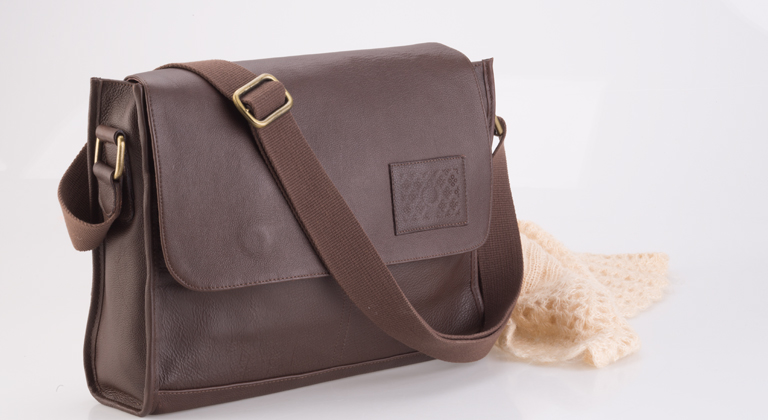 Designer Concealed Carry iBag 
The messenger style iBag by Designer Concealed Carry is the concealed-carry bag for those who need to bring their laptop or tablet along on a regular basis. The exterior concealed-carry pocket has two lockable zippers for right or left-handed access and the included removable holster adjusts to fit handguns of various sizes and can be attached to either side of the pocket to suit your specific needs. The interior is packed with organizational features including a zippered pocket, three open pockets, slots for credit cards and a key hook to promote situational awareness. After sampling this bag myself, I can assure you that Designer Concealed Carry founder/designer Kate Woolstenhulme has put much thought and effort toward each and every detail of her handbags—and the quality is top-notch, making your purchase well worth it. To check out the specs and order yours today, visit the Designer Concealed Carry website. MSRP $349.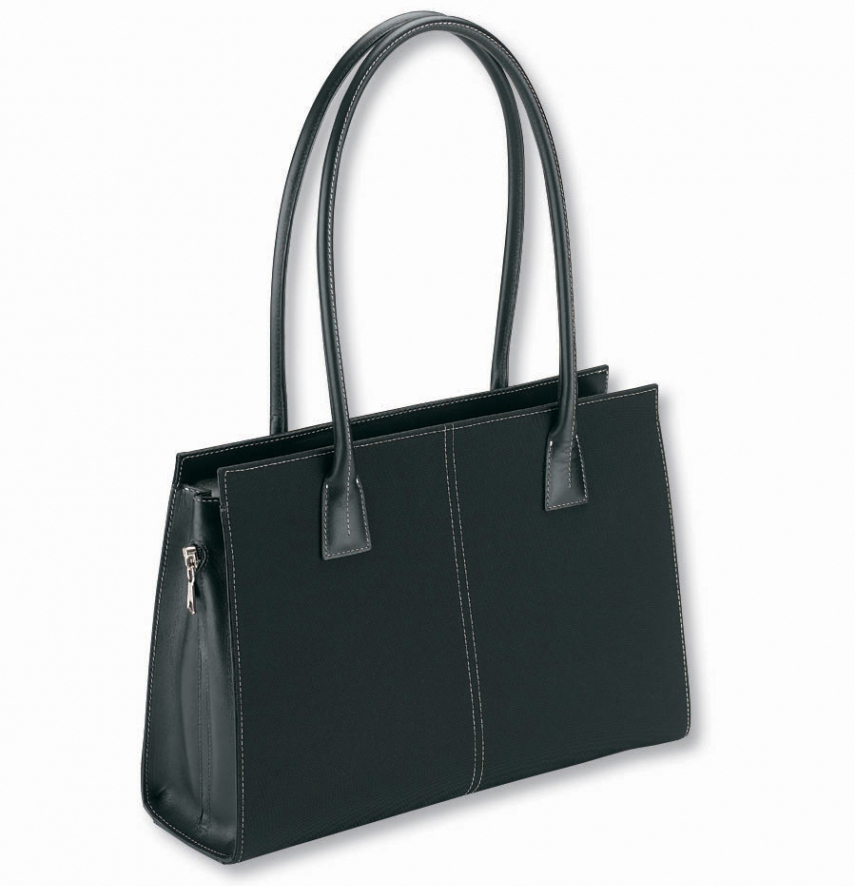 Galco Metropolitan Holster Handbag 
The Metropolitan Holster Handbag by Galco Gun Leather is a must-have for the corporate woman who would like the ability to both tote her office necessities and her concealed-carry pistol in the same sleek bag. Made from water-resistant nylon microfiber with full-grain leather accents and handles, this spacious bag features two open-top interior pockets and one zippered interior pocket. A separate side-entry holster compartment with a locking zipper—made to hold most small and large-frame firearms—allows for safe, easy access. The last thing any busy executive woman wants to have on her mind is whether or not her concealed carry bag is reliable—for ease of mind, order yours by clicking here, MSRP $299.95.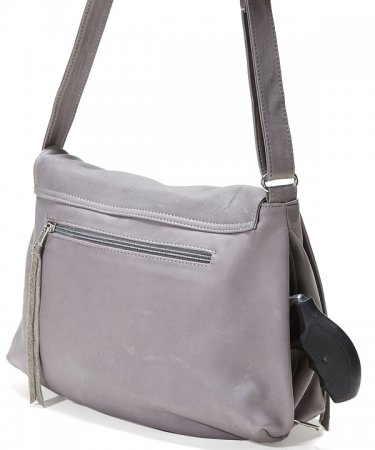 Coronado Leather Monterey Flap 
The new Monterey Flap by Coronado leather is elegant yet understated, which has been trending in the fashion world for the last few years. Handcrafted and made of premium full-grain naked cowhide, the Monterey Flap features stain-repellent lining, lots of zippers and pockets for optimal organization, and a locking concealed-carry pocket with an adjustable nylon retention holster. Coming in a variety of both exterior and interior colors, the Monterey Flap has an MSRP of $219—click here to order yours today.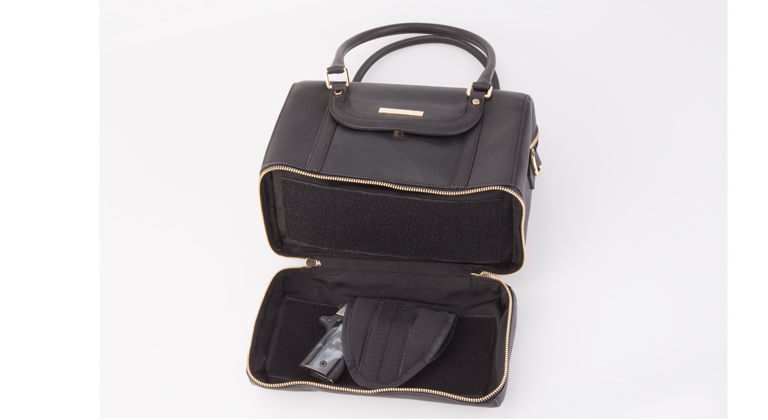 Beau + Arrow Jane 
Noted on the Beau + Arrow website as "a new twist on a vintage look," this list wouldn't be complete without featuring their uniquely gorgeous Jane Doctor Satchel. The ambidextrous zippered concealed-carry compartment is cleverly located on the bottom of the bag and includes a holster that can be easily adjusted to any angle you are comfortable with and the interior and has plenty of room to fit much more than just the essentials. The top-handle handbag also comes with an adjustable strap that allows for cross-body carry. Available in black (pictured above), dark brown and maroon, this handbag could be used for anything from an everyday handbag, to travel, to a range bag. Click here for more information and to order your Beau + Arrow Jane. MSRP $550.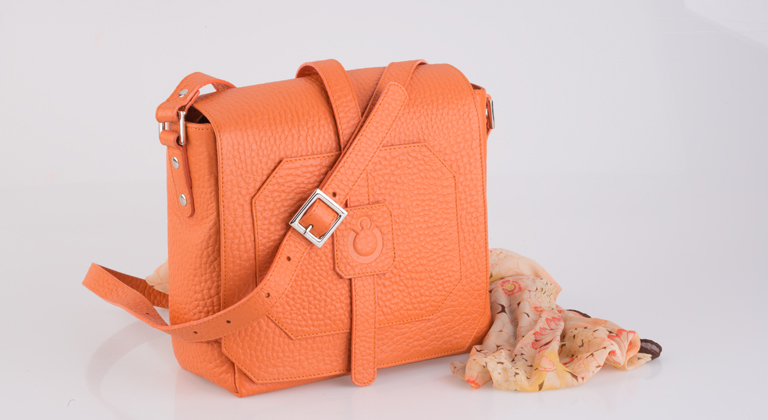 Designer Concealed Carry Cubic 
For those looking for a functional yet fashion-forward concealed carry purse, the Cubic by Designer Concealed Carry is another excellent choice. Made of firm, heavily textured leather, this cross-body bag includes an adjustable buckle strap and a flap closure with a magnetic snap. The interior has two open pockets, a zippered pocket, a slim pocket for pens/pencils, built-in slots for your credit cards and a key clasp—all while leaving enough room to comfortably fit any other items you deem essential inside the main compartment. The top-draw exterior concealed-carry compartment features a 6½-inch lockable zippered pocket with a firm elastic holster designed to protect the trigger and hold your handgun in place for quick, easy access—talk about reliable. The Cubic has an MSRP of $279 and can be ordered at the Designer Concealed Carry website.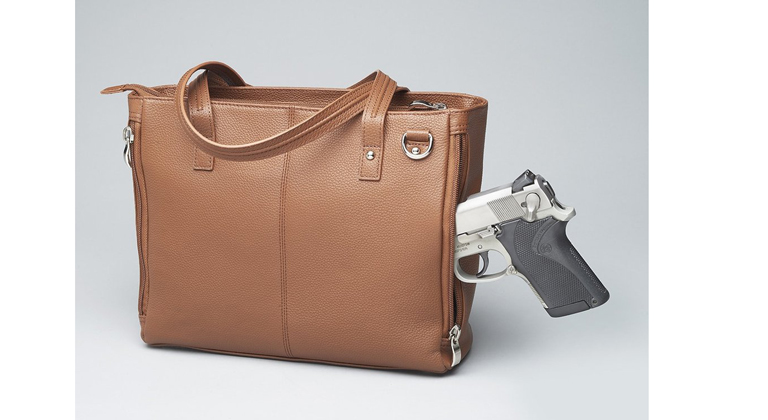 Gun Tote'N Mamas Caramel Cargo Tote 
Who doesn't love a handbag that includes a multitude of pockets? Feast your eyes on Gun Tote'N Mama's new Caramel Cargo Tote—perfect for those who love everything to have a "home." The Cargo tote, made of top-grain cowhide, features slash-resistant carry handles and removable shoulder strap, exterior pockets big enough to hold an iPhone Plus or sunglasses and a divided interior main compartment with five leather-trimmed pockets. The exterior zippered concealed compartment is designed for either right- or left-hand use, has special padding to prevent gun imprinting and includes Gun Tote'N Mama's standard holster size—it has even been tested with various handguns to ensure reliability. For more information, including additional features/specs, or to order your very own Caramel Cargo Tote, click here. MSRP $184.95.
Editor's Note: Click here to check out our interview with Beau + Arrow owner Iris Yen and learn more about the company.

If you enjoyed this article, why not sign up for our newsletter? It's free and membership is not required. We do not sell or rent e-mail addresses to entities outside the NRA.