The holidays are fast approaching, and no doubt you're on the lookout for the perfect gift for that outdoorsperson in your life. It's a common dilemma: What do you get for the friend or family member who has everything? Well, we've got a solution. You see, here at NRA Family InSights, we get to see some of the coolest, most exciting new gear out there. We've selected 12 of our favorites, and will be posting them one-by-one until December 24. Happy holidays-and happy shopping!
Day 1: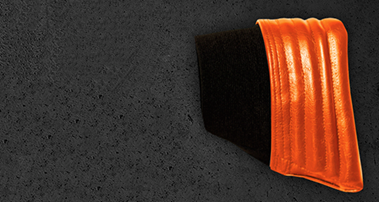 The recoil shock pod made by Recoil Technologies was developed to reduce felt recoil for the developers 11-year-old grandson. After shooting 22s, Ian wanted to shoot the "big guns," but they bruised him and hindered him from enjoying it as much. After shooting with the recoil shock pod, that pain was eradicated, and he fully enjoys shooting with the big boys. For $39.95, you can buy your own recoil shock pad in black, white or pink. The pad huge the buttstock of the gun, allowing for a comfortable, easy to attach and remove product that is family-friendly.
According to Recoiltech.com's testimonials, "It's always been about comfort, shooting with the family and shooting the big guns!" said Ian Johnston, who was the original inspiration for the recoil shock pod.
For more information, visit Recoiltech.com.
Day 2:
Trying to figure out what to get dad for Christmas this year? If he's a hunter that enjoys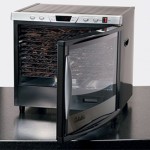 putting wild-game to good use in the kitchen, or just a guy who likes to go DIY in the kitchen, the Cabela's Commercial Food Dehydrator is just what he'll want. For $289.99, you can fill the 80-liter black dehydrator with your game meat to make some delicious jerky.
The 80-liter model has 12 nonstick drying racks for 28 square feet of drying space, with 1,600 watts of drying power. The dehydrator maintains a maximum drying temperature of 160 degrees Fahrenheit for a drying time of 12 hours. A built-in drain catches drippings. The dehydrator also features glass front doors and cabinet lights to watch the progress and digital controls.
Exterior measurements:80 liter – 21-1/8"H x 17-3/8"D x 23-1/2"W.
Day 3:
One of the most challenging things for a new shooter to master is getting the proper grip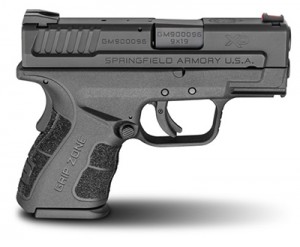 on their pistol. Being able to acquire a firm grip that feels natural and offers proper support reduces felt recoil and the potential for failure to eject the spent casing. That's why Springfield Armory's recent update of their wildly popular XD pistol, the new XD Mod.2 Pistol, is such great news. It's an entire ergonomic overhaul, featuring a slimmer contoured frame, three separate anti-slip surface textures based on where the shooter's hand engages with the grip, and the company's exclusive "High-Hand Beavertail," which positions the shooter's hand higher towards the barrel's bore axis. This last feature allows for reduced felt recoil, and helps you engage with the pistol the same way every time you pick it up. Available in 9X19 mm and .40 S&W. www.springfield-armory.com
Day 4: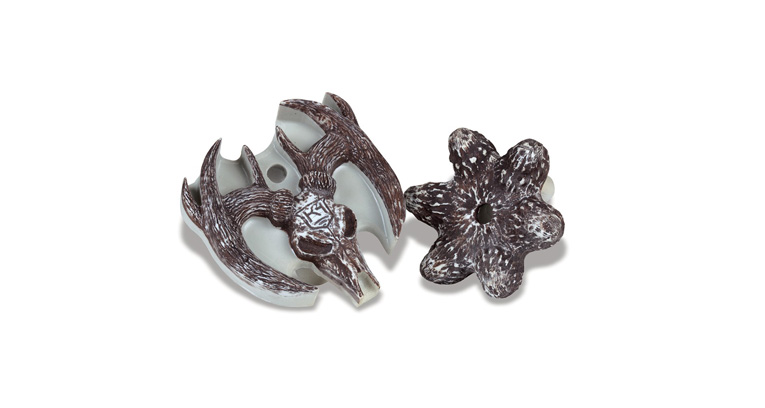 You know that rattling is an excellent way to attract the eager attention of bruiser bucks, but antler-style rattles can be bulky and difficult to carry. Why add more weight to your pack when you can keep it compact-and realistic-with theKnight & Hale Da' Bonehead Deer Rattle Call? This ingenious call replicates the sound of a real buck showdown in a lightweight package that's easy to tuck into your pack or clip to your belt. The two pieces are joined by a sturdy lanyard, so you won't misplace one. The resulting sound is as realistic as anything we've heard, and is quite loud. $25;www.knightandhale.com
Day 5: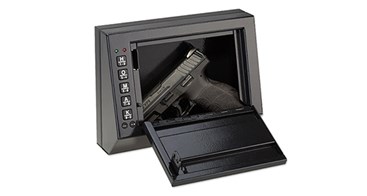 With Christmas right around the corner, many homes are sure to be flooded with friends, family and children.
While it's surely a time to rejoice and celebrate, it's also a time for heightened vigilance. Why is that? Because a lot of the bad guys out there see the holiday season as their most profitable season of the year.
So how do you keep your guns away from guests but nearby to protect the home? With the NRA Store's Quick Access Pistol Boxes. It's important that your self-defense firearm is secure from curious hands, but rapid accessibility is just as essential. Our pistol boxes provide that peace of mind swiftly, simply and safely.
With three different sizes, these can easily be mounted anywhere around the home. Use the small one in a desk drawer, the medium in a closet or the large in a cabinet. Wherever you choose, simply type in your personalized, keyless numerical code and press on the door. It immediately pops open, instantly providing you with the means to protect your home and family.
Made of rugged, 1.5mm cold steel with a powder-coated epoxy finish, our boxes feature rounded corners and flush closures to deter prying. There's even a 9-volt backup battery entry system should your batteries lose charge.
Read the full article at NRABlog.com.
Day 6:
The first 72 hours of a survival situation can often be the most critical. Whether you're in your car or out in the field, you never know when a survival scenario may occur. The NRA Store now has the perfect kit to help you get through those crucial 72 hours of any survival situation. For $114.95, you get all the accoutrements of the NRA 72 Hour Food/Fire/Filter Kit. Contents include an array of freeze-dried meal and drink pouches that will give one person 2,000 calories per day. All food and drink in the kit has a 20-year shelf life. Also featured in the kit is a first aid kit, fire starters, cooking supplies and a water filtration bottle. The "grab and go" four-gallon plastic container features an NRA exclusive: a false grass seed label to deflect attention from the kit.
Total contents of kit includes:
• Artisan Oatmeal – 4 servings
• Harvest 6 Grain Cereal – 4 servings
• Texan Sunrise Skillet – 4 servings
• Nantucket Potato Soup – 5 servings
• Rotini a la Marinara – 5 servings
• Rio Grande Beans & Rice – 3 servings
• Instant Milk – 4 servings
• Refreshing Orange Drink – 8 servings
• Instafire (firestarter) – 6 pouches
• 23 piece First Aid Kit
• Filter Water Bottle
• Portable Cooking Stove
• Cooking Pot w/ detachable handle
• 8 oz. measuring cup
• Folding Utensil Set
• Waterproof Matches
Day 7: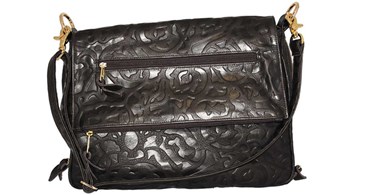 More and more women are getting interested in personal defense-and, specifically, concealed carry-than ever before. However, given the way women's clothes are designed, carrying in a waistband holster can be quite a challenge. For many women, carrying their firearm in a purse is the best choice. However, it's important that you can trust your purse to keep your gun secure and invisible from prying eyes. Enter the EAA Witness Pavona Concealed Carry Purse. Designed in tandem with the EAA Witness Pavona line of semi-automatic pistols, these attractive and well-made purses will get the job done-and no one will ever guess.
The firearm compartment is separate from the rest of the purse, fully lockable, and accessible to both right- and left-handed women. The sturdy straps are lined with steel cable, to make them resistant to grab-and-run muggers. The purse comes with a polymer holster (designed for the Witness Pavona, but separate holsters are available for other popular models such as the Smith & Wesson M&P, Glock 19 and Springfield XD-S), which secures with hook-and-loop so that you can adjust it to your own individual draw.
As with the Witness Pavona line of guns, however, this purse is just as good-looking as it is functional. Rich, sturdy leather, high-quality hardware and a number of beautiful designs will ensure that you'll be as happy to carry this purse as you would any designer creation. www.eaacorp.com
To see a video demonstration, click here.
Day 8: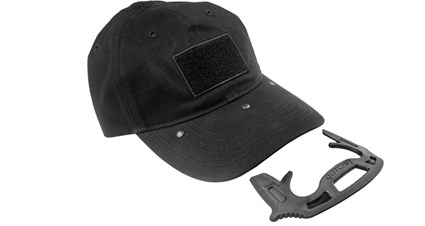 It remains a fact of life that there are some places and times when it simply isn't possible to legally carry concealed. Fortunately, for those of us who feel "naked" without some form of self-defense available, there's the extremely discreet, less-lethal Gotcha Cap from FAB Defense. What is it? It's a basic ball cap-style hat, like you see on every city street, but it's got a secret: Lodged in the bill is a polymer self-defense tool. The easily removable tool was designed by self-defense martial arts expert Yaron Hanover in concert with FAB Defense's product designers and development team. Designed to be use to apply pressure points or as a striking tool, it can be at your fingertips in moments. Hook-and-loop patches on the front and rear of the cap allow you to customize it with your own patches however you like. Available in four go-anywhere colors. www.fab-defense.com
To see a demonstration, click here.
Day 9: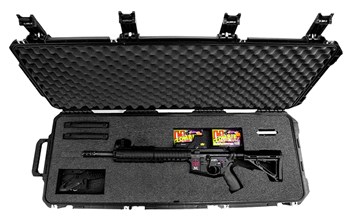 For the AR-totin' gunny in your life, gun safes aren't the only essential gear. A gun case is also a necessary purchase, especially if they travel. The Quick Fire Cases QFAR15 case is a military-grade, chemical-resistant case that will fit your loved one's AR-15 or carbine perfectly. The 24.5-pound case has an MSRP of $352.08, including a lifetime guarantee and in-line skate-style wheels for transportation. Other features include adjustable 1-3 magazine slots, removable plug for longer barrels, adjustable 1-4 magazine slots or other miscellaneous items, a desiccant slot to keep your case moisture-free, and a large open area for scopes or sites. For more information, visit QuickFireCases.com.
Day 10: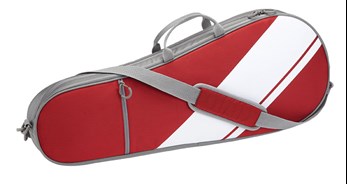 If you carry concealed, or simply wish to transport your firearms from Point A to Point B without attracting attention, you'll love the Blackhawk! Diversion Racquet Bag. This sturdy nylon bag looks for all the world like a tennis racquet bag, so you can keep your firearms invisible to prying eyes. It can carry up to two full-sized pistols, or one AR-15-style rifle that's broken down into an upper and lower. The well-padded walls prevent "printing," and the heavy-duty zippers are lockable for extra security. Solid construction and rugged stitching will ensure years of service. This particular bag has become a favorite of NRA Publications editors, and we think you'll agree. The price is right with an MSRP of $69.99. www.blackhawk.com
Day 11: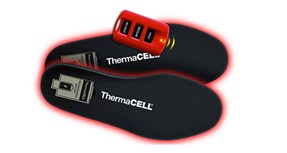 For  cold-weather activities, nothing is more miserable than having cold feet. When your extremities are cold it's hard to stay focused on your child's football game, the hunt, shoveling snow or whatever may have you outside. Using a foot warmer is a great option, but many of them don't get or stay warm enough and leave you out of control of the heat.
With ThermaCELL's ProFLEX Heated Insoles, you are the master of your foot-warmth destiny. The ProFLEX features temperature control settings utilizing a wireless remote that gives you the ability to adjust the temperature to your liking without removing your shoe. The wireless control is designed to hang from a belt, keychain or zipper. It is small enough to fit easily in a pocket, and can control the insoles from a distance of up to 7 feet away.
The remote includes a medium or high setting along with no heat. Sizes range from a women's 4.5 to a men's 14, and are also available in sizes small to XXL.
✔  Regulated Heat
✔  Wireless Remote Control
✔  Three Temperature Settings
✔  Battery Lasts Five Hours Per Charge
✔  Rechargeable
✔  Water Resistant
✔  Quality Tested by SATRA
✔  Uniquely Coded
✔  Trimmable for Custom Fit
✔  Removable, Rechargeable Battery
✔  Ultra Flex Material
✔  USB Charging
For more information about both Heated Insoles products, visit www.thermacell.com or call (866) 753-3837.
Day 12: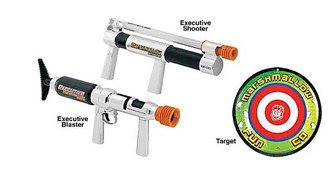 When there's no snow outside to throw snowballs, why not have a marshmallow fight? Have some friends over and start a marshmallow battle with the Executive Marshmallow Shooters. The Executive Shooter holds 25 rounds of mini 'mallows in its magazine, while the Executive Blaster shoots one large marshmallow at a time. Each shooter can fire its ammo up to 30 feet! When you're done with your marshmallow war, take your ammunition and use it to top off a big cup of hot chocolate. Both shooters are dishwasher safe to provide easy clean-up. www.cabelas.com