Concealed carry for women is always a hot topic, but at the 2018
NRA Annual Meetings & Exhibits
in Dallas, Texas, the topic is even hotter than the pavement outside the convention center. I asked four different exhibitors whose displays focus on CCW accessories for women which of their products seemed to be generating the most excitement. Here are their answers...and once you see them, you'll understand why.
1.
Gun Goddess
 on-body holsters and ear protection (pictured above):
The brilliant bling on Gun Goddess' ear protection may be what catches your eye right off the bat, but once your gaze travels down, you'll realize that you're looking at on-body holsters purpose-built for women. Shannon, a browsing customer, explained why she'd be making a purchase at this booth today. "It's about finding the right product that works with our clothes," she mused. "I need something easy to hide, but very safe. I need versatility."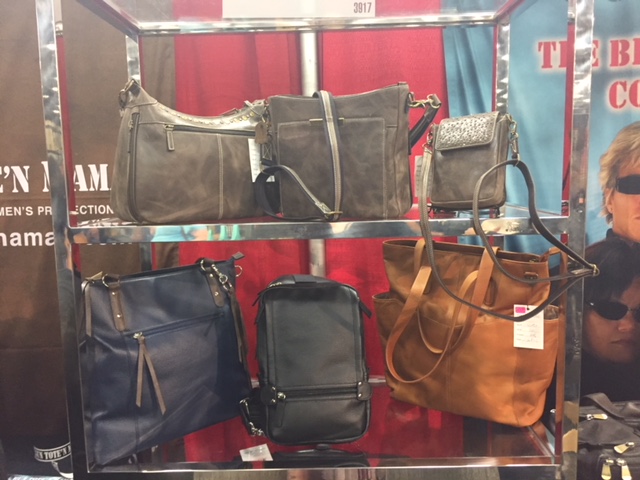 2. 
Gun Tote'n Mamas'
Buffalo Leather Bags:
OK, 
technically 
this is bison leather (American "buffalo" are actually properly termed bison), but who cares when the bag looks this good, wears like iron and is this reasonably priced? Gun Tote'n Mamas' Karrie Dewhitt pointed out that these bags have more than just beautiful looks--the new line comes with RFID technology that allows the gun tote'n mama in question to prevent unauthorized access to her firearm. The pricing is very reasonable for this kind of fashion-meets-tech offering: Purses start in the $170 range.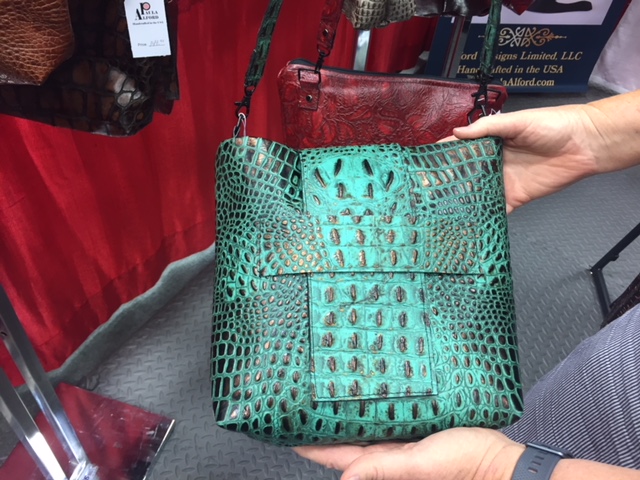 3.
Alford Designs
Copper & Croc:
Mary Alford is a professor of design at Liberty University, so when she realized that she couldn't find any concealed-carry purses that she really liked, she simply designed some for herself. Now in her second year exhibiting at NRA Annual Meetings, Alford reports that she creates new purses just for the show each year. This year's big draw, so far, is the above-pictured verdigris faux-croc crossbody. She also offers holsters constructed with heavy-duty hook-and-loop so any non-CCW bag can be modified into one.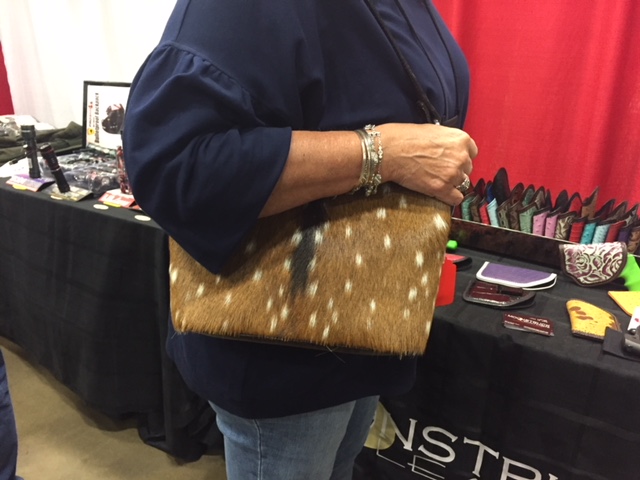 4.
Moonstruck Leather
Axis Deer Purse
Did you notice that the above photo is just a bit blurry? That's because my hands started trembling a little when I saw this purse. At first glance, I simply assumed that it was constructed of dyed cowhide, but, as Moonstruck's Don Moon informed me, it is in fact from the exotic Axis deer. At $449, this particular purse is on the pricey side, so I actually had a bit of a debate with myself about just how badly I really needed to pay rent this month. The master designer behind this purse (and the many other exotic leather purses on display) is Beckie Moon, who creates these purses right here in Texas. "May I speak with her?" I asked husband Don. 
"Oh, she had to stay back," he replied. "So many orders to fill!" 
This writer has absolutely no questions about why that might be...
Of course, these are only four items from a selection of hundreds of CCW accessories suitable for all genders here at the NRA Annual Meetings. I just had to go take a breather before my avarice overwhelmed me and I spent my entire paycheck on all of them. Please join us today and tomorrow in Dallas to find your dream CCW accessories!