by
posted on September 2, 2014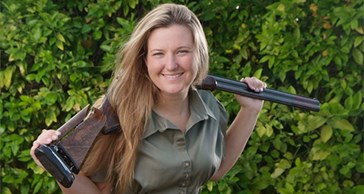 This month's issue of Shooting Sports USA sees Barb Baird of Women's Outdoor News sit down with famed shooter Kim Rhode. The five-time Olympic medalist is the most accomplished woman shooter on the world stage and one of the best shotgun shooters out there. As always, Barb only had one question: What's in your range bag?
Already an icon in the shooting world, Kim Rhode claimed the superstar title of being the only Olympic athlete to win five medals in five consecutive individual Olympic sports at the 2012 London Summer Games in International Skeet. Hailing from southern California, a place where she can practice year-round, Rhode grew up hunting and shooting with her family. She has also competed on the U.S. International Double Trap and International Bunker Trap teams.
Rhode shoots a Beretta DT11 with 30-inch barrels. Beretta chokes and a custom Wenig stock. "I use a Nike sports bag for my shooting gear. This one has straps that make it into a backpack, which frees up my hands to carry my gun case and shells." She also prefers this bag because it fits into her suitcase. Here's what she carries in her range bag:
• Plessinger Place shooting vest made by Chuck Dietl
• Nike footwear, an assortment of Cabela's clothing and a USA Shooting baseball-type hat. "I like a hat that is a dark color under the bill," said Rhode.
• Nike Element rain gear top and bottoms: "They are a soft material so that I can move in them easily. I don't like shooting with a collar, so my top has been altered and the collar on my right side, where I mount my gun, has been removed."
• A set of Cabela's women's thermal underwear: "Thin, so I can wear them under my rain gear and still fi t my vest over everything if I need to."
• Pilla Performance Eyewear (Panther X) with multiple color lenses (42ED, 78HC, 88ED, 22ED and 44N) plus a backup pair
• Custom-molded earplugs
• Otis Upland Wingshooter cleaning system
• USA Shooting award uniform (top and bottom).