by
posted on October 6, 2014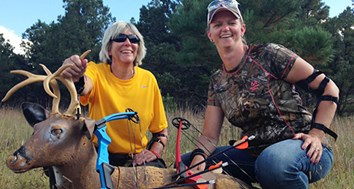 This weekend a group of ladies finished the second of two 2014 Women's Wilderness Escapes. The ladies-only adventure teaches the basics of shooting, hunting, game calling and survival skills from expert instructors just outside Raton, N.M., against the backdrop of the beautiful 33,000-acre NRA Whittington Center. Whether you've never handled a firearm before or you've been shooting since you could stand, the Women's Wilderness Escape welcomes everyone and is truly the experience of a lifetime.
"Between the two sessions we're helping 120 women gain the skills to be successful in the outdoors," said Recreational Shooting Specialist Kara Schlifke. "Eight days have never flown by this quickly for so many of our ladies. By the time it's over, everybody is excited to come back and do it all over again."
New to the Women's Wilderness Escape this year is the addition of the NRA 3-Gun Experience, which introduces shooters of any ability to the non-traditional, action-packed 3-Gun competition; utilizing modern sporting rifles, shotguns and pistols.
To see video of the event and read the full article, visit NRABlog.com.