by
posted on February 1, 2018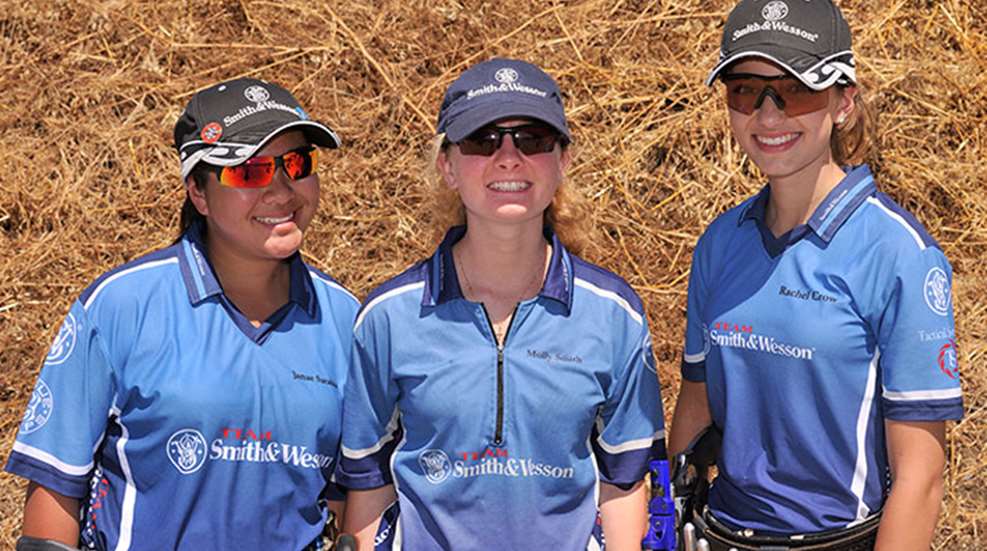 Every day, talented young shooters head to the range, dreaming of one day shooting on a sponsored team. Katie Harris, Tori Nonaka, Janae Sarabia and Molly Smith remember those days well. But they kept at it, practicing and improving their skills, and today they are proof that such dreams can and do come true. Although we originally published this article in 2013, this #ThrowbackThursday is here to prove that five years later these four young womens' stars are still rising!
Janae Sarabia, Smith & Wesson
Fourteen-year-old Janae Sarabia of Lompoc, Calif., has only been shooting for four years, but she's already considered a shooting phenomenon. Her gun of choice? A Smith & Wesson Model 627 Pro Series Revolver.
Janae's father, Rolando, a competitive shooter himself, introduced Janae and her sisters to his beloved sport. Janae was an eager student, learning firearm safety and becoming familiar with her .22, before shooting in her first match just one year later. "My dad passed me a lot of his knowledge," explains Janae of her rapid transition into competitive shooting. "We practice together, doing drills for accuracy and [we] dry-fire at home."
In 2009, while shooting at the International Revolver Championship, Janae met and was impressed by Smith & Wesson's Julie Golob. "I decided to apply for Team Smith & Wesson, and was accepted," says Janae with pride.
As a team member, Janae dons a uniform for all matches and submits match reports. "I have a duty to shoot the best I can, with dignity, to make my sponsors proud," says Janae. That's an honor, but it's also pressure. Still, Janae loves shooting and competing, getting to "meet all the best shooters," and being provided with "great support and great products."
But Janae's interests don't stop at shooting. She likes basketball, reading and baking. She has her eye firmly on the future, too. In addition to continuing her shooting, Janae wants to get a college education. "I aspire to graduate with a degree in mechanical engineering and become a firearm design engineer," she says. You go, girl!
Molly Smith, Smith & Wesson
California-born-and-raised Molly Smith was 11 when her father decided she and her brother were ready to understand gun safety. Molly wasn't exactly excited about the prospect until a range officer offered a teasing challenge. "You probably couldn't even hit the target from here," he said.
Molly's competitive instincts were aroused. She seized his .22 rifle and shot until she shot out the middle of the target—at 25 yards! "I showed him," says Molly. By then, of course, she was hooked, going on to shoot .22 pistols and a .38 revolver and competing within the year. Along the way, she earned the nickname "Millisecond Molly," because she loves to shoot fast.
At her second year shooting the International Revolver Championship, Smith & Wesson's Julie Golob asked 13-year-old Molly if she'd like to be part of the team. 'I was so excited," recalls Molly.
Now a tenth-grader, she's still excited. Although her sponsors stress having fun and trying her best, Molly tries to do more. She wants to represent the shooting sport in a professional manner, to share her love of the sport with others, to shoot with them and offer up a tip or two, if asked. In return, she's grateful for the good friends she has made through the team and for the opportunity to mingle with great shooters.
As to challenges, "They come and go," says Molly, "squib loads, bad ammo, bad aim are all challenges. But the biggest challenge," she insists, "is being able to face your fears." At last year's Bianchi Cup, Molly recalls hunkering down in ankle-deep mud, trying to keep her mind focused on shooting as two funnel clouds headed her way. Now that's facing fear!
Read Molly's blog at www.mollyminute.blogspot.com.
Katie Harris, Benelli
"I started shooting with my dad and brother when I was very young," says high-school junior Katie Harris of Taylorsville, Ga. "My first rifle was a .22 Crickett."
Before long, she was shooting in .22 matches at her family's gun range. Fast-forward to today, and Katie Harris could well be considered the top female junior 3-gun shooter in the country. In this action shooting sport, each competitor must use a rifle, a pistol and a shotgun—three guns. She works hard at it.
"When I'm not competing," says Katie, "I practice four days a week." School takes a big chunk of time, too. Still, she makes time for her other favorite activities: volleyball, camping and hanging out with friends.
Katie's dedication to her sport paid off. She was asked to demonstrate her skills for Benelli and was offered a spot on the team. "The fun part," says Katie, "is I am shooting with some close friends, and we have a lot of fun together. The most challenging is trying to win a match and be competitive against a strong field."
After two years of competitive 3-gun, next year Katie takes on a new obligation as she joins the Benelli-sponsored Noveske Shooting Team. She takes this obligation—as she does all her obligations—seriously, wanting to represent her sponsors "to the best of my ability and to always act in a professional manner." As to her future plans, Katie says, "I would like to shoot on the Army Marksmanship Team or go to college and continue to compete at major 3-guns."
Tori Nonaka, Glock
"My father started taking me to the range when I was three," recalls 16-year-old Tori Nonaka of Woodbridge, Va. There, she learned about firearm safety and the basics of shooting and marksmanship. Her first pistol was a .22.
At age 12, Tori took the first of many training courses at the U.S. Shooting Academy. The next year, she shot her first USPSA match, followed by a series of major matches around the country. Her success generated a lot of attention. In 2011, following a recommendation from one of her sponsors, Tori met with Glock officials and was invited to join Team Glock—a perfect fit for a shooting star whose favorite gun is the Glock 34.
Tori's association with Glock keeps her plenty busy traveling for national and international training and competitions. Team members are also expected to work the Glock booth at industry trade shows and conventions, giving shooting tips and product demonstrations and answering questions. "The best part," says Tori, "is the opportunity to see the world while doing what I love most, which is to shoot and compete."
The hardest part is balancing her other interests and responsibilities with her busy shooting schedule. An avid hunter and an "A" student, Tori practices her shooting two to three times a week. She also likes to cook, enjoys fashion and interior design, and has taken up modeling in her spare time.
The young shooter is grateful for Glock's support. "They give me every opportunity to be a champion," says Tori. "I can just concentrate on training and competing."
Dare to Dream
If shooting on a sponsored team is your dream, you can't go wrong following the lead of these talented young teens.