by
posted on January 26, 2017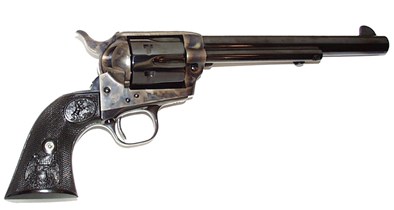 Samuel Colt was a born inventor. He loved tinkering with things, taking them apart just to see how they worked. As a youngboy, he loved disassembling and reassembling his father's guns. Why, he could spend hours at it.
From an early age, Colt worked in his father's textile mill. The work was okay, but what really fueled his passion was the availability of all those tools. One of his favorite memories was of building his own galvanic battery, then using it to detonate a gunpowder charge at a nearby lake.
By his mid-teens, Colt had hired on as part of a ship's crew-and he was still crazy about tinkering and building things. On one trip he saw a repeating pistol, invented by Elisha Collier, which had set him thinking. Wouldn't it be great if a gun could be made to shoot several times in a row?
Now, as the 16-year-old sat on deck, duties over for the moment, the movement of the ship's wheel mesmerized him. He studied the wheel and the way it aligned with one of the spokes, regardless of whether it was turned to port or starboard. "Hmm," he thought. "Maybe that's the answer."
In the days that followed, Colt used his spare time to whittle a wooden model of his idea. The concept for the revolver was born. When Colt returned to the United States at age 18, it was 1832. Over the next three years he would earn his living performing laughing-gas demonstrations in the U.S. and Canada, but he continued to pursue his dream, getting a patent for his revolver.
By 1835 Colt was granted a British and French patent, followed the next year by a U.S. patent for a firearm with a revolving cylinder that would hold five or six bullets. That same year, he built the Patent Arms Manufacturing Company in Paterson, N.J., with the financial backing of an uncle. Over the next six years, he would develop and produce three revolver models, and two types of longarmor rifles-all employing a revolving cylinder. But although these firearms performed well, sales figures were not high enough, and in 1842 the Patent Arms Manufacturing Company was closed.
The ever-inventive Colt turned his attention to marketing other inventions. There were underwater detonators, which could be used to defend U.S. harbors, and waterproof ammunition. There was also his waterproof telegraph cable.
With the invention of the telegraph by Colt's friend Samuel Morse, there was a need for waterproof cable that could be used when running telegraph lines under rivers, lakes and the Atlantic Ocean. So Colt got busy, developing the first underwater telegraph cable.
In 1846 Sam Colt changed courses once again, this time for good. It was during the Mexican-American War, and the U.S. Army wanted a bigger, more powerful revolver. Because they had heard good things about Colt firearms from soldiers and Texas Rangers who had used them to defeat warring Indians in Texas, they hired Colt to deliver 1,000 of them. He would develop the new design along with the Army's Capt. Samuel Walker, prompting Colt to name it the "Walker."
With no firearm factory, Colt produced that first order at the Connecticut factory of Eli Whitney, Jr., the son of the inventor of the cotton gin. He was able to deliver all 1,000 Walkers by mid-1847. Colt would go on to open a plant in England, and in 1855 he opened the Colt Patent Firearms Manufacturing Company (now named Colt's Manufacturing Company) in Hartford, Conn. By using the most up-to-date machinery and mostly interchangeable parts, the new company was producing 150 firearms a day within one year of its opening.
Colt firearms would become known for their quality, workmanship and dependability. The company's marketing program was so successful that Sam Colt would become one of the wealthiest businessmen in the U.S. at that time. His home, Armsmear, which sat on a hill overlooking his armory, was a testament to that wealth. The large and elaborate residence, where he lived with his wife and children, featured ornate architectural styling, greenhouses and formal gardens.
Upon Colt's death in 1862, at only 47 years of age, his estate was valued at more than $15 million.
(Following his death, Colt's widow took over the reins of the company, guiding it to further growth. It would remain in the family until 1901, when it was sold to a group of investors.)