by
posted on October 27, 2022
Winter, early 1860s, northern Virginia …
It was bitterly cold as Sarah Edmonds made her way quietly through the Confederate encampment to the tethered horses. She looked over her shoulder nervously, but saw no one.
Selecting the sleek brown beauty at the end, she approached it slowly.
"You're a fine one," she crooned, stroking its muzzle. The horse nickered softly as Edmonds mounted somewhat awkwardly, thanks to her padded mid-section and voluminous peasant attire. The disguise had served her well as Bridget O'Shea, Irish peddler—allowing her to move freely among the troops, selling apples, soap and assorted goods, while keeping her eyes and ears open for information that would be useful to the Union Army. Now it was proving cumbersome.
She flicked the reins, urging her mount forward at a walk and hoping the sound wouldn't carry back to the sentries. A big black stallion snorted his disapproval and let out a whinny loud enough to wake the dead. The other horses shifted restlessly. Edmonds could hear the sentries hurrying down the hill to see what was going on.
"Giddy up," she urged her horse.
Cra-a-a-ack! A bullet crashed into a nearby tree. Edmonds and her horse dashed toward the distant safety of the Union lines. There was a sharp pain in her right arm. Hours later, Edmonds had shaken her pursuers. With her injured arm aching and so weak from blood loss and pain she could barely stay in the saddle, Edmonds arrived back at camp. 
++++++++++++++++++++++++++++++++++++++++++ 
The Beginning
If it hadn't been for the prospect of an arranged marriage, Sarah Edmonds might never have fled her native Canada and become a spy for the Union Army during the Civil War, infiltrating Confederate troops on 11 separate missions.
Edmonds was born in 1841. Her father, a hot-tempered man who was disappointed she wasn't a son, made her childhood a misery. But it was his attempt to force her to marry an old man she despised that was the final straw for 14-year-old Sarah. With the help of her mother, she ran away, supporting herself as a traveling Bible salesman. At 15, still afraid her father might find her, she crossed the border into the United States and settled in Flint, Mich.
Five years later, when President Lincoln issued a call for volunteers in the Union Army, Edmonds cut her hair, dressed in men's clothing and enlisted under the name Frank Thompson. Because physical exams were not required, her disguise was not discovered. She was given the rank of private and assigned to the Second Michigan Infantry as a male field nurse. Soon, her unit was sent south to serve under General McClellan. 
The Making of a Spy
As the war heated up, a Union agent working in Richmond was caught and executed by a firing squad, leaving McClellan in need of a new spy to infiltrate the Confederate troops. The ever-adventurous Edmonds volunteered for the job, learning everything she could about weapons, tactics, local geography and key military figures before the interview date. She was offered the job.
Going into enemy territory to gather information meant Edmonds needed to be a master of disguises. Since she'd lived the past several years in various disguises, including her current one as Frank Thompson, Edmonds was already accomplished in that area and had little difficulty developing new ones.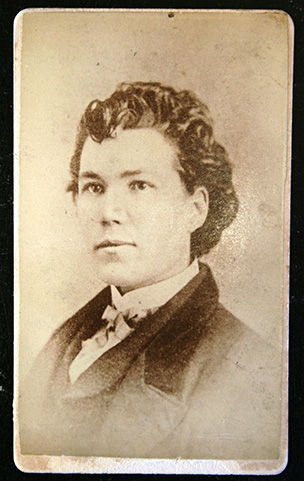 On the Job
So it was that in 1862, Edmonds used silver nitrate to blacken her skin and donned a minstrel wig. Under the assumed name of Cuff, she was able to fit in with the southern slave population, working her first day building military fortifications—a task that left her hands so blistered, she traded places with another slave on the second day to work in the kitchen. There, she kept her eyes open and listened carefully to what was going on around her, gathering valuable information about the size of the army, the available weapons and their placement.
Two months later, Edmonds was back behind enemy lines as Bridget O'Shea, the Irish peddler woman you read about earlier.
When the Second Michigan Infantry was assigned to support General Sheridan, Edmonds was tasked with new spy ventures. Cuff reappeared on several missions. On another, Edmonds assumed the disguise of a laundress for yet another Confederate encampment. She returned to the Union Army with some official papers that fell out of an officer's coat as she was going about her cleaning duties.
Edmonds' career as a nurse and spy for the Union Army came to an abrupt end in April 1863, when she came down with malaria. Knowing that if she checked into a military hospital, her disguise would be discovered, Edmonds left the army and was admitted to a private hospital in Illinois as herself. She planned to return to the army as soon as she was well, but discovered in an army bulletin that Frank Thompson was listed as a deserter. So Edmonds spent the remainder of the war working under her own name as a nurse at a hospital for wounded soldiers.
After the War
Edmonds later wrote about her military experiences. The book sold more than 175,000 copies, the proceeds of which she donated to the U.S. War Relief Fund.
In her later years, Edmonds worked to clear her name of desertion charges. On July 5, 1884, Sarah Edmonds, alias Frank Thompson, was granted an honorable discharge from the army via a special act of Congress. She also was awarded a bonus and a veteran's pension of $12.00 a month.
 Edmonds died of malaria in LaPorte, Texas, on September 5, 1898, at age 56. She was buried with full military honors at Washington Cemetery in Houston, Texas.