by
posted on October 5, 2017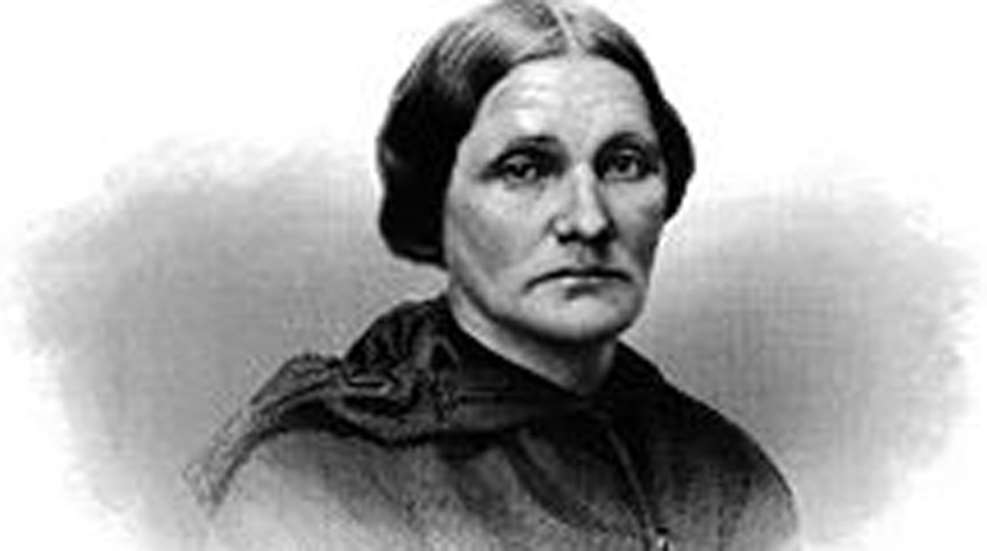 The American Civil War produced many memorable characters, but feisty Mary Ann Ball Bickerdyke (1817-1901) is probably the most famous woman you've never heard of. Ohio born, she believed that God had called her to minister to the wounded and sick soldiers of the Union Army serving under generals Ulysses S. Grant and William Tecumseh Sherman, who, coincidentally, were also both Ohioans. Mary Ann was well prepared for her calling. She had studied homeopathic medicine as a young woman and was known for her healing skills and no-nonsense, get-it-done attitude.
She arrived at the Union field hospital in Cairo (pronounced KAY-row), Illinois, in the summer of 1861 and was greeted by a Dr. Woodward who said she had a "day's pass," meaning Mary Ann would have to leave the camp by sunset. "We'll see about that…" she grumbled under her breath.
As Dr. Woodward ushered Mary Ann into the first hospital tent, she was appalled. Ten wounded/sick soldiers lay side by side on the ground on filthy straw, their clothes soaked in perspiration and encrusted in dried vomit. The mud floor of the tent was awash with human waste. The smell of it all was almost too much for her to bear.
The conditions in the proceeding hospital tents that Woodward showed her were no better, and it wasn't long before Mary Ann had seen enough. She swung into action.  
Beginning to bark orders as if she were in charge, soldiers surprisingly jumped and obeyed, likely sensing that the lady was there to help. Returning to the first tent, Mary Ann ordered everyone out for a bath. Afterward, the soldiers were told to dress themselves in the clean men's clothing she had brought along. She then found a shovel and with several helpers mucked out the floor of the tent, putting down fresh, dry straw for the soldiers' beds. This process was repeated at the other hospital tents, then everyone was fed with food she had brought along, the first real meal the soldiers had likely had in weeks.
By the end of the day all the ailing men had been washed, fed and bedded down in clean surroundings. When Mary Ann went to leave, a grateful soldier said simply and sincerely, "Thank you, Mother." The name stuck, and from that day forward she would be known to the Union Army as "Mother" Bickerdyke.
She returned to the Cairo field hospital the next day, and the next, and every day thereafter until—with the eventual blessing of General Grant—she was made unofficial head of hospital personnel. One of Bickerdyke's biographers quipped, "Without consulting anyone, she calmly attached herself to Grant's army. When it moved south, she moved with it."  
Mother Bickerdyke followed the Union army as it fought its way down the Cumberland River to Fort Donelson, where a three-day battle in February 1862 produced the most casualties in the western campaign thus far. The weather was so cold following the fighting that wounded men actually froze to the ground in pools of their own blood. These soldiers, barely alive, were gathered up and brought to the surgeons and Mother Bickerdyke to see what could be done. Try as she might she couldn't save them all, but many men survived who wouldn't have otherwise had it not been for her tender care.
That night, following a full day of nursing, Mother Bickerdyke lay down to rest but couldn't sleep. She had been assured that all the wounded soldiers had been retrieved from the battlefield, but she couldn't close her eyes until she knew for sure. To that end she grabbed a lantern and searched the battlefield in the dark, looking over the mangled corpses for any sign of life. The story of her midnight search was picked up by newspapers and her fame began to spread. But Mother Bickerdyke didn't care the least for notoriety. All that mattered to her was the care of "her boys."
When Mother Bickerdyke wasn't nursing Union soldiers, she was raising funds on their behalf for medical supplies. One of the more noted stories of her fund-raising abilities occurred when she visited a church in Brooklyn, New York. She was attending to hear a sermon by the famed Congregational preacher Henry Ward Beecher, but she was recognized by a member of the congregation and asked to speak. She agreed, but asked to address only the ladies.
The fashion of the day for well-to-do women was to wear very full skirts, and to make the skirts stand out from their body they wore multiple petticoats beneath. Beginning her talk, Mother Bickerdyke first described the conditions at army field hospitals to the women, then mentioned that clean bandages were always in short supply.
"How many of you are wearing more than one petticoat right now?" she asked her shocked audience. All the women raised their hands. "Keep your hand up if you're wearing three petticoats," Mother pressed. Most of the women, it turns out, were wearing no fewer than five petticoats.
"Now, stand up, all of you, and raise your dresses," Mother ordered. The women did as they were told, nervously giggling at each other as they held up their skirts. Then Mother made her plea. "Ladies of Brooklyn, in the name of my boys, drop that fifth petticoat!"
They did, and Mother Bickerdyke left church that day carrying many petticoats she would later cut into yards of muslin bandages.
But the most memorable story of Mother Bickerdyke happened following the Union victory at Vicksburg, Mississippi, in July 1863, near the end of the war. The generals Grant and Sherman gave many of the veteran soldiers time off following the fight. Most of the men went home for a brief visit, but some invited their family to visit them. One such colonel's wife came to the camp and brought along the couple's nine-year-old son, who promptly came down with a case of measles. Wanting the best possible care for her young son, the mother sought out Mother Bickerdyke—but was totally unprepared for what she was about to hear.
"Measles? You're bothering me with a case of measles when I have hundreds of wounded soldiers to care for?" Mother Bickerdyke roared. "These men have bullet wounds, amputated arms and legs! I don't have time for measles. Any decent mother should know how to care for measles. Now get out of my way so I can get back to work!"
Crushed, the young mother scurried back to her husband, falling into the colonel's arms sobbing. He, in turn, went directly to General Sherman to complain about the "nasty old woman" at the field hospital. Sherman laughed when he learned it was Mother Bickerdyke.
"I'm afraid I can't help you there," General Sherman told the colonel. "Unfortunately, you've found the one person around here who outranks me. If you want to lodge a complaint against her, you'll have to take it to President Lincoln."
When Mother Bickerdyke learned of General Sherman's response, her only comment was, "Well, it takes a big man like him to say so."