by
posted on July 25, 2017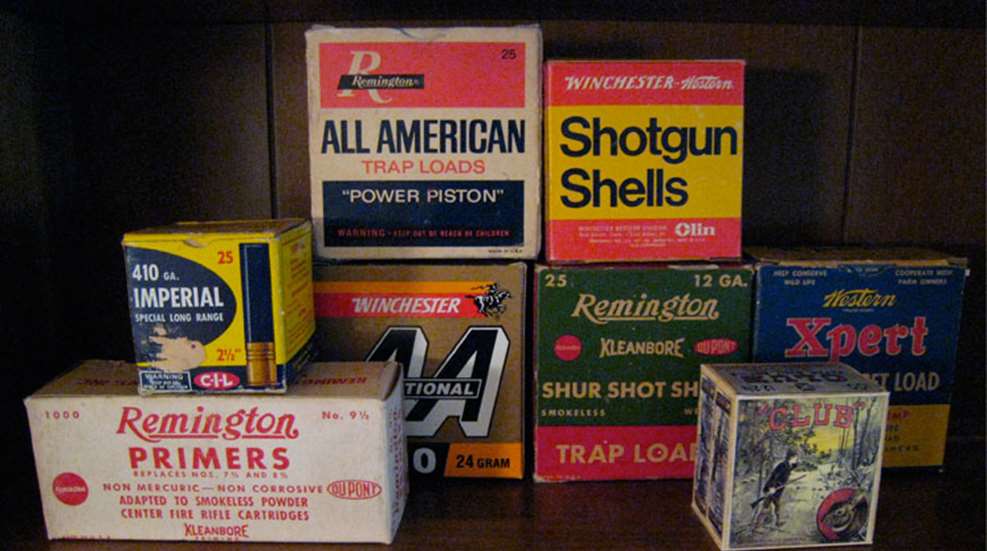 It's fun to collect shotshell boxes with their colorful designs and, in the case of many of the older boxes, fascinating artwork featuring hunting and shooting-related subjects such as birds, dogs and hunters. Prices vary depending on age, rarity and condition of the box. A quick look at eBay, for instance, shows prices ranging from $0.99 to $4,000! This kind of price range makes collecting shotshell boxes attractive to collectors of all ages and incomes.
A Brief History
The history of shotshell boxes in the United States goes back to the 1800s. Prior to the 1940s, these boxes were almost all two pieces. That is, there was a cardboard bottom, which held the shotgun shells, and a separate top that fit over the bottom. A wraparound label of some sort was generally used to hold the two pieces together and to describe the contents of the box. Over the years, artwork came to play an increasingly important part. By the time World War II broke out in 1941, there were more than 40 different companies appearing on shotshell boxes. By now, the boxes were made of a single piece of cardboard that was cut, glued and folded to make the shape of the box. By the late 1970s, shotshell boxes no longer featured artwork, and the number of companies that went out of business or merged with other companies following World War II had resulted in far fewer shotshell manufacturers. That trend continued, and today only Remington, Winchester and Federal remain.
A Beginner's View
So the question is, just what kind of shotshell boxes are available at an entry-level price? Newer boxes are one option, some of which you might even be able to get for free. If you hunt, save the cartridge boxes. If a family member or neighbor hunts or participates in shooting events, they might be willing to give you their empty boxes. Or you can buy them at cartridge shows, flea markets and antique stores as well as on Internet auction sites.
Expect to pay more for pre-'70s boxes, which are the ones that feature artwork, but there are still some that can be had on a budget of $10 or less. Look for the most common box designs, for boxes in less than perfect condition (a dented or torn corner, for instance, or faded colors), and for sellers who are anxious to make a sale.
Another collection option is miniature shotshell boxes. These mini-boxes, or replicas, were originally made for product displays and never contained cartridges. Over time, they have become popular with collectors because they offer an opportunity to enjoy the old artwork without the big price tag of the full-size, vintage boxes. You will find both vintage and modern replicas.
Some collectors like to collect only one type of shotshell box—a single brand, like Winchester or Remington; a specific gauge; boxes that feature shooting scenes, perhaps, or game animals. Others like a collection with more variety. There is no right or wrong. Your collection is about what pleases you.
How to Take Care of Your Collection
Light is the enemy. Keep your shotshell boxes away from the sun or other bright lights so the colors won't fade. Faded colors make your boxes less valuable. An empty shotshell box is easily damaged. The best way to protect your boxes is to cut foam—which you can find at any craft store—to the shape of the empty space in each box. You may also want to wrap the boxes in plastic wrap, then heat and shrink the wrap tight with a hair dryer. You can store your collection in a drawer or box or leave it out for display, perhaps on a bookshelf or dresser top.
Shotshell Boxes and You
There you have it: the ins and outs of collecting shotshell boxes. If you're interested, there are plenty to be found. So what do you think?