by
posted on September 28, 2022
How many 17-year-olds get to travel across the globe to represent their country? Payton Grimes not only participated in the very first Precision Rifle World Championship held in France August 6-12, 2022, but left victorious, claiming first place in Ladies Open.
Payton competed against 250 shooters from 26 countries split among six classes: open, limited, ladies open, factory, senior and military & law enforcement, including other NRA Family featured rising shooting stars Lauryl Akenhead and Allison Zane, who took second and third respectively in ladies open. These three girls also claimed the first-place ladies open team title.
Payton lives in Ovilla, Texas and started shooting in 2017. Five years ago, she fired a shotgun for the first time at a family outing. She enjoyed shooting shotgun for a year before learning to shoot a rifle at Gunwerks Long Range University in 2018.
Payton's interest in rifle shooting came from a desire to get into big-game hunting. Wanting their daughter to learn proper marksmanship, Payton's parents brought her to Gunwerks to learn from Phillip Velayo. After working with Velayo for three years, he brought Payton to her first competition. Forget starting small—Payton's first competition experience was a two-day centerfire National PRS match. She had previously only ever shot prone and off a tripod.
"Phillip, with Modern Day Sniper, provided me with the necessary fundamentals of marksmanship," Payton said. "I have been competing and hunting ever since, and love every minute of it."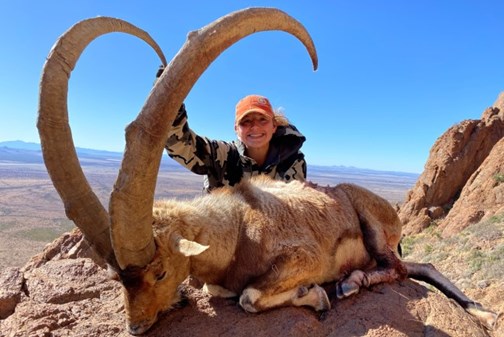 A busy high school student taking AP and college courses, Payton noted balancing training, competing and studying can be difficult, but marksmanship has also been a great teacher. "Marksmanship has taught me what it means to have self-discipline and drive," Payton said. "The amount of practice and training that goes into it is unmatched; both mind and body have to be on track. I have also learned so many lessons from mistakes made on the clock, but more importantly, how to handle them and improve as a result."
Aside from lessons learned, Payton also appreciates the people in the competitive shooting community. "Without marksmanship," she said, "I wouldn't get to experience the fantastic memories I make every day." She has met innumerable friends and mentors on the range with whom she shares a different sort of bond than friends from school. "Every match and hunt brings something new, and I love that I can connect with people in such a unique way."
While she attributes much of her success to Gunwerks and Modern Day Sniper, her gear also gives her the edge she needs. Payton runs a 6BR centerfire competition rifle chambered by S&S Precision Rifles. The rig includes an Impact 737 Action with a 26" 1:7.5 twist Bartlein Barrel, Bix' N Andy two-stage trigger and Flatline Ops Halo-X level. All is set in a KRG C4 chassis beautified by Red Beard Gunworks with a Kahles 525i DLR on top in a Spuhr mount. She also runs an ACE LLC brake and Harris bipod. Hornady 110 A-Tip bullets and Lapua brass are her components of choice.
For rimfire, Payton shoots a Vudoo V-22 360 with a Muller barrel, Erik Cortina tuner and Bix' N Andy trigger in a KRG X-Ray. She uses the same optic setup, a Kahles 525i DLR, Spuhr mount and Flatline Ops Halo-X level.
Her other must-have competition gear includes Wiebad bags, a 4DOF Kestrel, Really Right Stuff tripods and Swarovski binoculars. Payton's hunting set-up is a bit different. She either uses a Gunwerks 6.5 PRC or 28 Nosler.
The Precision Rifle Series website notes that Payton has competed in 61 PRS matches since entering the sport, 18 of which were Pro Series matches. The profile reports her best Pro Series finish was in 2021 when she finished 18th out of 117 shooters at the Federal King of Coal Canyon match. This year, Payton took 16th in the world at the 2022 International Precision Rifle Federation World Championship held in France. She says this and her first-place award in the Ladies' division at the same shoot are her greatest accomplishments.
"It was a one-of-a-kind experience traveling across the world to compete, represent the USA, and meet so many awesome individuals who share the same pride in the sport."
She also listed other notable accomplishments. "Some others would be my Top 10 and Top Lady/Junior finish at the 2021 Precision Rifle Series Rimfire Finale and my several rimfire matches won. Alongside shooting, my biggest hunting accomplishment would be my 2020 New Mexico Ibex hunt. After a tough few days of hiking and glassing, we found the 42.5" billy on a 300-foot cliff. I took the 820-yard kill shot from a hilltop below. The next day, we had to hire a climber to retrieve the animal down the cliff face and packed the Ibex down the mountain. It was an amazing and thrilling experience."
Payton's next step is college in Texas while continuing to compete and hunt. She continually strives to improve and wants to finish in the top five of a national level of a PRS match. With such an expansive resume for only a few years of shooting, Payton may seem a bit intimidating. Her advice to new competitors dispels this. She urges new shooters, especially women and youth, to not be afraid to ask questions. "Make sure you're having fun," she said. "It may not always go the way you'd like, but as long as you make the most of it and stay positive, you're doing great!"