by
posted on April 2, 2021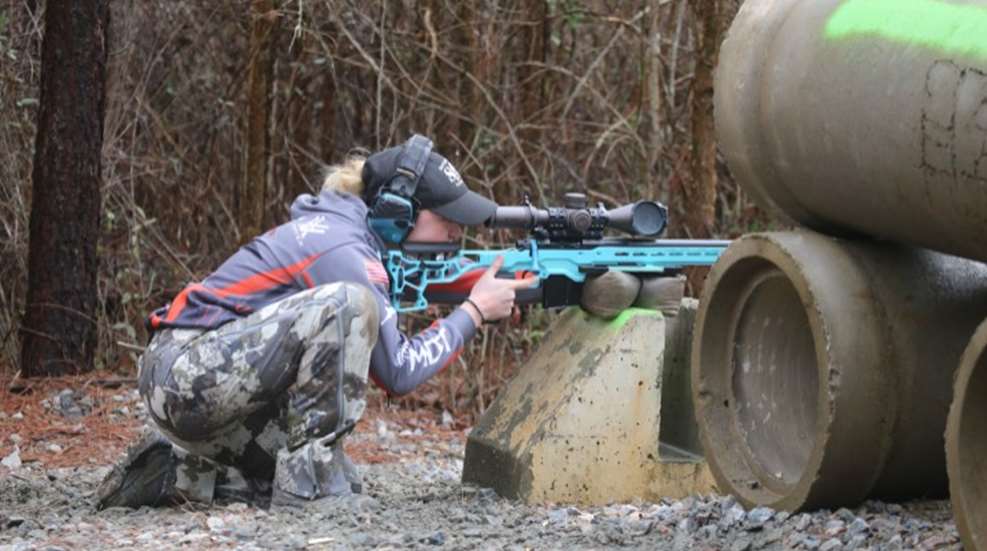 Everyone seems to know precision rifle powerhouse Allison Zane of Pittsburgh, Pennsylvania. At age 15, she continually tops the leaderboard at both Precision Rifle Series (PRS) and National Rifle League (NRL) rimfire and centerfire matches and has an extensive list of sponsors.
Born into a law enforcement family, Allison and her sister learned the importance of firearm safety early on in life. She learned the fundamentals of shooting with a .22 LR rifle and took to shooting right away. At age 11, Allison signed up for the Winchester/National Rifle Association Marksmanship Qualification Program at her local club and began learning positional shooting. Frank Zane, Allison's father, had a large influence on Allison's growth in the program, helping her work towards earning the Distinguished Expert rating. "The time I spent in this program," Allison says, "really taught me sound shooting fundamentals and positional shooting and would be the foundation that would help me go on to be a well- rounded precision rifle competitor."
As she neared the completion of the qualification program, she began attending long range matches at Rayner's Range in Ohio alongside her father, a certified firearms instructor. Allison learned the basics of long-range shooting first, then progressed to PRS and NRL .22 competitions where she developed a passion for the different positions, props, and timed stages the discipline offers.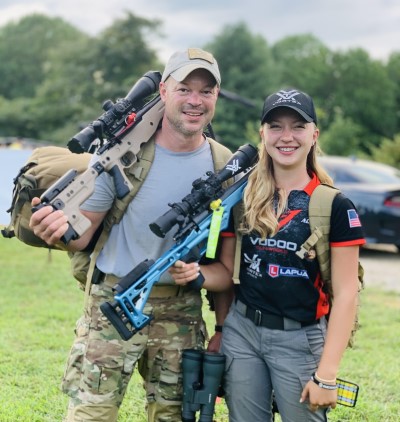 During 2019, Allison's first season as a rimfire competitor, she qualified to shoot the 2019 NRL 22 Nationals in Las Vegas. At age 13 she earned the Top Junior award and claimed third place overall. "I have to admit that I kind of shocked myself with my performance at the match, and it really fueled my desire to continue to learn and compete," Allison said. "This was my first big accomplishment as a competitive shooter."
Allison's father decided her accomplishments and skills showed that she was ready for the next step in her precision journey, shooting centerfire PRS and NRL matches, and built Allison her first centerfire rifle. She quickly progressed from local club matches to regional and national level competitions and appreciates everyone who has helped her along the way.
"I feel very fortunate that I now have the opportunity to travel the country with my family making new friends, seeing new places, and doing what I love, shooting! None of this would be possible without my sponsors and without the love and support of my parents who have sacrificed to allow me to chase my dreams." For the 2021 season, Allison's sponsors include: Short Action Customs, Modular Driven Technologies, Vortex Optics, Armageddon Gear, Defiance Machine, Hawkhill Custom, Swanny's Comp. Gear, Long Range Arms, Huber Concepts and Vudoo Gun Works.
Allison's competition centerfire rifle is a 6mm Creedmoor custom built by Short Action Customs in Ohio. It features a Defiance Machine Ruckus action, MDT ACC chassis, Vortex Gen II Razor rifle scope with 7C reticle, a Hawk Hill Custom Marksman Contour Barrel and a Huber two-stage trigger set a 1.5 pounds. Her Vudoo Gun Works rimfire .22 has a V22 action, MDT ACC chassis, and Vortex AMG rifle scope. Both rifles are built nearly identical to one another for easy transition between disciplines. This also allows Allison to use the rimfire rifle as a training rifle for centerfire. Other pertinent gear for these styles of competition include tripods, bipods, support/shooting bags and plates, a range finder and a ballistic calculator.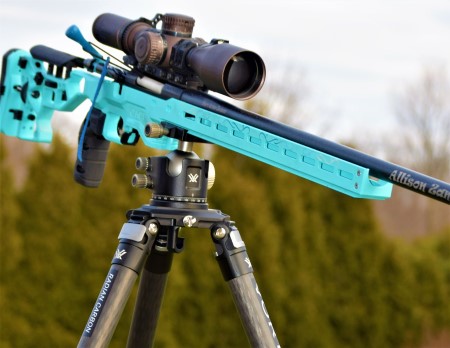 The year 2020 was Allison's second year shooting centerfire precision rifle, and her first year shooting it on a National level. She considers her greatest accomplishment thus far winning her first National level 2-day match. Allison became the first junior to ever win a National level 2-day Precision Rifle Match by claiming top honors at the 2020 PRS Pro-Series "Road to Redemption" Match, held at Frontline Defense in North Carolina. "It was an unforgettable experience, she says, "and what stands out the most was how everyone around me, even shooters I didn't know, were rooting for my success the whole weekend. They all gave me a standing ovation at the awards presentation, which made me feel pretty special."
Allison also finished 16th in the Open division at the PRS Pro-Series Finale at Foul Bore Precision in Oklahoma in December of 2020, a competition well attended by top competitors from across the country. She finished the season in the Pro-Series taking first place in the Ladies, Junior and Amateur categories, and claimed first place open in the PRS Northwest Regional Series. PRS competitors also voted her Rookie of the Year for 2020.
Even with all of her accomplishments, Allison recognizes that she has not reached her full potential. "I have a lot of room as an individual and competitive shooter to grow and learn, and plan to continue to work hard and learn as much as I can from others and from my own successes and failures along the way. I am very thankful for all the opportunities and experiences this sport and the community surrounding it has provided me, and I plan to try to find ways to give back...I also hope to learn and grow as an ambassador to the sport with hopes of empowering other women and youth shooters to get involved."
Such finishes do not come without hard work and training. Allison balances a hectic high school schedule, taking honors/college-level math and science courses as a sophomore with thoughts of becoming an engineer. "I believe that marksmanship has taught me the importance of hard work, self-discipline and commitment, and also the importance of good sportsmanship. I have had to learn to balance school work, practice time, travel for matches, all the behind the scenes work like rifle maintenance and reloading, and other interests and activities." Allison gave up organized school sports so that she could pursue her marksmanship competition goals, but she still contributes time to several clubs and her high school's marching and concert band.
Allison has discovered that long range precision rifle shooting serves as an outlet for continuing education, especially in math and science. "I have had to learn how to read wind, make wind calls, understand bullet ballistics and trajectory, learn how to use a ballistic calculator, learn the components of reloading and much more." In addition to all of this, she also values the quality time she has spent shooting with her dad and meeting new friends. 
Follow Allison on Instagram at @allison_younggunpa and on Facebook (Allison Zane) to keep up with her adventures.