by
posted on October 2, 2020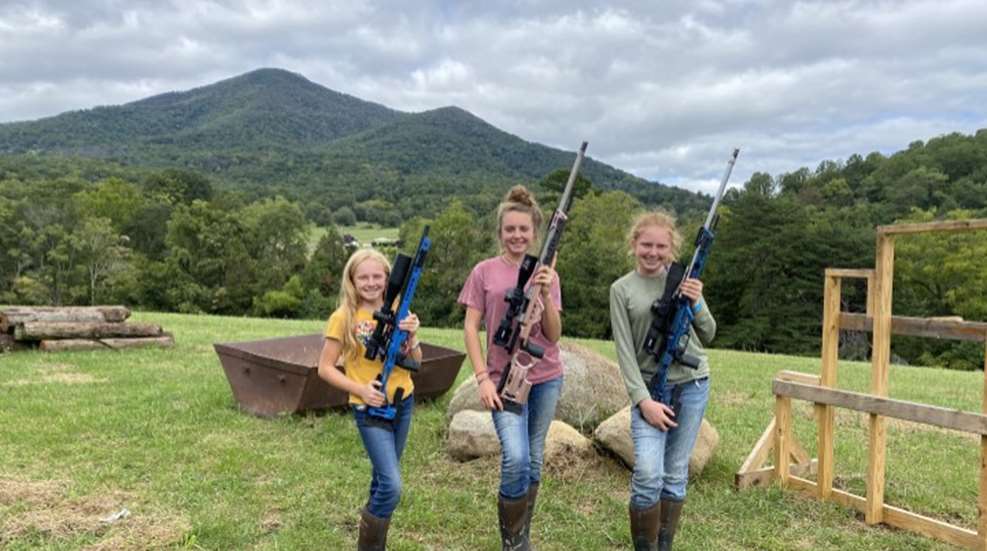 If you're on the lookout for the next NRA Family bound for shooting stardom, look no further than the triple threat represented by the Akenhead sisters. These remarkable young women not only assist on their family farm in Bedford, Virginia, and show sheep in 4H, but also compete together in the National Rifle League 22 (NRL 22).
Lauryl (17) is a senior in high school and the most involved in competitive shooting of the three. "I've been shooting my whole life. My dad, he used to compete with Ohio State in pistol, so he just brought us up into shooting." Her earliest memory is of the entire family, including her grandparents, shooting air guns in their garage.

The Bedford County Shooting Team, part of the local 4H club, introduced all of the Akenhead sisters to a variety of events including skeet and trap shooting, 3D archery, Olympic style archery and 3-position shooting with .22LR and air rifles. Beyond 4H, Lauryl discovered a passion for a different kind of shooting when a friend in West Virginia invited her to an NRL 22 match. She started shooting in the Precision Rifle Series (PRS) with a centerfire rifle the next year.
Sponsored by MasterPiece Arms and Garnett Precision Arms, Lauryl uses a 6mm BR with a Hawk Hill barrel, MPA matrix chassis and Steiner M7 scope in PRS, with a backup .223 rifle with a MPA BA Competition chassis and a Steiner M7. She is also sponsored by CZ and Manners stocks in NRL 22. She sets a good example for her sisters, placing 2nd in the junior category at the NRL 22 Nationals held in June of 2020 in Mount Pleasant, Tennessee. "I want to improve a lot on some of my skills," Lauryl says, "to teach other new shooters." And the first new shooters she assisted were her own younger siblings; Samantha joining NRL22 a few months after Lauryl, followed by Norah.
The entire family has brought an awareness of NRL 22 to their 4H shooting team, and looks to spread positive information about youth in the shooting sports. Lauryl reported that she wanted to do something extra when all three of them started competing, and her dad thought she should be promoting the shooting sports in a good way.

Lauryl turned to social media as a way to do so, establishing @3sistersshooting on Instagram – "Promoting that kids can…shoot guns and be safe with them." She also created @3sistersfarming to showcase the rural part of their lives. After she graduates high school, Lauryl plans to work with her family at Blue Ridge Lamb and Wool...though she is also interested in learning more about a career in taxidermy.
Samantha and Norah let their older sister handle the social media but still enjoy competing, especially meeting new people and making new friends. Samantha has branched into air pistol with her dad, but her first match was cancelled this year. She describes shooting with and against family as "fun" but "really competitive." Another passion of hers is animals. She, like Lauryl and Norah, shows sheep in 4H but also has six ducks, a pig and a bunny she shares with Lauryl. She aspires to be a vet or to work with animals in some capacity – a field in which the responsibility she has learned from shooting will undoubtedly apply.
Norah does not remember her first time shooting as vividly as her sisters do, but was quick to point out that firearm safety is the number one thing she has learned. She enjoys shooting because "I think it's just really fun," and it is an activity she can do with her family. Mrs. Akenhead does not compete, but is there to support her daughters and to take pictures for them to use on their social media accounts. Norah is unsure if she will go as far as Lauryl has with shooting, having started barrel racing and pole bending with her horse Buttercup this year.
All three girls represent the shooting sports well, succeeding in their mission to show that youth can safely compete with and use firearms in ways that offer endless opportunities for learning responsibility, patience and other skills that can benefit them throughout life.