by
posted on November 2, 2022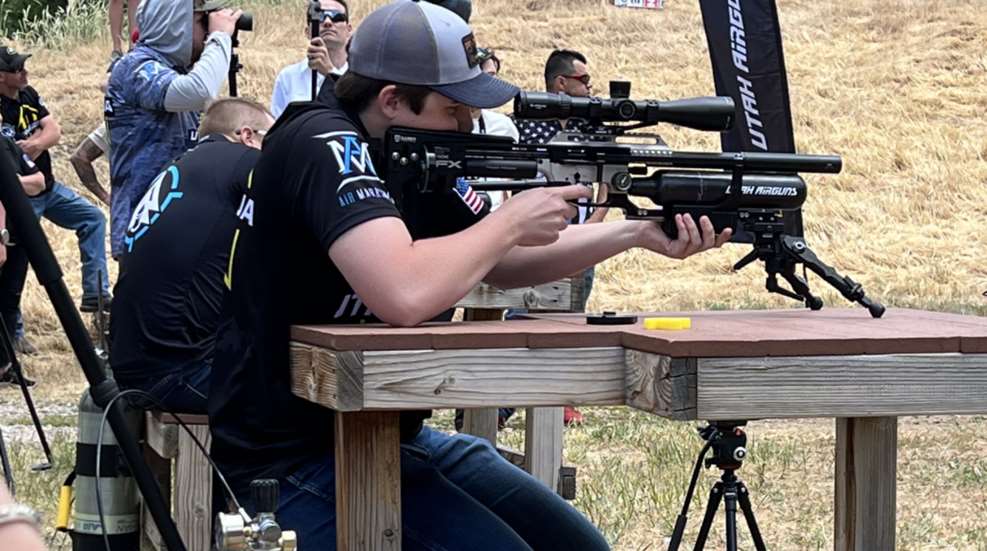 It was the most heartfelt and exciting moment of the 2022 Rocky Mountain Airgun Challenge. With $7,500 on the line, 20-year-old Alex Hatfield took the bench across from his teammate Jaiden Tuckett during the speed challenge finals. A crowd watched as both young men swiftly and efficiently worked their way through an MGM Challenge Rack—essentially an inverted KYL. Alex prevailed in the best of three rounds, becoming 2022's World Speed Challenge Champion.
Emotions ran high and you could see the genuine disbelief in Alex's face as he congratulated Jaiden and embraced his family. The crowd, including people from 13 countries, went wild—mirroring an Olympic level of excitement.
This rising shooting star started out shooting at a very young age with his father and transitioned to airgunning at age 17. He still enjoys shooting powder-burning firearms, but is extremely involved in the airgun world, both as a competitor and Utah Airguns employee. Alex credits his father, Todd Hatfield, as a great mentor and key to his success. "My dad has been the biggest influence on my shooting career and has helped me grow and has taught me how to compete," Alex said.
His RMAC 2022 win didn't come without practice, something Alex has a deep belief in. "Marksmanship has taught me how dedication, persistence and hard work will pay off," he said. "Without being willing to put the time and effort into practicing, there is no way to grow and succeed to become a better shooter." Jaiden and Alex, both Team Utah Airguns shooters and employees, often frequent the Utah Airguns indoor range, challenging each other to speed competitions. The fact that their practice competitions turned out to mirror the 2022 Speed Challenge Finals speaks to their dedication.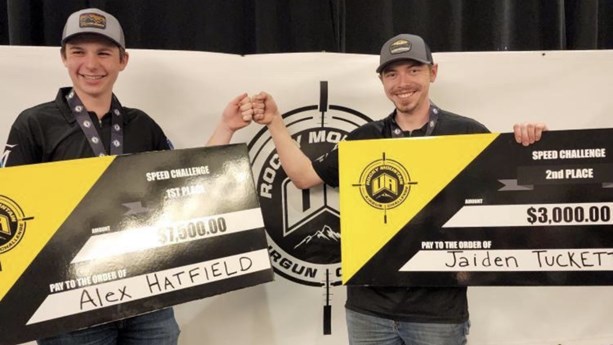 Equipment also plays a large role. Alex most often competes with an FX Impact in a few different configurations, topped with either a Nightforce NX8 or Athlon Ares ETR. Accessories are almost a must and Alex has spent some time finding what works for him. "I have a lot of Saber Tactical gear as well as DonnyFL moderators on almost all of my rifles. I use quite a bit of Airmarksman products as well. I use Accu-Tac bipods for everything, they are super solid and I don't have to worry about something failing on me. I always have a good set of allen keys, glass cleaner and extra magazines with me at all times just in case something fails. Another must have is a good set of shooting bags. I use the Armageddon Gear shmedium Game Changer bag, as well as their tank bag to protect my fill tank.  There is a lot more involved but those are the essentials."
Already practicing for next year's Rocky Mountain Airgun Challenge, Alex admits that shooting consumes a significant portion of his life, but he is also pursuing a mechanical engineering degree at Utah Valley University. He encourages other competitors to focus on themselves and their performance, but to be open to learning. "If you make a bad shot forget about it because the next one is a new chance and that was in the past. Watch and shoot with people that are better or more experienced than you and learn what they are doing well and what they could be doing better." By watching others, you can recognize faults in your own performance or learn new techniques.
Alex has dominated speed events at the two current major events in airgunning, the Rocky Mountain Airgun Challenge and Extreme Benchrest match. More are coming with the inception of the Professional Airgun Federation and it will be interesting to watch this junior continue to grow along with his sport.