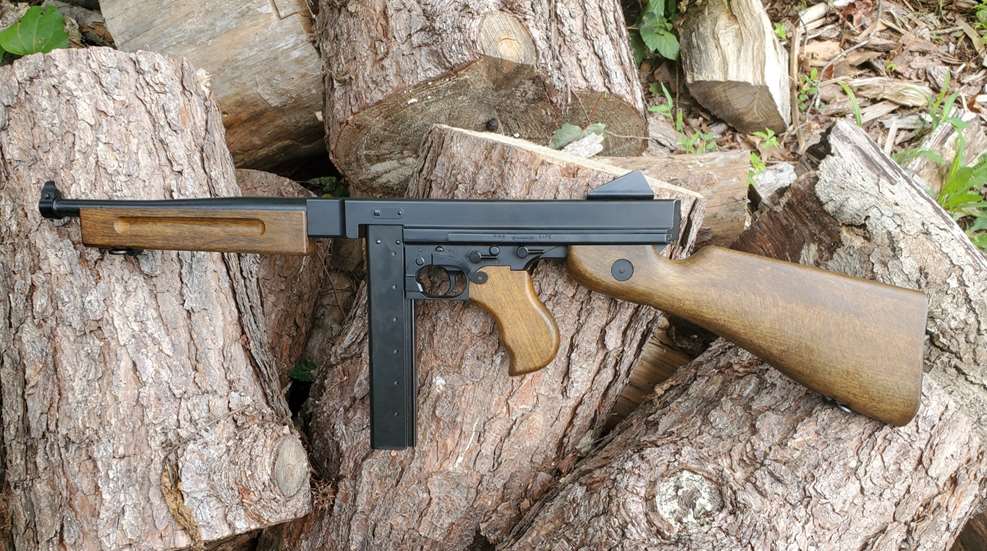 Our next military replica air gun review is of the Legends M1A1, aka the Tommy Gun, available through Umarex. I have heard of this historical piece also referred to as the "Chicago Typewriter," a nickname no doubt earned during Prohibition, when the infamous Al Capone and his gang made criminal misuse of the technology. I have never fired a real M1A1 Tommy Gun, but some other American veterans may have; the gun did see some service up until Vietnam.
This airgun has a very realistic feel and is made of metal, not plastic, although the stock is a good-looking, very realistic faux wood. From what I can tell, the air gun is historically accurate in its composition and features. Let's take a quick dive into the history of the gun that it is based on.
The M1A1 is one of a few variants that was reportedly designed during WW1 by Army General John Thompson with some help from others (this, by the way, is probably where the name "Tommy Gun" came from), and the prototypes were delivered just after WW1. The Tommy Gun saw use in the 20's and 30's by a number of entities to include law enforcement, armored car companies and, of course, criminal elements. Naturally our military, to include the Marine Corps, used them as well.
Early versions had a drum magazine, which only added to the weight of an already heavy gun. The Thompson submachine gun fired .45-caliber rounds. I cannot imagine a drum of .45 rounds plus the heavy weight of the gun while running around fighting a war!
These guns were in service all over the world with various governments and factions. However, firing range was limited and penetration power was reportedly an issue for jungle fighting. The original gun was best suited for short-range use. Standard issue box magazines were either 20- or 30-round, with a firing rate of approximately 600 rounds per minute.
True fully automatic firearms like the "Tommy Gun" are tightly regulated for civilian use, and with no new imports or manufacture allowed, the existing ones cost upwards of $25,000 today. However, the air-powered Legends variant that only shoots BBs is 1 percent of that cost … around $279.
Specifications:
| | |
| --- | --- |
| Action | Full-Auto (or single shot semi auto) |
| Power Source | 2  12 gram CO2 cartridges |
| Caliber | 0.177 |
| Ammunition | Steel BB |
| Capacity | 30 BBs |
| Weight | 7.75 lbs. |
| Front Sights | Fixed |
| Rear Sights | Fixed |
| Overall Length | 31.75" |
| Barrel Length | 12" |
| Barrel | Smooth Bore |
| Safety | Manual |
| Velocity | Up to 435 fps |
Right out of the box I was as impressed as I was with previous Umarex Legend military replica models. The feel and heft of this gun is authentic. The all-metal, no-plastic construction is great. The features on the original gun are accurately copied on this gun to include magazine release, select fire switches and magazine capacity.
I used Hornady black coated steel BBs and found accuracy was quite good at 12 yards. On semiautomatic I was consistently pecking away at a 2-inch group freehand. On a bench, accuracy is a bit better. I noticed that the gun I tested fired a bit low but a slight hold over rectified that. I wish the sights were adjustable, but again, the holdover was minimal and perhaps I am being picky.
The trigger pull is a bit heavy for those of us used to modern rifles. The pull is just under 8 pounds, but keep in mind that this is a "submachine gun," and the trigger pull is supposed to be heavy. I found that while shooting the gun I quickly became used to the pull and had no issues at all firing it. The trigger is smooth despite the pull effort.
The cool factor with this gun is that on full auto and even during semi auto fire, the blowback, while not what a .45 would be, is notable. It gives a realistic feel to the gun being fired. On full auto the gun will leave you grinning and not wanting to share with your buddies, and even on semi auto it has a "seriousness" about it.
When firing on semi auto, I regularly got over 200 shots out of the CO2 cartridges, sometimes 240 if I shot slowly and methodically. On full auto the count dropped depending on how fast I fired off the shots and how fast I reloaded new CO2 (if the gun action is still cold, the shot count seems less). Overall, for 2 CO2 cartridges you get plenty of bang for the buck.
Of course you want to use the full auto feature if you have it, so count on over 150 BBs on full auto, maybe more. My results varied a lot depending on speed and sustained rate of fire.
Another minor complaint or suggestion is that holding the loading tab on the magazine is a bit tough unless you have a strong finger and a bit of a fingernail. If there was a catch slot to hold that back, the loading would be easier. However, the problem is not insurmountable. It just takes some practice to get used to it. By the end of testing the issue was no longer an issue at all. I would also suggest that anyone wanting to fire a lot of BBs often from this gun get a second magazine! It would be very nice to simply drop and swap magazines.
Overall, this gun is a stellar reproduction model and a joy to shoot. I love having it leaning in a corner or on my foot locker when people drop by. The instant interest gets a conversation going quickly. I would heartily recommend this air gun to anyone who is a firearms history buff, who just likes the looks of a Tommy Gun or anyone wanting a genuine, but functional, air gun that has a full auto capacity. BBs are a lot less expensive than .45 rounds. The gun is built to last and the pieces are very well fitted and the attention to detail is very good. This is a high quality air gun worth the money. MSRP $279; www.umarexusa.com