by
posted on March 21, 2014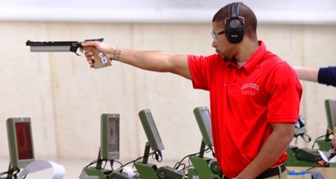 The Ohio State University won its first national championship since 2000 last week at the 2014 NRA Intercollegiate Pistol Championship, held March 8-13 in Fort Benning, Ga.
More than 100 of the nation's top college pistol shooters, representing 16 schools, competed in the event, which was sanctioned by the NRA and hosted by the U.S. Army Marksmanship Unit. The top-scoring shooters from the annual NRA Intercollegiate Pistol Sectionals held in January and February qualified for the championship.
Ohio State captured the team national championship with an aggregate score of 6,310 out of a possible 7,200 points. The United States Naval Academy finished second with a score of 6,259, and the defending-champion United States Military Academy finished third with 6,257.
Propelling the Buckeyes to victory was senior Joe Totts, who won the individual national championship with a score of 1613 out of 1800. Lexi Lagan of the University of Utah earned the individual women's national championship, a feat made all the more impressive by the fact that she's only been shooting competitively for three years.
At the conclusion of the championship NRA named its 2014 All-American pistol teams. Here are the 2014 first-team selections:
Air Pistol First Team
Wyatt Brown, University of Utah, FreshmanChi-Hsuan Chu, United States Naval Academy, SeniorCzerda Frank, United States Naval Academy, SophomoreMichael Nugent, United States Naval Academy, SeniorTimothy Wood, College of Southern Maryland, JuniorAaron Tourigny, The Ohio State University, SeniorAlana Townsend, North Dakota State University, Sophomore
Sport Pistol First Team
Kimberly Hullings, The Ohio State University, SeniorJackie Wu, Massachusetts Institute of Technology, Sophomore
Free Pistol First Team
Jacob Hayes, United States Military Academy, SeniorCzerda Frank, United States Naval Academy, SophomoreMichael Nugent, United States Naval Academy, SeniorTimothy Steinberg, United States Naval Academy, JuniorAaron Tourigny, The Ohio State University, Senior
Standard Pistol First Team
Quentin Cauffman, The Ohio State University, FreshmanJacob Hayes, United States Military Academy, SeniorKimberly Hullings, The Ohio State University, SeniorGarrett Kennedy, United States Military Academy, SeniorJoseph Totts, The Ohio State University, Senior
Interested in participating in the shooting sports while in college? Nearly 300 colleges and universities in the United States offer competitive shooting programs. Learn more about the opportunities that are out there by visiting http://collegiate.nra.org or send an e-mail to [email protected]