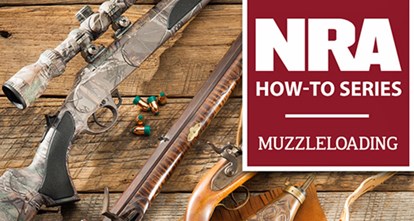 To those who haven't used one before, the world of muzzleloading can appear a dark, mysterious and smoke-filled place.
From black powder and breech plugs to primers and patches, learning how to safely load, fire and clean a muzzleloader can be daunting, if not downright intimidating, to the uninitiated.
But the challenges inherent to muzzleloading also make it extremely rewarding, and just as "modern" breech-loading rifles, shotguns and pistols have made tremendous technological strides over the past century, so, too, have muzzleloading firearms.
For all of these reasons, NRA has made muzzleloading the first installment in a new series of how-to books covering various aspects of firearms and shooting. In addition to muzzleloading, texts on trap and skeet shooting, airguns, competitive shooting and reloading are also planned for the series.
NRA How-To Series - Muzzleloading, developed by the NRA Education and Training Division in collaboration with the National Muzzle Loading Rifle Association, is a comprehensive, back-to-basics guide that covers all aspects of modern and historic muzzleloading rifles, shotguns and pistols, making it an excellent reference text for new and experienced muzzleloader shooters alike. A sampling of the topics covered include black powder, muzzleloader parts and accessories, loading techniques, marksmanship fundamentals, hunting with muzzleloaders and cleaning and storage. Each subject area is enhanced with numerous photos and illustrations, and a helpful glossary at the end of the 134-page guide provides clear, concise definitions of key muzzleloading terminology.
Well-written and informative, NRA How-To Series - Muzzleloading is available through the NRA Program Materials Center for $12. The book is also available as part of the student packet for NRA's Basic Muzzleloading courses. To find a course near you, visit NRAinstructors.org.