by
posted on June 13, 2014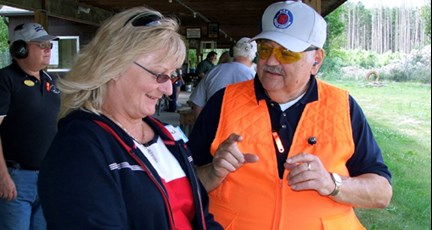 The NRA is widely known for being the foremost defender of our Second Amendment freedoms, and rightly so. However, what many people don't know is that the association was established, as co-founder Col. William C. Church put it, to "promote and encourage rifle shooting on a scientific basis."
Training individuals in marksmanship principles and the safe use of firearms remains a central part of NRA's mission. Through a nationwide network of more than 100,000 NRA-certified firearm instructors, hundreds of thousands of Americans learn how to safely and properly handle firearms each year via NRA's basic rifle, shotgun and pistol courses.
In an effort to reach even more people, NRA has made it a priority, where possible, to offer more training courses online. NRA's popular Refuse To Be A Victim course is now offered online, as are courses on NRA Range Development and Operations and NRA Club Leadership and Development.
That list figures to expand in the coming years, and just recently a new offering has been added to the mix: an online training course for NRA's Range Safety Officer (RSO) program.
Developed in response to the demand for a nationally-recognized range safety officer certification, NRA has trained more than 54,000 RSOs in the knowledge and skills needed for organizing, conducting and supervising safe shooting activities and range operations.
The online course, which combines instructional screens with audio narration, is available to anyone who currently possesses a valid NRA Firearms Instructor certification or NRA Coach appointment. Individuals without a trainer rating must attend the in-person RSO course consisting of both classroom and range time.
"Range Safety Officers are instrumental in helping ensure safe firearm practices during shooting sports activities," said Bill Poole, Managing Director of NRA's Education and Training Division. "This program encourages experienced shooters to learn more about firearm safety and become responsible for the safety of fellow shooters."
Upon signing up for the online course, students have 24/7 access to the program and electronic course materials for 90 days. The course does not need to be completed in one sitting and will save progress if a student exits and returns later.
The course consists of lessons on RSO roles and responsibilities, range standard operating procedures, range inspection and range rules, firearm stoppages and malfunctions, and range safety briefings, which include emergency procedures. Students must complete all six course lessons and a short electronic test in order to become a certified RSO. Once the test has been passed, newly certified RSOs will receive an electronic completion certificate that can be printed or saved to a computer.
To sign up for and access the online RSO course, visit NRAonlinetraining.org.