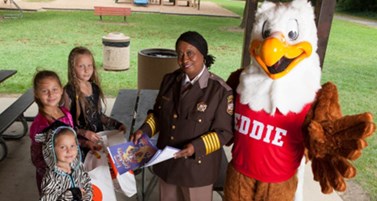 Organized by National Association of Town Watch's Matt Peskin back in 1984, National Night Out is an effort by communities to show the local criminal element that we are organized and ready to push back. From that first night back in 1984, the event has grown into an outing celebrated by almost 40 million people across globe. Everything from candlelight marches to block parties to cookouts and parades are part of the demonstration. As is NRA's Eddie Eagle GunSafe® program.
"We reach out to law enforcement organizations throughout the country with an offer of materials," said NRA National Manager of Community Outreach Eric Lipp. "Something for the kids to enjoy while their parents are taking in the night."
To read the full article, visit NRABlog.com.