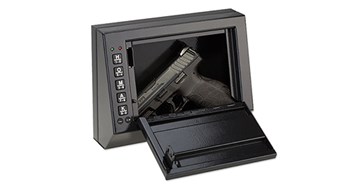 With Christmas right around the corner, many homes are sure to be flooded with friends, family and children.
While it's surely a time to rejoice and celebrate, it's also a time for heightened vigilance. Why is that? Because a lot of the bad guys out there see the holiday season as their most profitable season of the year.
So how do you keep your guns away from guests but nearby to protect the home? With the NRA Store's Quick Access Pistol Boxes. It's important that your self-defense firearm is secure from curious hands, but rapid accessibility is just as essential. Our pistol boxes provide that peace of mind swiftly, simply and safely.
With three different sizes, these can easily be mounted anywhere around the home. Use the small one in a desk drawer, the medium in a closet or the large in a cabinet. Wherever you choose, simply type in your personalized, keyless numerical code and press on the door. It immediately pops open, instantly providing you with the means to protect your home and family.
Made of rugged, 1.5mm cold steel with a powder-coated epoxy finish, our boxes feature rounded corners and flush closures to deter prying. There's even a 9-volt backup battery entry system should your batteries lose charge.
Read the full article at NRABlog.com.