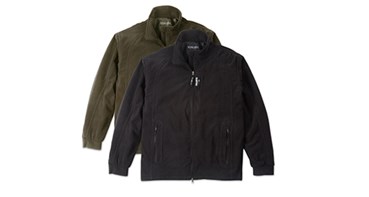 As cooler temps bring concealment opportunities that transcend traditional holsters, the NRAstore is here to show you our favorite new CCW option for the fall.
The brand new Full Metal Jacket gives you four total access points to reach your concealed firearm – two from inside the jacket and two from outside the jacket. This makes it easy, regardless of your size or shape, to quickly, comfortably and safely reach your trusty sidearm.
Access your handgun from strong side exterior pockets that are ultra-concealed with hidden zippers. You can even keep your hand in the ready position, and it simply looks like it's resting in your pocket. Only you know what's ready to deploy if a situation gets dire...you can even fire right through the jacket!
Inside, you'll see cross-draw options on the left and right. We include two universal Velcro®-backed holsters that will hold an extra magazine or flashlight. The concealment plates inside the pockets prevent any printing of the firearm and an integrated internal shoulder harness provides even weight distribution.
Oh, and did we mention this jacket is 100 percent waterproof and windproof? It boasts the first waterproof/breathable fabric system to incorporate seam-sealing technology in 100% fleece – an added layer of protection for your gun. It's also available as a vest!
Visit NRAstore.com for more information and a video on the Full Metal Jacket. Be sure to check out all of our CCW outerwear this season and don't forget to request a FREE catalog!
See more from NRABlog.com.