by
posted on April 6, 2022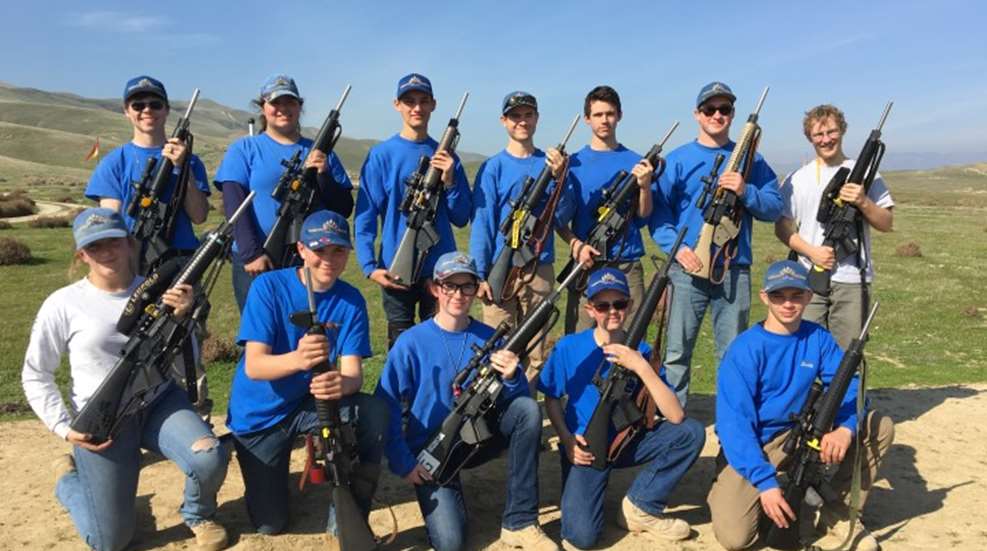 In truth, the California Grizzlies is really a shooting organization, not an actual team. The Highpower Junior program that has brought fame to the Grizzly name is the first and currently only branch of a club dedicated to the promotion of the shooting sports. As a 20-year-old junior team captain, Robert Taylor II saw issues firsthand within the California Rifle and Pistol Association's (CRPA) Junior Highpower Program, and sought a better solution. With the help of his mother, Connie Taylor, and Coach Wayne Fenner, the California Grizzlies was formed to alleviate the previous funding and team selection limitations imposed by CRPA.
"In order to shoot the Nationals, and to shoot as a team at the Nationals, you either have to be a member of a state association, or all have to be a member of the same local club," Taylor said. "The Grizzlies are basically a statewide club that everyone is a member of and in the process of doing that we were able to write our own bylaws. We were able to take to nationals however many people that we want." Under CRPA rules, only eight kids from the state could represent California at the NRA and CMP National Matches. The team was determined by scores at one match, failing to take into consideration talent, luck, technical issues or any other circumstance imposed by a bad day. Though no other disciplines have joined the Grizzlies yet, the 501c3 organization is set up so that there could be a pistol branch, smallbore program, trap team, etc.
Taylor cites the relationship between current and former Grizzlies as a key to success. "They're learning how to shoot, they're learning gun safety, they're learning [their introduction] into competition from juniors who aren't much older than they are…kids are gonna connect with people close to their own age bracket." This is especially valuable in navigating the emotional rollercoaster that all teenagers experience. Even with team members spread across the state, up to 14 hours apart from one another, the team identifies as a family.
Former California Grizzly and current team Assistant Coach Justin George and current Grizzly and Team Captain Loet Van Hoven agree that they feel most like a family at the National Matches and at what they call "Camp O'Connell." Run by Grizzlies coach Jim O'Connell, the team spends a week training together in Coalinga, California every summer. "It shows what we need to work on, what we need to do," Van Hoven reported. George agrees that the experience strengthens those familial bonds, and every year the Grizzlies emerge a much stronger team. "When juniors age out of the Grizzlies, that bond remains for most of them."
One of the largest obstacles the team faces besides distance is strict California gun laws. "All of the kids are shooting featureless rifles that are legal for them to shoot. We want everything to be 100 percent by the books," Van Hoven commented.
Coach Robert Taylor cited his gratitude for alternative service rifle rules. In the early 2000s, the CA Grizzlies team showed up to Camp Perry, Ohio with bolt guns. "We had people protesting us left and right. We're like, 'We don't care, disqualify us. We just want to shoot.'" For anyone who is familiar with highpower, shooting a bolt gun puts someone at a great disadvantage against a magazine-fed AR-15. The fact that the Grizzlies still traveled across the country to compete and to be present at the National Matches, no matter what it took, shows just how special and committed the team is.
The Grizzlies' goal is to be the epitome of respectability, and to set an example for other junior teams and competitors alike. "We all sit in same exact row, we all wear our dress clothes, and we all sit in the awards ceremony. It doesn't matter if we don't win anything, we're there. Every single year we're there in presence," Van Hoven said.
That perseverance pays off. In the highpower world, the name "Grizzly" is often synonymous with winning. In 2009, the California Grizzlies became the first junior team to ever win the National Trophy Infantry Team Match, as well as the first civilian team to win the match since 1930. The Grizzlies team is full of Distinguished Riflemen and High Master service rifle shooters, and it's well-decorated with team awards. In 2019, the California Grizzlies claimed the Minuteman Trophy and the Magnificent Seven, Junior Infantry Trophy.
"My goal was to try to give every kid on that team, that ever shoots on our team, every opportunity that I had," Taylor admitted. "And if I could get every kid on the team that opportunity to walk up on stage and receive a national trophy, and to be able to one time in their life say, 'I was a national champion,' that says something. And has every kid got to go up on stage? No, but I tell you one thing, a lot of kids have. I bet over half of our kids at one point have been able to go up on stage and get trophies. Which not very many teams, not very many kids can say that. And we've had kids go into all four major military academies, we have four kids currently on the Army Marksmanship Unit, I have one that just retired a few years ago."
Taylor stresses that being a California Grizzly is not just about winning, but about being the best one can be, about a support system and sport that gives direction to a kid's life. "They may age out and never really pick up a rifle again and shoot, but if shooting had something to help them get to where they are and they are a working, productive member of society, then I view it as a success."

Want to learn more about the Grizzlies and how to become one? Download their brochure here!