by
posted on October 3, 2018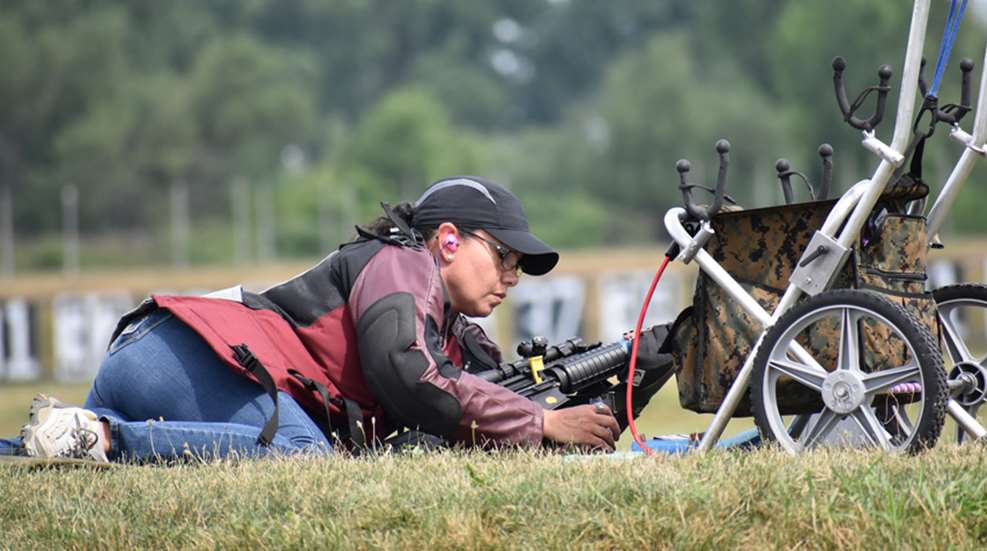 Though some of the most recognized and popular figures in the shooting sports today are women, there are not as many girls involved in competitive shooting as there could be. If one visits the National Matches held annually at Camp Perry, Ohio, one will see firsthand the disparity between the number of female and male competitors. Anyone on the firing line will tell you that women seem to have a natural advantage as shooters. This leads us to the question: Why are there not as many females involved as males?     
Sara Rozanski, now a member of Team CMP (Civilian Marksmanship Program) and an incredibly accomplished high-power shooter, noted that when she shot on the ORPA (Ohio Rifle and Pistol Association) Junior High Power Rifle Team, she was one of six girls on the team. While she acknowledged that "there's definitely a lot more females shooting in general," she agreed that the lack of scholarships is a significant factor in the lack of female participation in high power. Rozanski sums up the sport well, saying that "High power is…not a lucrative sport. You can't get scholarships on it. You don't win a lot of money on it. It's more or less…about shooting the best for yourself and then the prestige of whatever match you're shooting in…you're more or less just shooting for yourself to see if you can shoot better than the time you did before. It's kinda weird. Not many people, I think, go into a sport unless they're kinda getting something out of it other than for themselves, they're either getting money out of it or huge awards or huge notoriety, that's not this sport at all." In other words, if girls are going to pick a shooting sport, many will choose one that will help them in some other way.
Adding scholarships, or finding ways to make the sport more financially rewarding could help attract participants, but it could also detract from the unique community formed by the self-improvement-seeking participants high power naturally attracts.
SSG Amanda Elsenboss (a graduate of the NRA Y.E.S. program) is the only woman on the United States Army Marksmanship Unit (AMU) service rifle team. She grew up shooting with the Connecticut junior team, learning shooting fundamentals through shooting smallbore, before attending a high power clinic. SSG Elsenboss "went to the clinic, instantly fell in love, and [she] was sold from that point forward." Out of approximately 100 soldiers in the AMU, there are only eight women inside of the unit. SSG Elsenboss states, "When you look at the high-power sport, we don't have as many women competing in it." When asked why, SSG Elsenboss offered that perhaps some girls are discouraged from shooting by their families or friends, or they just did not get into it. She also observed that "there's a lot of other sports that cater to women."
Reilly Sutton, a junior shooter from Washington state, noted the differences between girls who shoot high power and girls who shoot other disciplines. (Sutton started out shooting smallbore before transitioning into high power). "The air rifle girls, they get to go hang out in an air-conditioned building with wifi, but we go out there rain or shine, and shoot and walk and get muddy and dirty, and it's hard and we pull pits…it's a little bit more physically challenging…than maybe air rifle. I really can't say from experience because I've never shot air rifle before but from what I've seen there's a huge difference between the two." Though some may say that this is a harsh assessment, the truth is that there are challenges in every venture. Sutton is just one of many high power shooters who has recognized cultural differences between indoor shooting sports like smallbore and air rifle, and outdoor shooting sports like high power. Just as there are those who prefer sailboats to motorboats, and those who like dark chocolate more than white chocolate, there are those who prefer a particular discipline over another. This is not to say that they never mix. Some competitors choose to shoot indoors in the winter as cross training for the summer high-power season. Sutton notes the importance of preference in her own family. "I have a younger brother, but he's not very interested in [shooting]. But that's fine because he's really good at art. We both have our own things and I think that's important." So there may be fewer women and girls involved in high power because they prefer other things. There is also the possibility of fear of association. Reilly reminds girls that they "don't have to act like a boy in order to do 'boy' stuff."
Kristin Schwartz "started wanting to shoot when [she] was about eight to 10 years old." Schwartz was taught respect for firearms, as "[Her] dad had guns and hunted and [she] would sneak the pellet rifle out and shoot snails on [her] garage wall." Schwartz remembers, "I didn't have pellets so I shot them with just air." Schwartz kept up her casual interest in shooting, occasionally joining some friends on their trips to the range. On one such trip she met a young man practicing high power who introduced her to the sport. Schwartz has been shooting high power since 1995, has earned her high master classification and her Distinguished Rifleman's Badge. As for the young man, he and Kristin wed five years after they met. She now coaches the Washington state junior team.
Schwartz struggled to find a concrete reason why there are so few women involved in high power as it appealed to her right away. She countered with the question, "Why don't you see more women in NASCAR or football?" She also toyed with the idea that the name "high power" sounds intimidating.
While seeking out female shooters at the 2018 National Matches at Camp Perry, Ohio, I observed several different levels of involvement. Some women came to watch and to support their husbands and/or children. Some shot with their husbands/children, while others shot alone. In many cases, family was a key aspect to the involvement of women in the shooting sports.
Paula Kawal shoots alongside her daughter Chloe. Paula commented that she "often get[s] people coming up to [her] commenting on how they've never seen a mother/daughter combo competitive shooting before." Kawal and her daughter started shooting in December of last year and journeyed to Camp Perry for the first time this summer. As a wife and mother of three, Paula Kawal recognizes how hard it is for women to find free time. She proposed that a possible explanation for the small number of females involved in high power is that "women are busy with other things… it often doesn't occur to them that this is something they would enjoy doing so they fill their time with other things." Kawal also took her observations outside of the home into the modern political climate. She realized that "many states are making it more difficult to own and handle the rifles used in high-power shooting. Someone unfamiliar with the shooting sports is likely to be overwhelmed by all the hoops you have to jump through to get started." Kawal hopes to one day teach a women's only high-power class to help introduce more women to the sport, as well as to correct misconceptions and lessen fear of military-style rifles.
Omayra Linse, originally from Puerto Rico, started shooting high power when her son Zevin joined the Washington Warriors Junior Team. When asked why there are fewer women than men in high power, Linse partially attributed it to the fact that it is "expensive and really time consuming…as a mother [she] wouldn't be able to do it if [her] son wasn't involved due to the time it takes you away from home." Not only this, but the fact that high power is an outdoor, rain or shine, sun or snow, sport, can deter some women. Linse describes her experience as a female shooter in Washington state as "incredible." Everyone is very supportive and encouraging of Linse's endeavors. She does, however, note that there are some people, as in anything, that will not respond so positively.  Linse recounted, "I have encountered some males that think we don't belong with them and do not take [it] well when we are better shooters than they are…Not many [feel this way] but enough…"
SSG Elsenboss has great advice for those girls hesitant to start shooting, "Don't let the boys scare you, don't let them intimidate you, don't let them try to get the better of you, we're all humans, we all make mistakes, and we're all capable of overcoming those mistakes. So, the biggest thing is to come out and do what you know what you know how to do, or learn how to be better every single day."