by
posted on November 2, 2021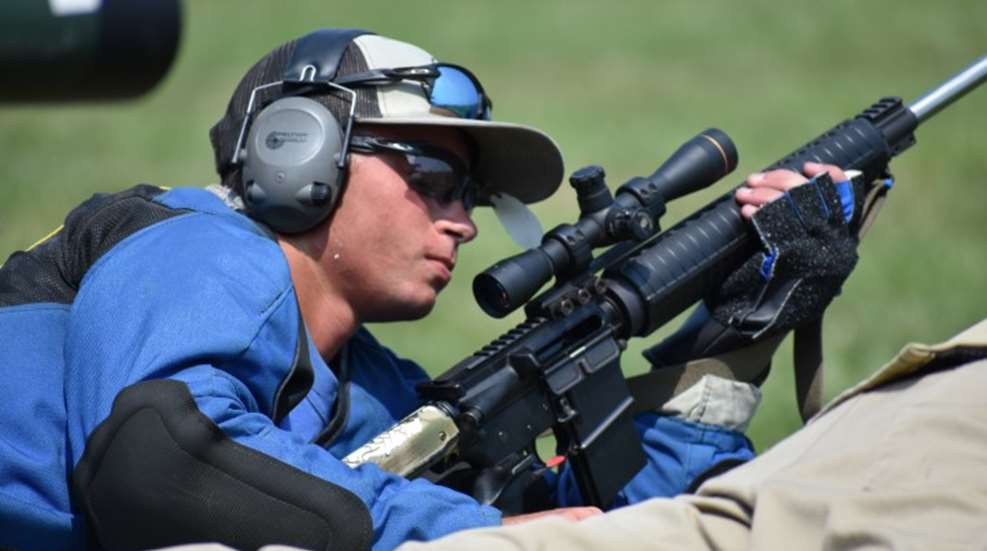 Every family has something that ties them together. For some it's a yearly vacation, for others it's game night, football or soccer. For the Carr family, it's firearms.
Twenty-year-old Dustin "Dusty" Carr of San Diego, California began shooting at age four on family day trips to the desert. Unlike many who start this young, Dusty didn't jump straight into competition. He took a different approach, delving as he grew older into the history of firearms and their mechanics.
"When I was 6, 7, 8, all the way up till I was 16, me and my brother were gun nuts. We were very interested in the history of firearms." Dusty and his twin brother were well known for frequenting local gun shops and ranges, even at those early ages. Guns became Christmas and birthday presents — family vacations centered around what gun shows they could attend.
Load testing with vintage guns came next, under the tutelage of his father, a member of the Navy Marksmanship Team. Though he never forced it on the boys, competition was always in the background. Dusty recalls everyone who ever shot with his father recounting stories of how good he was — Distinguished in both rifle and pistol. Inspired by these stories, at age 16 Dusty entered the competition world, starting with local matches. He participated for a short time in a smallbore program, but poor organization led him to devote his time to service rifle and bullseye pistol.
Though he started competing in both disciplines simultaneously, joining the California Grizzlies took his rifle shooting to a new level. Great coaches and being a member of a team tipped the scales. "I excelled a whole lot faster and further in service rifle than I ever did service pistol," he said.
His early experiences with vintage guns have also contributed to his success in Civilian Marksmanship Program (CMP) Games matches. "One of my first awards that motivated me was when I won the vintage military award at Camp Perry in 2018…It was my first year out there for rifle and I set the new junior national record." It's uncommon for juniors to take such an interest in service rifle, service pistol and wood-stocked guns, much less excel with all three.
Dusty earned his Distinguished Rifleman's Badge in 2019 and has 16 of the 30 points needed to earn both the Service Pistol Distinguished Badge and .22 Rimfire Pistol Distinguished Badge. He aspires to be triple distinguished. He is also classified as a High Master in NRA and CMP high power rifle. Over the past few years, he has also contributed to several California Grizzly team titles and national records.
The year 2021 proved phenomenal for Dusty. He didn't waste one opportunity of his last bit of junior eligibility. This spring he claimed top honors in the All Navy/Pacific Fleet Matches, besting all military and civilian competitors in the combined rifle/pistol aggregate.
At the 2021 CMP Pistol National Matches he was top junior in the President's 100, 3rd place junior in the .22 rimfire EIC match, 2nd place junior in the National Trophy Individual match with a .22 rimfire pistol and high junior in the Glock Shooting Sports Foundation Match.
After just a few days of rest in between, Dusty won the high junior award in the CMP 2400 high power rifle aggregate, made the President's 100 and earned a spot on the National Civilian Elihu Root Team with a score of 497-18x out of 500 — one point and 7 x's shy of first place.
He also helped bring the California Grizzlies to three titles and new national records in the National Trophy Team Match, National Trophy Infantry Team Match and National Trophy Two-Man Junior Team Match (alongside his teammate Amber Kingshill).
In the weekend following these feats Dusty finished out his year as a junior claiming top junior honors in the Springfield Rifle Match, John C. Garand Match, and Vintage Military Rifle Match.
He attributes much of his success to his coaches, advising juniors to listen to your coaches, "no matter how silly their advice might sound." He also recommends doing 60-second holding drills in sets of 10 a few times a week to reduce wobble zone offhand. Marksmanship and guns in general have shaped Dusty's life. Shooting has taught him mental management and how to deal with scenarios under stress, but he believes overall gun knowledge and years of tinkering have also given him a step up. Though service rifle is his first love, he looks forward to improving his skills across disciplines as a member of the Army Marksmanship Unit, aspiring to learn and do his best in whatever he pursues.