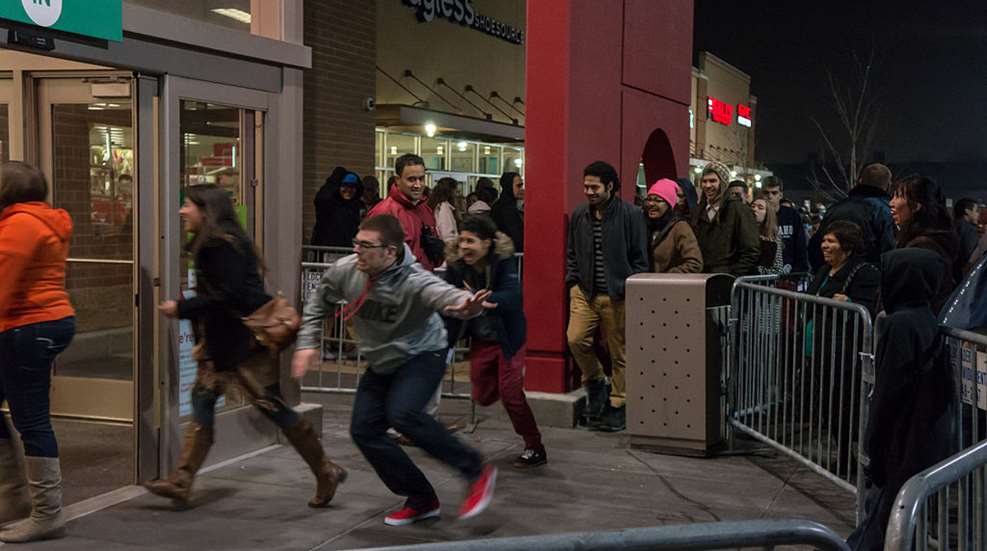 Our list of great sales within the hunting, firearms and outdoors industries. 


• NRA Store
Don't miss Cyber Monday savings at NRAstore.com - Stock up on great gear and get free shipping, when you spend $90 or more. 
• Dickies Clothing
Their Black Friday Sale will have you saving on all pants and jeans for men, women and kids, as well as shirts, outerwear and accessories.
Williamson-Dickie (or Dickies) began as a bib overall company, but today it has grown to be the number one manufacturer of work apparel worldwide. Dickies offers a range of workwear from their staple work pants to women's workwear and chore coats.
• YETI Coolers
YETI Coolers is currently offering free shipping on all coolers, so order now to get give the gift of a cooler built for the wild.
YETI Coolers was founded by two brothers who were sick of the cheaply-built coolers they were forced to buy. So they invented a cooler that could withstand the abuse of the field, water, and everything outdoors. Today, YETI Coolers are the only choice for outdoor enthusiasts, and once you get yours you'll understand why.  
• Bass Pro Shops
If they're not already, set your alarms for early this Friday. Bass Pro Shops is having a six hour, in store only, Black Friday sale. From 5 am to 11 pm November 27th, they'll be featuring out-right steals on drones, outerwear, jeans, accessories, ammo and appliances. In addition, be sure to check in with your local Bass Pro for their free family activities!
Bass Pro Shops offers quality gear, accessories, clothing and much more for the avid sportsmen, but they're much more than that. Bass Pro takes conservation seriously, and partners with and supports the efforts of numerous organizations that work to conserve and manage the nation's natural resources.
• Cabela's
This year, Cabela's is pre-gaming before their online and in-store Black Friday sales. Up until November 25th, they're featuring Pre-Black Friday Daily Deals. Each day different gear, accessories, clothing and more will have be displayed on their website, and it's up to you to order yours before time runs out.
Cabela's started around 1961 and has since grown to be a leading outdoor outfitter. Their unwavering devotion to their customers and to the quality of what they sell, is why that 1961 dream came true.
• Brownells
Check out Brownells sales going on now—or as they've so cleverly called it their "arsenal of deals"! Get up to 45% off rifle parts, handgun products and gunsmithing tools. Save on precision shooting products and don't forget about their ammo sale. Then visit them again on Friday November 27th for their Black Rifle Friday Event for all things rifle.  
Brownells is celebrating its 75th year in business! It's been 75 years of providing customers with the widest selection of products and offering the highest level of customer service.  
• Remington
This Black Friday Sale is really a Black Friday, November 20th to Cyber Monday, November 30th sale. Remington is offering bonus savings through mail-in rebates on a variety of firearms and ammunition. View their sales flyer here and get that Remington Model 700 SPS you've been eyeing.
Remington is one of the nation's oldest continuously operating manufacturers of firearms and firearm accessories and the only U.S. manufacturer of both firearms and ammunition products.
• Apex Tactical Specialties
Starting today through Cyber Monday, Apex Tactical Specialties is offering free shipping on all orders from their online stores. Orders over $100 will receive a free Apex embroidered patch. So find yourself, or your favorite shooter, the perfect drop-in component.
Apex Tactical was created to serve law enforcement personnel, competition shooters and defensive gun owners. All products featured on the Apex site have been thoroughly tested and evaluated by their experienced staff.
• The Mako Group
The Mako Group's Black Friday sale is taking 30% off everything…everything. In addition, all orders are eligible for free shipping. Here's the information, and we think you know what to do with. Yet, be sure to check out their other sales and promotions—you could be enjoying a cigar or free one-year NRA membership.
The Mako Group is the exclusive importer and U.S. distributor of the best tactical equipment and weapon accessories that Israel has to offer.