by
posted on April 19, 2023
Dawn breaks with a pine-scented sigh in the Sangre de Cristo mountains, light filling the high desert and illuminating the faces of the luckiest kids in America as they greet this special new day. It's the Whittington Center's Youth Adventure Camp, and those teens emerging from their nostalgic log cabins are embarking on an adventure they'll never forget. The lessons they learn—marksmanship, sportsmanship, orienteering, wilderness skills, archery, game care and tracking—set them up for success as the ethical and knowledgeable hunters and shooters of tomorrow. One thing is plain: This is no ordinary summer camp.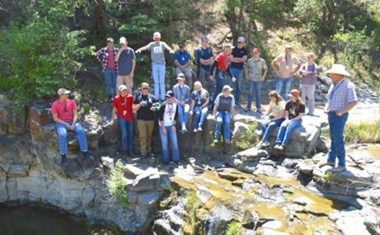 The Whittington Center is the ideal place for young patriots to spread their wings, with over 33,000 acres of wilderness and an astonishing 18 firing ranges. Most of the Center is given over to the wilderness, which teems with mule deer, elk, black bear, wild turkey and pronghorn. Each Adventure Camp begins with several days' worth of expert instruction courtesy of our world-class shooting and woodsmanship coaches. Kids learn the ins and outs of outdoor skills in the classroom and on the range … and then, they leave the cabins and enter the canyon. (Mule Canyon, to be precise!) There, they demonstrate and use their new skills in a full immersion wilderness camping experience. 
It's difficult to overstate the impact that the Youth Adventure Camp has on the teens who've experienced it. They return year upon year, becoming chaperones and instructors themselves for the kids who follow them. "Long story short," says former camper (and current Administrative Director) Kristen Whaley, "ADVC introduced me to family I'd never met, and filled holes in my heart I never knew I had." She's not kidding about the "family" part, either; there are ADVC camp alumni marriages whose own children now attend the Camp!
"Our son Ethan was given the gift of attending ADVC by his grandfather when he was 14 years old," say Carrie and Pat Dawes. "Our son came back a changed MAN." 
It's true: There is nothing like 13 days of camaraderie, patriotism, sportsmanship, respect and the beautiful face of Nature to change a kid's perspective, and put them in touch with what really matters most. It's a step into the wilderness that forges a path to adulthood.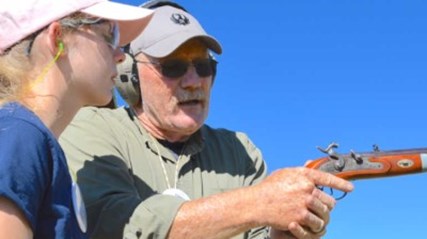 During their stay, each camper can expect to fire over 1,400 rounds in a curriculum that includes long-range shooting (up to a mile); muzzleloading; trap and skeet; pistol and archery, and more. To complete the course and earn their certificates, campers must demonstrate safe firearm handling and sound hunting ethics judgment in a live-fire "walk-through" hunt using steel targets.
The cost of the camp is a mere $1,300, which includes meals, lodging, prizes, expert instruction and equipment for a 13-day session. There are two sessions held each summer, and they sell out very quickly. The NRA Whittington Center is now accepting Youth Adventure Camp applications for 2024, so don't miss out! Entry forms are here!