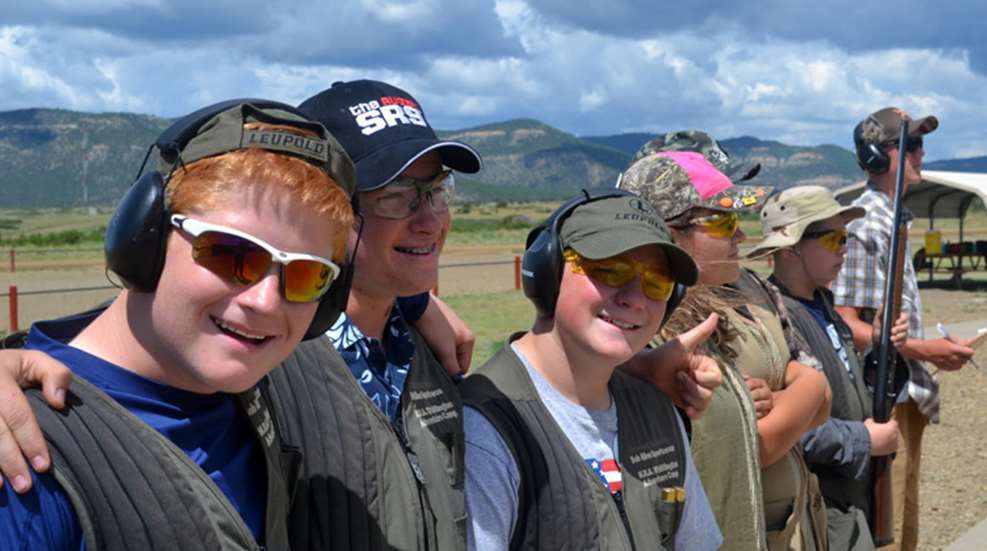 Six years ago, I had an experience that I every teenager should have. At 15 years old, I was heading to New Mexico for the NRA Whittington Center Adventure Camp. Coming from a little town in Maryland, I didn't know what to expect at what I thought of as "gun camp." I knew there would be shooting, campers from all over the country, great instructors and beautiful scenery. But I didn't know about the lifelong friendships I would make, the life lessons I would learn, or that now, six years later, I would be returning to my apartment in Kansas after concluding my second year as the Program Director of Adventure Camp.
In the summer of 2011, I stepped out of my mom's rental car and entered Cabin 6, the orientation cabin for campers at the Whittington Center. I had no idea at the time what an iconic symbol of camp this cabin would become. I was greeted by smiling faces that signed me in, and friendly counselors who made me feel welcome and excited about what was to come. They accompanied me to my cabin, where I nervously unpacked my belongings. I was an extremely shy and self-conscious kid, with very low self-esteem. I asked myself, what was I doing? I had no problem being away from home, but being in a huge group of campers my age would undoubtedly turn into just another place where I kept my head down and tried not to be noticed. I wondered what the next two weeks would be like.
The answer to that question was, in a word, life-changing. I shot more rounds of every discipline of firearm—pistol, rifle, shotgun, and muzzleloader—than I ever had in my life. Archery too. Being a hunter and trap shooter, I thought I was pretty well informed on most aspects of shooting and hunting...I was wrong. The amazing NRA Certified Instructors had me shooting better than ever. All of my friends showed a lot of improvement. A few had never held a gun before; others were champion marksmen in different competitions. Whatever our background was, we all were so excited each time we went downrange and compared our targets and saw our improvement, or when we counted up the number of birds we had broken at the end of a round of trap or skeet. We were competing, but we were encouraging and helping each other too. Those who were more experienced would give advice to beginners. When one person was on the bench shooting, another would stand behind to tell them where they hit in relation to the target, and how they should adjust their shot. By day two, my group of 14 campers became teammates, working together to do their best. That teamwork created lifelong friendships.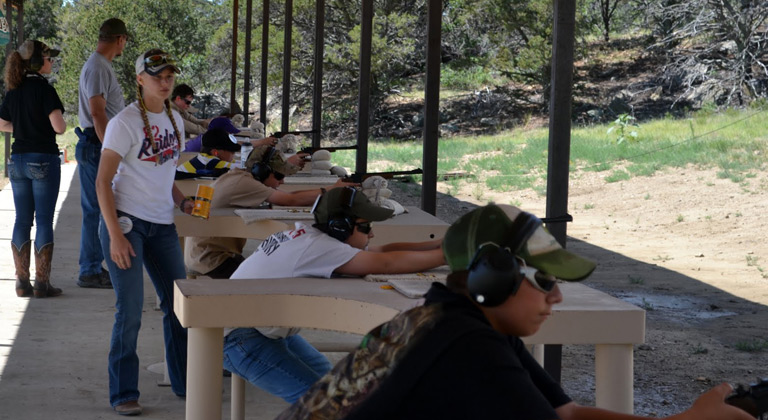 Once we learned the fundamentals of shooting each different discipline, we started our fun shoots. At the pistol range, we shot at cards on their edges and split them in half. At rifle, it was steel targets at unknown distances, followed by the waiting for the ting of the bullet slamming into the metal. We played many rounds of shotgun games like "Annie Oakley" and "Partners." Our friends cheered when we knocked over the steel targets at the silhouette range with muzzleloaders. Our counselors applauded us on the 3-D archery course, showing that our shots would have taken down the foam animals had they been real.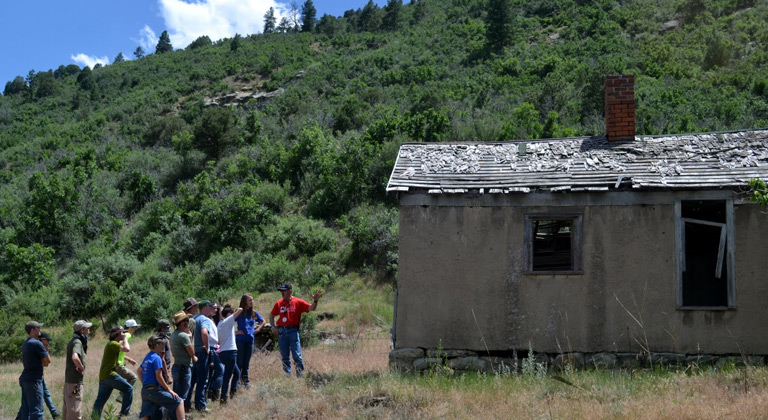 We got to experience a lot of things at Adventure Camp that not many people get to. We shot a .50 cal. BMG sniper rifle at 1,000 yards. We shot the White Buffalo, which is the famous Whittington Center target at 1123 yards, earning the right to buy the "I Shot The White Buffalo" t-shirt in the Whittington Center store. We shot sporting clays on the Whittington Center's beautiful course, and high-caliber pistols at the silhouette range. We shot almost every caliber of firearm you could think of. We explored the beautiful historic town of Van Houten, an old mining town located on the Whittington property. We learned orienteering, outdoor cooking, survival skills, hunting ethics, and wildlife management skills. We earned our New Mexico hunter education card.  We even went on a three-day campout in the gorgeous setting of Coal Canyon, where we used the skills learned to set up our own campsites, cook our own meals, and "hunt" our own game during the simulated walkthrough hunt which tested our marksmanship and understanding of hunting ethics. Through all these experiences, we became more responsible, more mature and more confident young adults. The improvement we saw in ourselves, and that our parents saw in us, was incredible.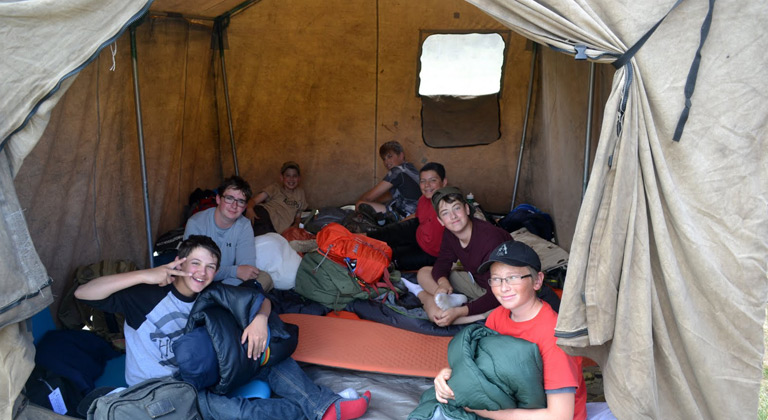 Camp concluded with "banquet": the wonderful, yet heart-breaking evening where prizes are awarded, tears are shed and phone numbers are exchanged. It was the most memorable night of camp—parents attended, and were surprised when we begged them to let us stay for that final, optional night before the mandatory sign out the next morning. We were awarded the best of prizes: guns, bows, knives, cleaning kits, binoculars, etc. After banquet concluded, we spent the whole night hanging out with our friends at Cabin 6. That night and the morning after, there was a lot of crying. I didn't know when I would see my friends again, or when I would get back to that wonderful place where I felt I was meant to be.
I did get back to camp, and I do see my friends whenever possible, though sometimes only once every few years. When I do see them, a favorite place to meet up is the place where we met—Cabin 6. I returned as a camper the next year, then worked my way through the ranks as a Counselor in Training, a Counselor and am now the Program Director. I can't wait for May, when I will head "home" to New Mexico. Because that is what the Whittington Center has become...my home. No matter where I go in life, I look forward to my return. This past summer, I brought my family to camp—my sister was a camper, my mom a staff member and my dad visited for a while when he brought my sister out to her session. There are few things that make me happier than watching campers and new staff members become part of the "camp family," as we call it. But bringing my own family into that group was one of them.
What started as an exciting opportunity has resulted in many things for me: a higher skill level and knowledge in the shooting sports, best friends in every part of the country, a closer relationship with my family, an immensely more confident and outgoing personality and a new course in life. I am pursuing a degree that will better prepare me to work at the Whittington Center and similar places to give other teens the same experience I had. Camp changed my life. I hope to one day change the lives of others in a similar way.  

Images by Beth Wylie