It can be daunting to select an on-body holster to wear that complements the clothes you already own. If you can find a product that holds your carry gun with the wardrobe you already have in your closet, you won't have to purchase big shirts and the next-size-up in pants or skirts in order to accommodate your desire to carry concealed. A belly band is one of the best options to add to your holster lineup if you don't want to go big or stay home.
1. Pistol Wear Trump Card
Melinda Parnell revealed her choice of on-the-body holster wear in a post at the Facebook group called "The Shooting Sisterhood." The groups describes itself as "a group of sisters that believe in the empowerment of girls and women through continuation of their shooting essentials and our 2A rights."
Parnell wears the Pistol Wear Trump Card (pictured below). She likes the fact that it's a couple of inches wide and doesn't roll up like her four-inch belly band does. It can be worn under the arm, inside the waistband or outside the waistband. Parnell prefers to wear it under her arm, in the curvature of her body.  She said, "This this one is softer than most of my shirts. ‪And, the underarm holster has a moisture barrier so my gun doesn't get damp when I sweat … The grip is also contained so it doesn't poke out and print."
Parnell admits it is difficult to draw from this holster – especially when located under her opposite arm – but with practice, she has accomplished that task. It's obvious that Parnell has thought of everything about this type of holster. "The little snap is magnetic, so it's very easy to just brush out of the way and draw your gun, but it's strong enough that the gun doesn't fall out if I bend over."
‪This model comes with an adjustable, sturdy shoulder strap that attaches at both ends with Velcro. "If your gun is a little on the heavy side, you'll want to use the shoulder strap to help support the weight so it doesn't slide down," added Parnell.
A magazine pouch is available as an add-on. The Trump Card comes in MINI and subcompact models, too.
MSRP: $45. Website: http://www.pistolwear.com/holsters/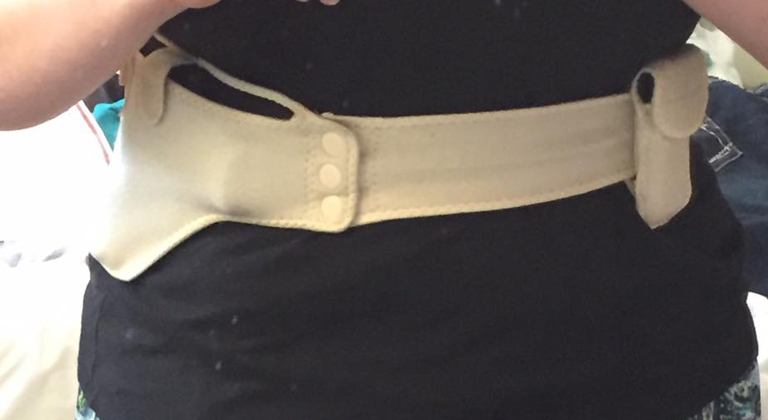 2. The Well Armed Woman Belly Band Holster 
Carrie Lightfoot of The Well Armed Woman raves about the belly band holster—available in 4- and 5-inch models. "The woman's belly band holster is one of the best and most versatile holster options for women and is exactly what we need to effectively carry our firearms with the variety of clothing styles we wear. This is the only belly band exclusively designed for women," said Lightfoot. Since women typically have shorter waists than men do, the typical five-inch belly band doesn't always work, riding up, such as Parnell noted.
This belly band features multiple holsters and pockets and comes with removable retention straps. It is latex free and fits from 18 to 55 inches, and is available in nude and black. Lightfoot advises a person to measure where you think you'll wear it, because "if you have fabulous curves, the size that fits your waist may not fit your hips."
MSRP: $42.99. Website: http://thewellarmedwoman.com/the-well-armed-woman-comfort-fit-4-inch-belly-band
The Well Armed Woman's online store recently added a lace version to its four-inch belly band lineup (pictured below). Lightfoot explained, "It has a beautiful sheen, which makes our belly bands extremely attractive. The elastic lace Belly Band has silky, spandex lining and stretches to fit comfortably so you can wear against your bare skin." Lightfoot continued, "Each band offers two holsters with a removable retaining strap which is made of heavy duty nylon webbing with a 7 ¾-inch Velcro attachment which goes over your gun for safety." It comes in white and black.
MSRP: $48.99. Website: http://thewellarmedwoman.com/holsters/twaw-lace-belly-band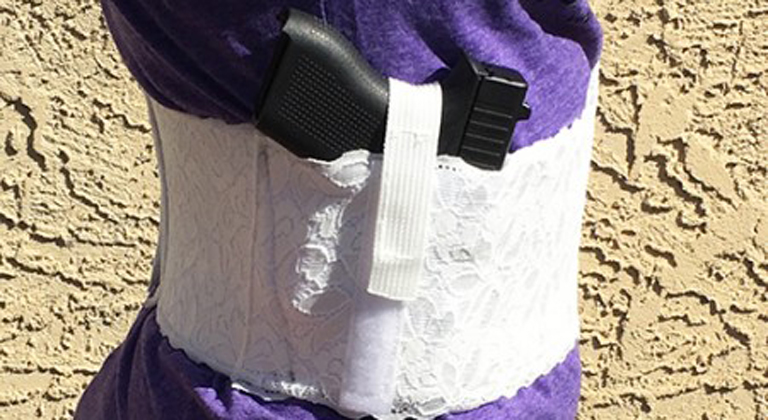 3. CrossBreed Modular Belly Band 
I wear a CrossBreed Modular Belly Band (pictured below). In creating its first Modular Belly Band, CrossBreed Holsters partnered with Rob Pincus, owner of I.C.E. Firearm Training Services. Now, Pincus and CrossBreed have redesigned the original belly band, which added more length to the elastic band so it extends over a CrossBreed Modular Holster. I like the support and feel of this band over my firearm, as there's no room for wobble.
Depending on what I've chosen to wear, I can easily position it either under my chest area or around my middle and under my support arm. The new belly band also comes with a pouch that will hold a magazine or a flashlight. It also features a horizontal hook-and-loop enclosed accessory pouch—for a cell phone, wallet and that most important document, your concealed carry permit. CrossBreed also offers an optional Modular Magazine Carrier to add to this belly band.  
The CrossBreed Modular Belly Band comes in small (29 to 36 inches), medium (36 to 42 inches) and large sizes (42 to 52 inches).
MSRP: $69.95. Website: http://www.crossbreedholsters.com/HotcakesStore/ProductViewer/tabid/113/slug/Modular-Belly-Bands/Default.aspx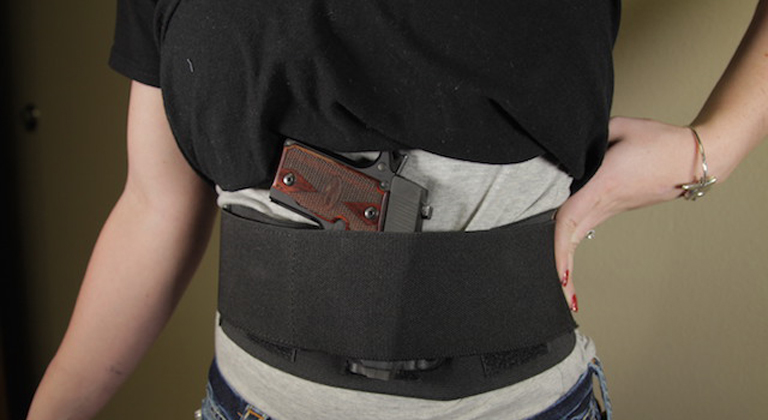 Tips for wearing a belly band
Make sure you measure where you'll wear the belly band. Not all bellies are the same.
You might want to wear a tank top under the belly band, depending on the fabric of the band.
Check the stitching of the band closely. If it starts to loosen up, take it to the alterations shop, or re-stitch it.