by
posted on November 7, 2018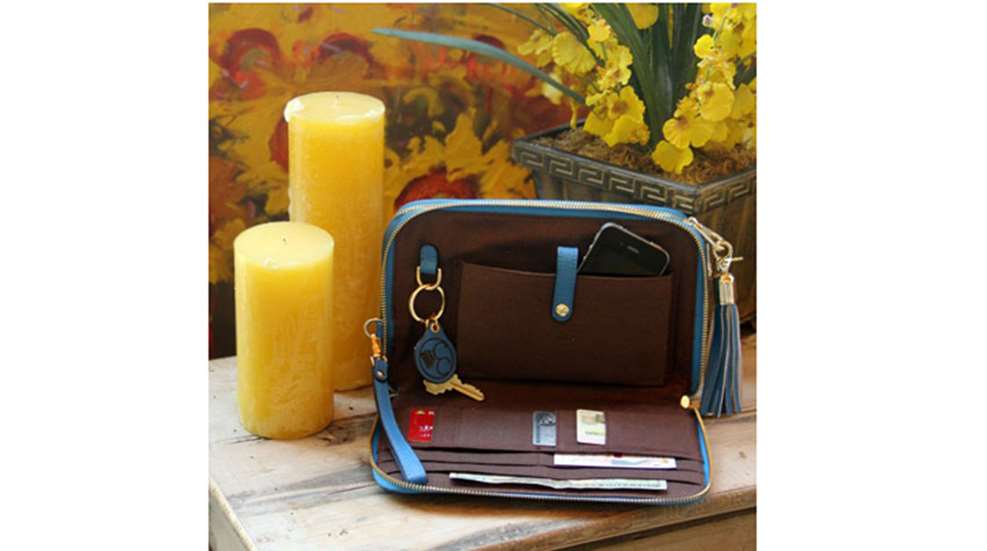 We women get a bit of teasing from men complaining that we have too many bags. While that may be true sometimes, it's funny how our bags are life-saving for them when they need something and we dig into our magical bags and pull out whatever they asked for (be it tissues, floss etc). When the need arises, we're prepared and immediately know that our purse is life saving, especially when the purse is a concealed-carry purse. As more and more women are getting their concealed-carry licenses, more manufacturers and designers work to provide us with a multitude of options to choose from for concealed-carry purses. Whether going for comfort, style, discretion or whatever you can afford, here are just a few options on the market that we love.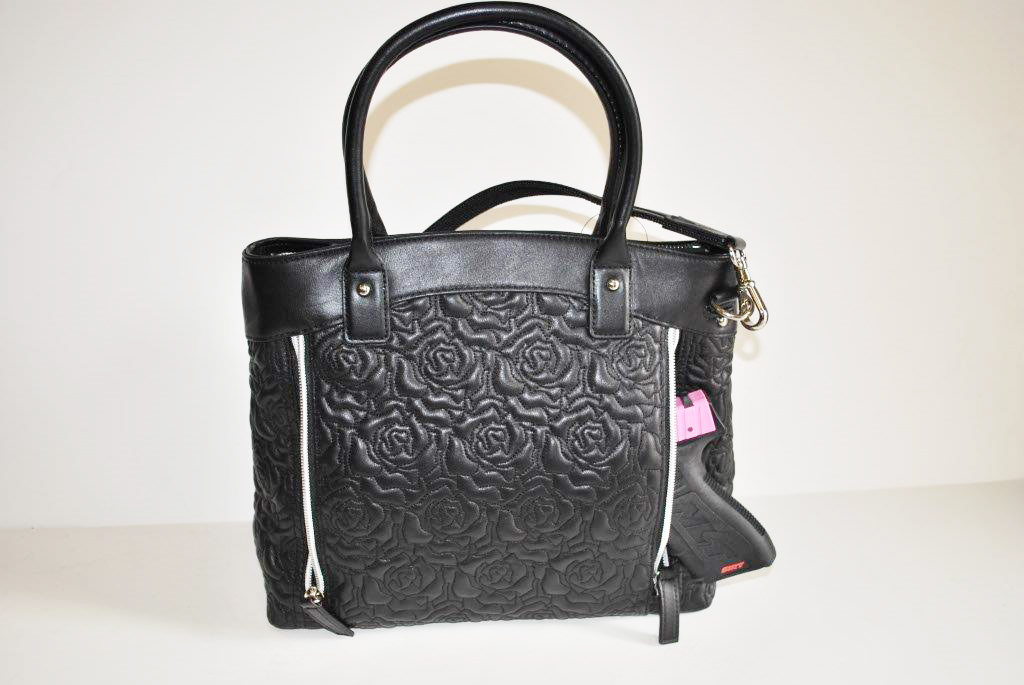 1. The Well Armed Woman Rose Lambskin Tote
Starting out our plethora of options is the Rose Lambskin Tote. This tote is designed for either left- or right-handed use with a CCW outside compartment that zips open on two sides. The purse contains special padding to prevent imprinting and you can adjust the holster, which is included, to your comfort draw angle. The purse can be used as either a tote or shoulder bag with the shoulder strap included. The strap is slash resistant, and the lambskin is soft and durable. Plus, who doesn't love flowers to add a little bit of subtle style? MSRP: $199.99 thewellarmedwoman.com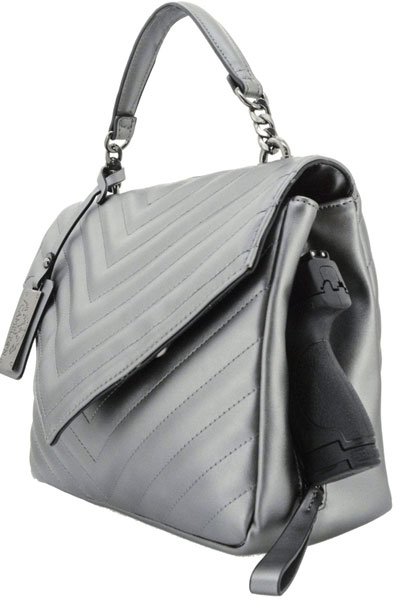 2. Gun Goddess Aria Concealed-Carry Purse
The Aria concealed-carry purse mixes style with versatility with its elegant flap design. Perfect for day or night use as a tote or shoulder bag, the gun compartment is located on the back and has exterior access from both sides as well as interior access—convenient for both right- and left-handed draw. The strap is cut resistant and a universal holster is included. The purse is available in silver or black. MSRP: $99 gungoddess.com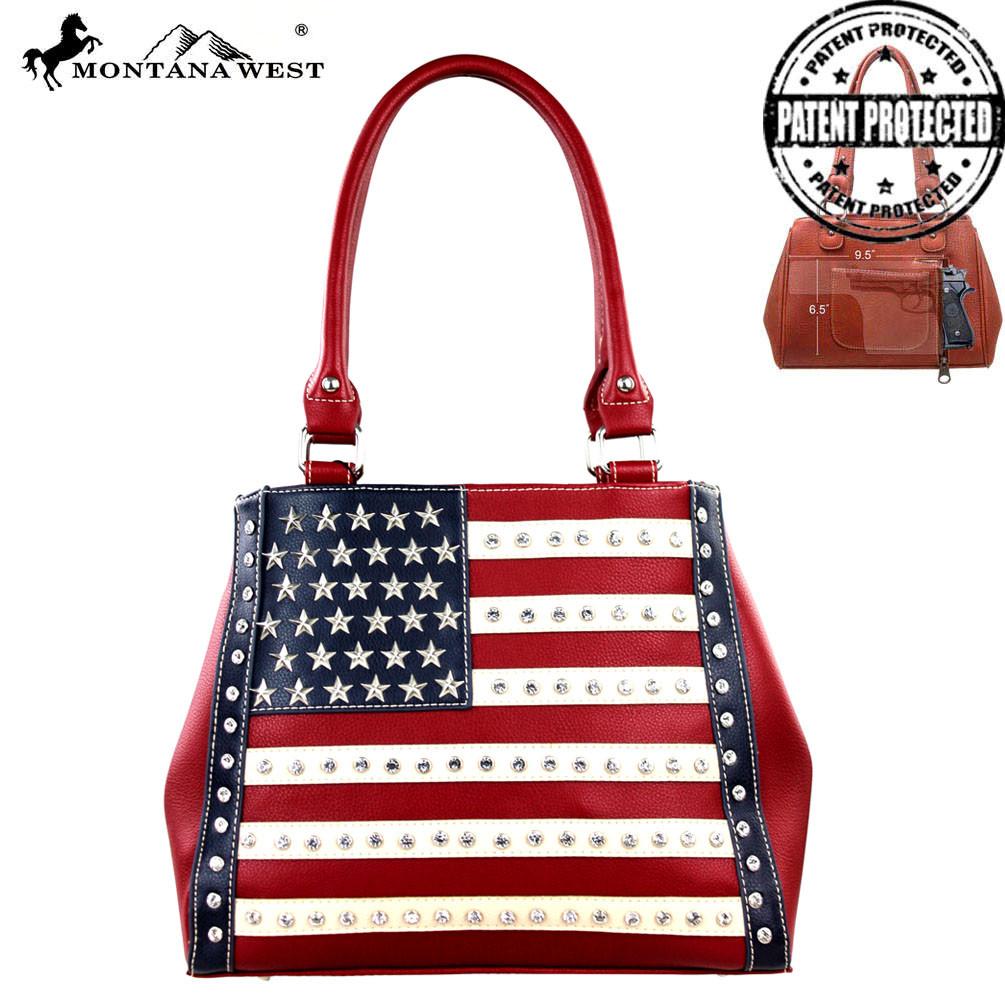 3. Montana West American Pride Concealed Handgun Collection Handbag
If you love America and want to show off your American pride while also exercising your Second Amendment rights, then look no further than Montana West's American Pride Concealed Handbag. Offering plenty of space for personal items and the option of carrying as a tote or shoulder bag, the purse features a zippered pocket on the back to conceal a handgun. MSRP: $54.99 montanawest.com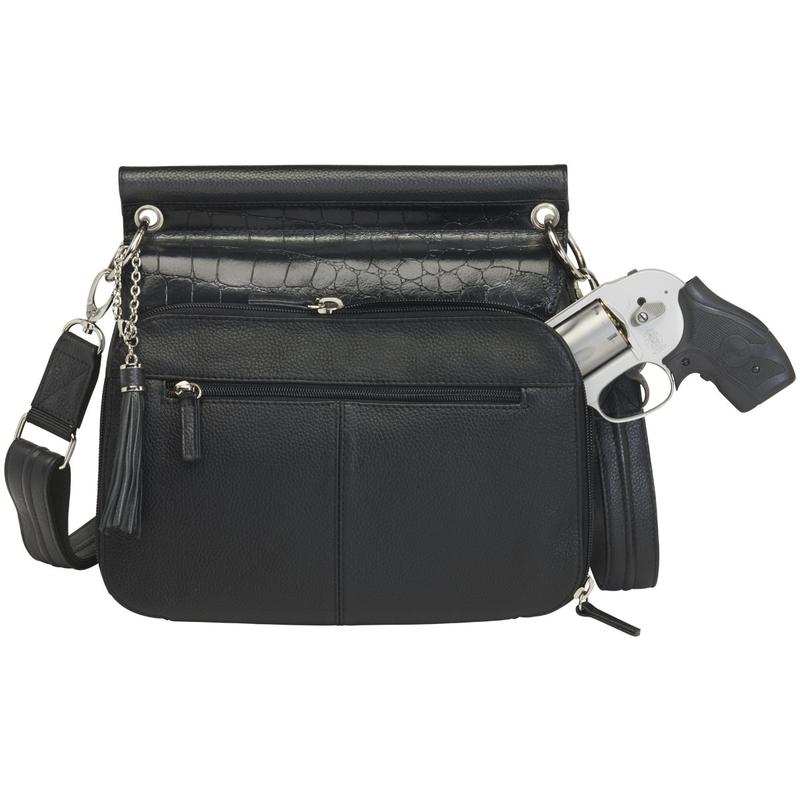 4. Gun Tote'N Mamas Dowel Top Black
This handbag combines two classic leathers for a polished and stylish look while carrying. Designed for right- or left-handed use and offering the option to draw from the side or top, this purse is definitely one to consider. Loaded with features including plenty of zipped compartments for personal items, special padding to prevent imprinting, slash-resistant shoulder strap and an included holster which can be adjusted to your comfort draw angle, you for sure can't go wrong with this sleek black leather handbag. MSRP $139.95 guntotenmamas.com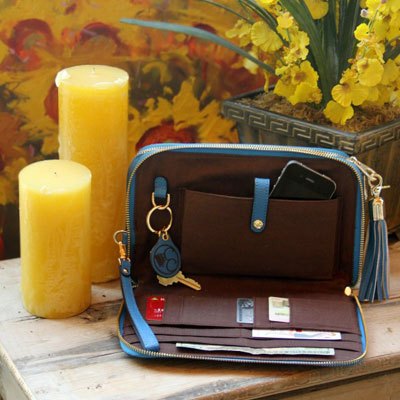 5. Concealed Carrie Cool Blue Leather Compact Carrie
"Grab it and go!" is the tag line for this simple and sleek compact purse. Perfect for a night on the town or to simply head to the range, you can grab this handbag and go just like they say. This purse acts as a wallet on one side while keeping your firearm separate and ready on the other side. Full of dividers on the main compartment for money and credit cards, the adjacent side houses a hook-and-loop-lined compartment that safely stores your handgun. You can use it either as a wrist bag, cross body purse...or simply grab it and go. It will accommodate any single stack compact or sub-compact handgun and also securely hold other self-defense devices such as OC spray. MSRP: $159 concealedcarrie.com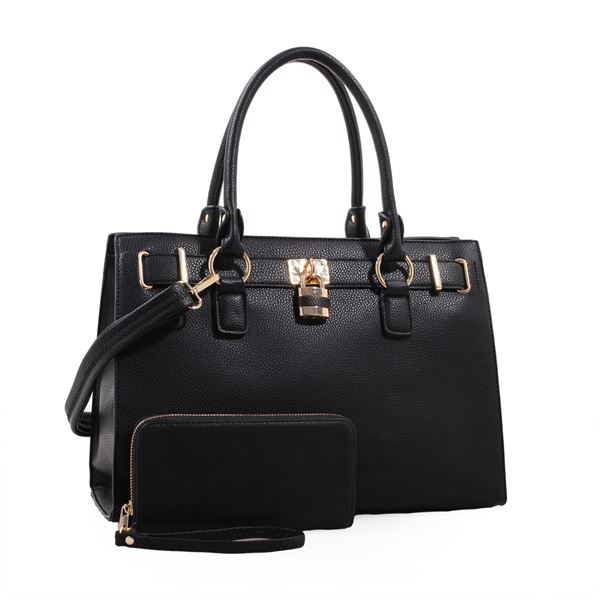 6. Emperia Outfitters Dina Concealed Carry Lock and Key Satchel
If you want a touch of elegance in your concealed-carry handbag, then the Dina is sure to tickle your fancy. The Dina features a separately concealed compartment on the back for your handgun with two zipper openings for right- and left-handed use. The purse also includes a detachable and adjustable shoulder strap, removable holster, matching wallet and a new lock and key feature for safe and secure handgun storage. MSRP: $89.99 emperiaoutfitters.com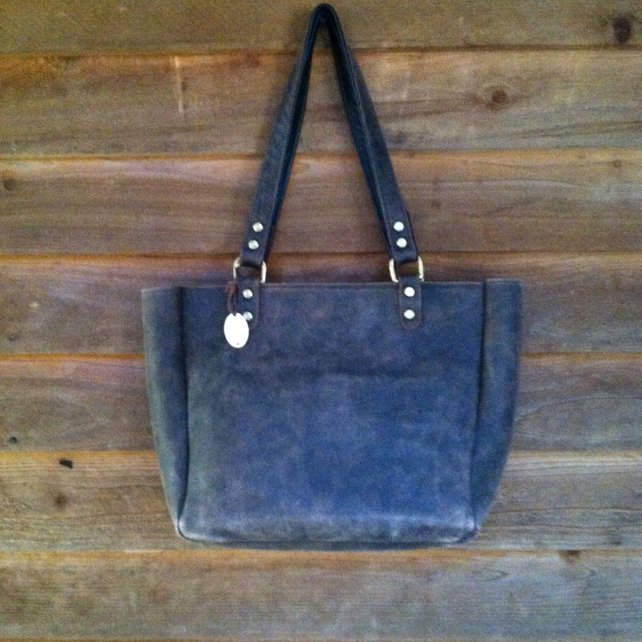 7. TwelveSix Company Come Hell or High Water Series Tote
Handmade by a woman, this concealed-carry tote features a top access holster and extra magazine pocket on one side, and two pouch pockets and one zippered pocket on the other side in the interior. The holster will fit any compact 9mm, .38 Special or similarly sized firearm. Additionally, the exterior of the purse includes one large pocket on the backside. Made from leather, the exterior color is baby blue, while the interior is an espresso. However, if those colors aren't your style, there is an option for a custom order at no additional charge. MSRP: $230 etsy.com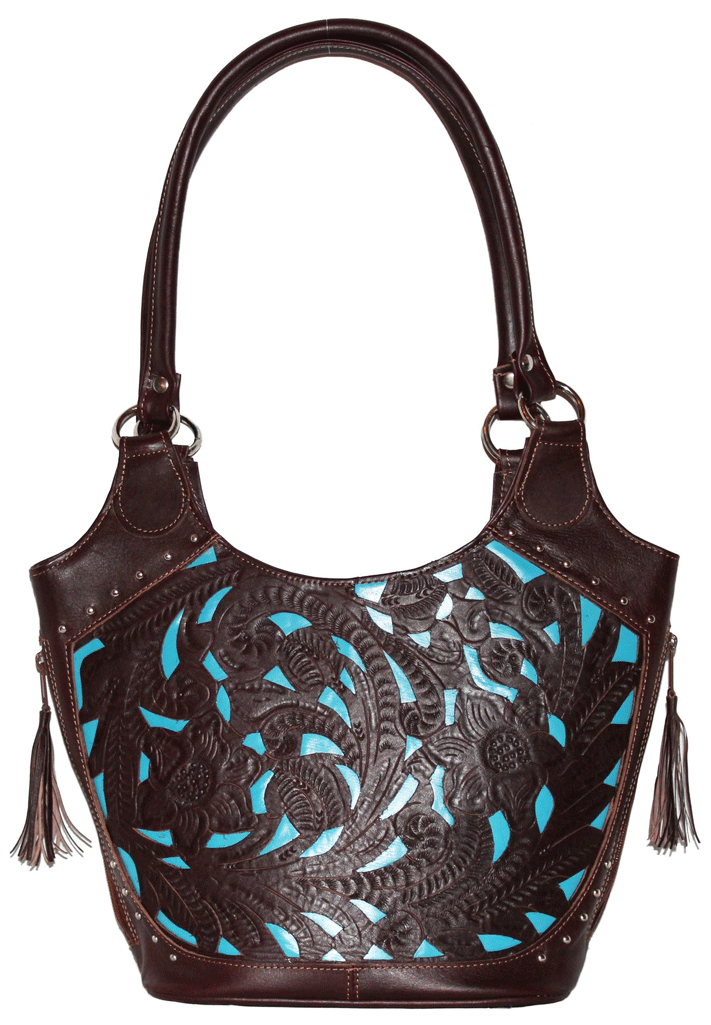 8. Concealed Carry Leather Inlaid Bucket Purse by Ropin West
This exquisite hand-tooled concealment purse is made from genuine cowhide leather and offers three different color combinations. The concealed-carry compartment is located on the back and can be accessed from the right or left side. It will accommodate a large to extra-large frame handgun and an adjustable holster is included with hook-and-loop hooks on both sides for a secure fit in the pouch.  MSRP: $192 itsinthebagboutique.com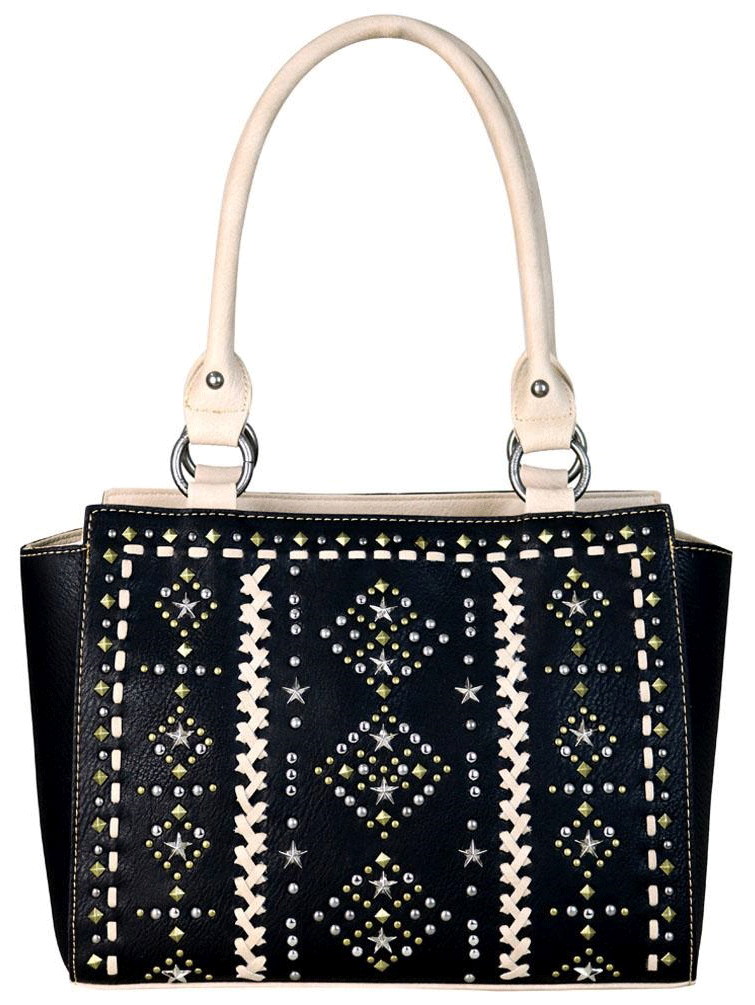 9. The Well Armed Woman Aztec Studded Tote
This purse spices things up with a Southwestern design featuring antique gold and silver stars and studs. You will for sure shine like a star carrying this bag! The zippered concealment compartment, located on the back of the purse, will fit a medium or small holster. A medium holster is included already and will fit guns like the S&W Shield, Kel-Tec 9mm, the Bersa Thunder 380...or anything similar. MSRP: $62.99 thewellarmedwoman.com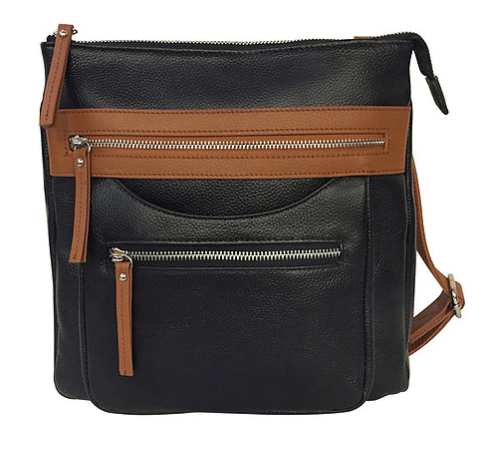 10. Roma Leathers Triple Zip Pocket Concealment Crossbody Bag
Spacious both inside and out, this stylish crossbody purse is sure to be a great travel companion. The purse features two additional zipper pockets on the front side along with an open throw pocket for easily accessible items. The gun concealment compartment is located on the backside and uses durable YKK lockable zippers and includes a set of two keys for added security. It also includes an adjustable and removable Velcro holster inside the compartment that is designed to fit most handguns. The purse is available in either black or grey. MSRP: $65.50 romagunbags.com
So, the next time your spouse or male friend makes fun of you for carrying a purse, remind him how lucky he is...because whenever the need arises, you are always prepared.