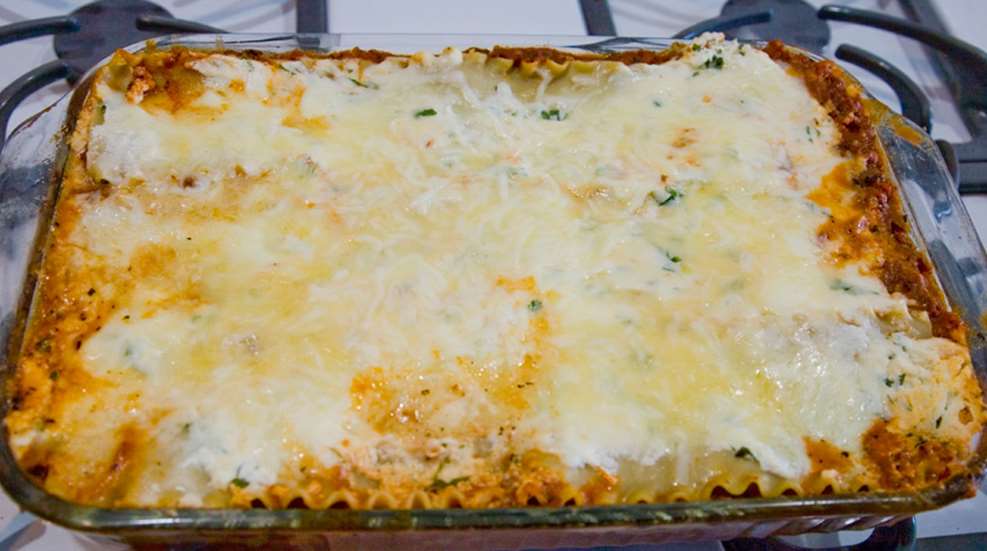 Lasagna, like spaghetti, is one of those dishes that everybody likes. I don't think I have ever met anyone who did not love either. Like most casserole-type dishes, lasagna can be simple or complex. This recipe is moderately complex and probably is a bit more labor-intensive than many other recipes, but the results are worth it.
Most of my recipes can be done over a campfire, and perhaps this one could as well—provided you have a rather large Dutch oven and are very familiar with its heating characteristics, as well as your chosen hardwood coals. A reflector oven would work too. I confess that I have not made lasagna over a campfire, however.
The most time-intensive part of this recipe is the simmering of the meat and tomato sauce. It really needs the full 90 minutes in order to achieve the rich and robust flavor you're looking for. This isn't one of those "set it on a low heat and forget about it for an hour and a half" deals. You'll need to babysit this one, stirring it occasionally to keep it from scorching.
This lasagna refrigerates well for reheating, and if you want it for a camp, it's easy enough to assemble and freeze to be baked later, especially if you have a reflector oven. Let's take a closer look at how to make a killer elk lasagna.
Ingredients
1 lb. sweet Italian sausage
1 lb. elk burger
3/4 cup minced onion
3 – 4 tablespoons minced garlic
1 28-oz. can crushed tomatoes
2 6-oz. cans tomato paste
1 12-oz. can tomato sauce
2 tablespoons brown sugar
2 tsp. dried basil leaves
3/4 tsp. fennel seeds
2 tsp. Italian seasoning
1/2 tsp. fresh ground black pepper
1 cup finely chopped leaf parsley
12 lasagna noodles
16 oz. ricotta cheese
1 tsp. salt
3/4 lb. grated mozzarella cheese
8 oz. grated Parmesan cheese
Directions
In a large pot, boil 3 – 4 quarts of lightly salted water. Add lasagna noodles and boil for about 5 minutes. You want the noodles al dente. Drain the noodles and place them in a baking dish flat and cover with water and refrigerate.
Thoroughly mix the elk burger and Italian sausage. Mix in the onion and garlic. In a Dutch oven, brown the meat and crumble finely, making sure that you do not scorch or overly brown the meat.
Add the crushed tomatoes, tomato sauce, tomato paste, sugar, basil, fennel seeds, Italian seasoning, salt, pepper and 1/2 cup of the finely ground parsley. Simmer on low heat for 90 minutes, stirring it every 3 – 5 minutes to prevent scorching.
In a large mixing bowl add the remaining parsley, 1/2 tsp. of salt and a tablespoon of minced garlic to the ricotta cheese and mix thoroughly.
In a deep (4 – 5 inches) 9 x 12 baking dish evenly spread about 3/8 inch of the meat sauce mixture. Three noodles should cover the mixture. Spread the ricotta cheese evenly over the noodles and cover lightly with some mozzarella cheese; then add another layer of meat sauce. Repeat until the dish is full, finishing the top with grated Parmesan cheese. If you plan on heating it later, cover the dish and either refrigerate or freeze it.
Pre-heat your oven to 375 degrees, cover the dish with aluminum foil and place it in the oven on a cookie sheet to catch any drippings. Heat for 45 minutes. Remove the baking dish from the oven and let stand 10 minutes before attempting to cut it and serve.
A couple of tips: Allow the meat and ricotta cheese to stand until room temperature before mixing the meat or spreading the cheese. The meat will mix easier and more thoroughly, and the cheese will spread a bit easier and more evenly.