by
posted on April 28, 2023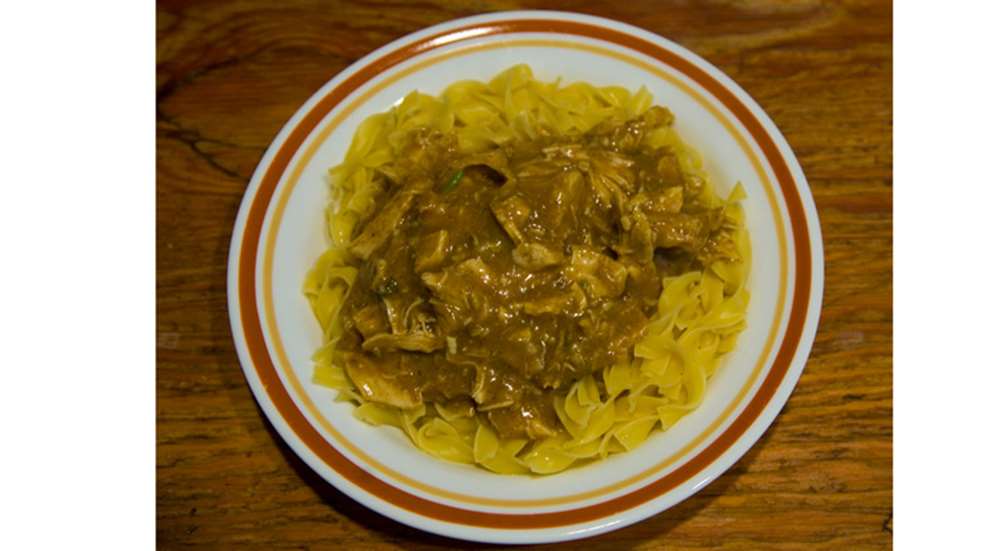 Most of the fall and winter hunting seasons are over now. Many of us are enjoying the fruits of our annual harvest of wild game. Just as with domestic foods, we have to deal with leftovers or scraps. One particularly challenging game animal is pheasants. The breast meat is the prime stuff, and there are countless recipes for this delectable meat. But there are always a handful of scraps. Too many to just toss them in the trash. The same is true with the thighs and legs. While it may be a bit tedious to collect a pound or two of this meat, there are some ways to prepare it that make a very nice meal.
I freeze all of my pheasant scraps. Once I get a couple of pounds assembled I make up a batch of Pheasant Curry. Like a lot of my homebrewed recipes, I got the basics from my mother who—largely because of her Depression childhood—knew how to stretch an ingredient. She would make up a chicken curry when needed, and it was always good.
Here's what you'll need to assemble:
1 tablespoon vegetable or canola oil
1/2 teaspoon black mustard seeds
3 medium onions, sliced thin
Stems from 3 sprigs fresh cilantro, chopped, plus 1/4 cup loosely packed cilantro leaves
1 clove garlic, minced
1-inch piece of ginger, minced
2 cups steamed brown rice or noodles
2 green peppers
2 pounds chicken thighs, skinned
2 to 3 tablespoons South Indian Curry Spice Mix (See recipe below)
2 cups Coconut milk fresh (1 cup thick, 1 cup thin)
Kosher salt
South Indian Curry Spice Mix
1 teaspoon vegetable or canola oil
1 tablespoon coriander seeds
1 tablespoon fennel seeds
1 teaspoon cumin seeds
4 whole cloves
2 green cardamom pods
1/2-inch piece cinnamon stick
1/2 teaspoon black peppercorns
1/2 teaspoon ground turmeric
1/2 teaspoon ground cayenne pepper
1 cup coconut milk, unsweetened
2 cups boiling water
South Indian Curry Spice Mix Directions
Put a small frying pan over medium heat. When it is hot, add oil. When oil is hot, add coriander, fennel, cumin, cloves, cardamom pods, cinnamon stick and peppercorns. Cook the spices, stirring, until they begin to brown and release their aromas, about 30 seconds. Immediately transfer spices to a clean coffee grinder or spice grinder, and grind to a powder (you can also grind the spices in a mortar and pestle). Add turmeric and cayenne pepper and mix well.
Pheasant Curry Directions
1. In a large pot, heat oil over medium heat until it is very hot. Add mustard seeds and let them sizzle for about 1 minute. Add the garlic, ginger, sliced onion and cilantro stems, and cook for 5 minutes, stirring frequently. Add the ground spice mix and continue cooking for 6 to 8 minutes until the onions are very soft, stirring often so that the onions cook evenly.
2. When the onions and peppers are soft and have absorbed the spices, start adding the chicken, a little at a time. Stir the pieces until they're coated with the spices, and then add more chicken. When all the chicken has been stirred in, pour the thin coconut milk over the chicken, add the salt, reduce the heat to medium low, cover and simmer until the chicken is cooked and the potatoes are tender, about 40 minutes.
3. Remove the cover from the pot and bring the liquid to a boil. Boil for 3 to 5 minutes, until the sauce is thickened. Then add the coconut milk and the cilantro leaves. Return liquid to a simmer, season to taste with salt, and serve with rice or over noodles.