by
posted on October 5, 2017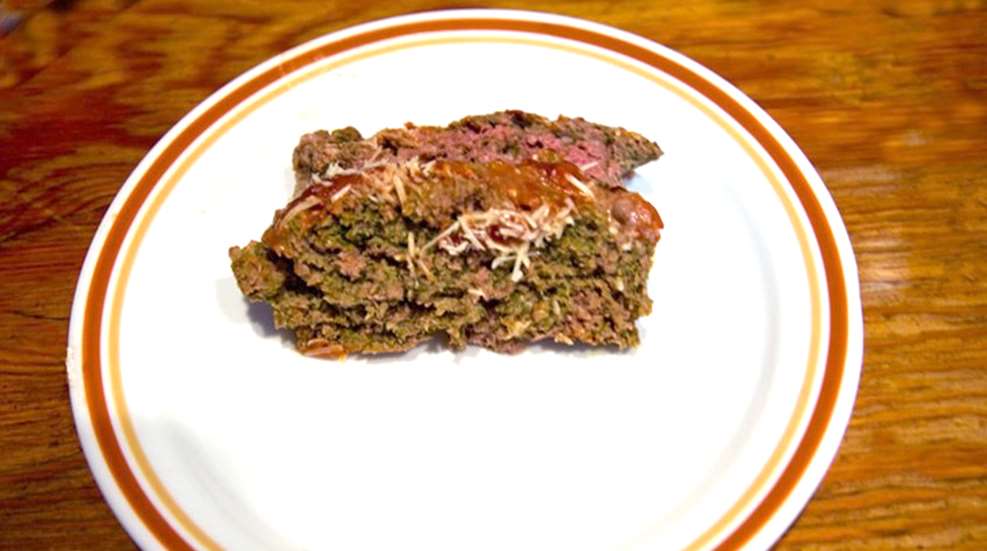 Meatloaf is one of those dishes that probably originated as a way to stretch out a meat supply. It is almost universal in its range and recipe. I started eating it when I was a kid. My mother made it—and made it well, according to some of my childhood buddies. On those occasions when a few would come by for lunch, they almost always asked, "Mrs. Campbell, are you gonna make meatloaf sandwiches?" in a hopeful tone. To this day, I agree that meatloaf sandwiches are the best part of having a meatloaf.
The trick to a good meatloaf is in the binder—those additives that give the ground meat its body. Most restaurant meatloaves have too much bread or bread crumbs. It may make for easier and cleaner slicing, but you can achieve the same end by choosing the right combination of binders. One thing to remember: Don't skimp on the eggs. Most recipes call for one egg; in this 3-pound recipe I use four large eggs mixed well in a blender.
I prefer to start with 3 pounds of freshly ground venison. In years past, I simply ground the venison and did not include any suet—big mistake. Unless your dietary requirements forbid fat completely, I'd advise you add somewhere between 6 percent and 10 percent fat to your ground meat. You can use beef or pork suet, or some I know simply grind up some less expensive pork cuts and mix it into the ground venison. The fat does a couple of things: It adds much-needed moisture and flavor to the venison that might be lacking.
You will also need a meatloaf pan. These look like bread pans with a removable insert. They make cutting the meatloaf much simpler initially, and also provide a catch pan for excess fat—highly recommended.
Assemble the following ingredients:
1 cup of ground bread crumbs
3 pounds ground venison
1 cup fresh grated Parmesan
1 teaspoon salt
1 or 2 teaspoons freshly ground black pepper
1/2 teaspoon seasoned salt, such as Lawry's
1/2 cup finely minced flat-leaf parsley
4 eggs, beaten
1-ounce jar of pimentos
1 cup diced red onion
Tomato Sauce:
1/2 cup tomato sauce
6 tablespoons brown sugar or 2 tablespoons black strap molasses
1 teaspoon dry mustard
Dash or 2 hot sauce (more if you like)
Dash or 2 Worcestershire sauce
For the meatloaf: Preheat the oven to 350 degrees F.
Mix the ground venison, bread crumbs, eggs, salt, pepper, seasoned salt, diced onions and parsley in a large mixing bowl. With clean hands, mix the ingredients in a large bowl until well combined. I find it easier to mix it in thirds or fourths and then mix it all together to get the ingredients well distributed.
Place the mixture into your greased loaf pan on a foil-lined broiler pan or cookie sheet, which will allow the fat from the meat to drain.
Next, make the tomato sauce: Pour the tomato sauce into a bowl. Add the brown sugar or molasses, dry mustard, and splash in the hot sauce and Worcestershire sauce. Stir the mixture until well combined. Pour one-third of the sauce over the top of the meatloaf.
Bake for 45 minutes, and then pour over another one-third of the remaining tomato sauce over the meatloaf. Bake for an additional 20 to 25 minutes; the meatloaf should be no longer pink in the middle. Sprinkle the Parmesan over the top of the meat loaf and allow it to sit 10 minutes before serving.
Another great thing about meatloaf is that it is ripe for experimentation. Try this recipe and then try adding or substituting other ingredients from time to time. I often like things a bit more spicy than some folks, and that's where I began adding some hot sauce to the mix. You can also add peppers, cilantro and other interesting stuff. Bon apetít!