by
Brownells NRA National Youth Shooting Sports Ambassadors
posted on March 20, 2015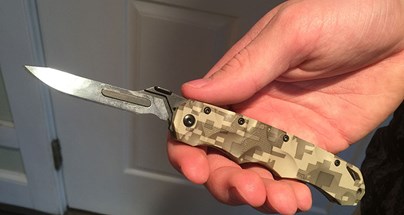 Each year, the NRA invites a number of outstanding youth to join us as the NRA/Brownells Youth Shooting Sports Ambassadors. (The Ambassadors come to us from our co-op partners Boy Scouts of America, BSA's Venturing, National High School Rodeo Association, Royal Rangers, USA Shooting and one youth representing NRA.) What's more, each year, the Ambassadors assist the editors of NRA Family InSights with a dilemma: We may know what we think are the latest and coolest products on offer, but do the youth of today agree? Towards this end, the Ambassadors visit the Shooting, Hunting and Outdoor Trade (SHOT) Show in Las Vegas, Nevada, to let us know what new products interested them the most. Today, USA Shooting Youth Ambassador Hank Garvey is here to offer his opinion on what he found the most exciting. 
Havalon Piranta
The Havalon Piranta is one of the best knives I have ever owned. The blade is unbelievably sharp and continues to still hold an edge after I used it many times. I breasted out a handful of ducks, which did not dull the edge at all. To prove that, I went back and cut some cardboard and the edge was still razor sharp. It handled the cardboard like butter, as if it was the first time I'd used the blade. The knife also comes with a set of replacement blades for when you do dull one. No need to sharpen this knife...just replace the blade. It is very easy to replace the blade; you just need to be extremely careful since they are so sharp.
A knife this sharp needs a grippy handle for safety reasons. Havalon provides this ridged handle with many contours, which is comfortable and stable in your hand.
Overall, this knife is a perfect knife for skinning and meat cutting. I highly recommend it.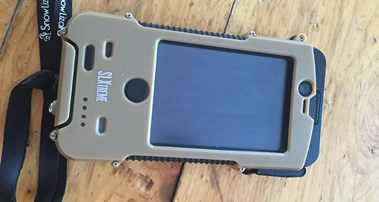 SnowLizard SLXtreme
The SnowLizard SLXtreme is an amazing phone case. The case has a solar panel so it charges itself, and it's virtually indestructible. It can withstand being in the cold. I accidentally dropped it from my roof while I was shoveling snow, and it landed in a snow pile and stayed there for a couple of hours under many shovelfuls of snow. The case and phone were in perfect shape when I finally dug them out again.
The case is also waterproof up to 2 meters, so an accidental drop in a river or ocean while you are fishing will not be a problem. It also comes with a heavy-duty lanyard so you can keep your phone close at all times.
The case is a little bulky to use as an everyday phone case. It is intended for the weekend warrior and will soon become one of your best pieces of equipment for a weekend away from it all.