It's cold outside, and light snow is falling as you huddle inside a small canvas blind while lying on your back. Then you notice small specks in the sky as you begin to hear honking, quacks and whistles. Those small dark specks are now headed your way—get ready! As the specks get bigger, you see that they are geese. It's time for action. You keep your head down and watch the geese approach under the front edge of your cap. When you can clearly see a goose's eyes and bill, you sit up, swing, pick a bird and shoot with your shotgun.
A loud nearby splash in the water indicates a downed bird. You swing and shoot at a second goose that seems to float on air as it tries to determine what to do next. That goose soon plummets to the ground. It's a good day for goose hunters, and a bad day for geese. I must warn you before you begin: Waterfowling can become addictive.
"This is far better than any video game and much better than anything I've ever seen on TV," said young Spencer Gaddis of Cedar Rapids, Iowa. "I just enjoy hunting and being out here with my dad and friends." Spencer's comments came as he was nearing the completion of a limit for ducks and geese in an Iowa farm field on a crisp winter morning. He was not alone.
"I like the shooting, and the action when birds come in," chimed in fellow hunter Brock Donaldson, from Solon, Iowa. Donaldson was also working on taking his limit of birds that morning as the hunters lay concealed in small ground blinds and intently watched the skies.
Professional waterfowl caller and Avery Outdoors hunting gear representative Travis Mueller called and assisted with the hunt as we were concealed in the field. A few hours earlier, we had all worked feverishly in the pre-dawn darkness to place more than 100 decoys around the hillside where our blinds were located.
For some hunters, the thrill is in the attention to detail and planning the right strategy for spreading and organizing decoys on the water or in fields; for other hunters, the fun is working with a hunting dog. Other hunters enjoy the scouting and calling. However you play the game, there are rarely any dull moments afield when ducks and geese are winging across the sky.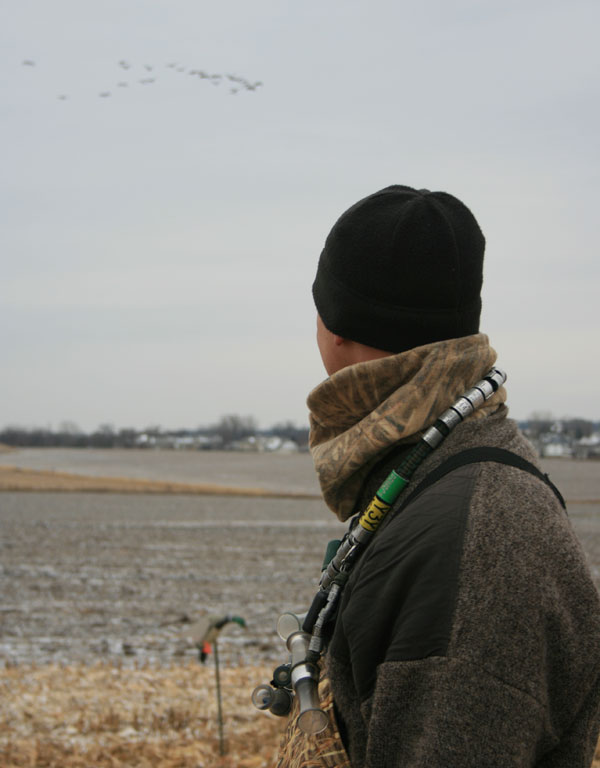 The Waves of Wings
The good news for anyone interested in waterfowl hunting is that you can generally hunt near home because ducks and geese are everywhere, or will be soon. As a rule, waterfowl start migrating in Canada or the northern-tier U.S. states each fall; when cold temperatures freeze open lakes and ponds, ducks and some geese take wing and head south. They'll often pause to feed and rest on the next open water they spot. As the flocks of birds move, hunters discover waves of ducks and geese arriving in their region. Weather determines if you'll have good hunting for a few weeks, or only for a few days. There are many websites that report the migration routes and the status of waterfowl migration information. These can help hunters make plans.
Better news is that Canada geese are everywhere, and this species is now considered a pest in most locations. From ruining golf courses to crashing airplanes, many big honking geese now tend to stay put near where they were born for their entire lives. Yes, some geese migrate, but there are many that stay by open ponds and tailwaters at lakes each winter. Geese that haunt public parks in or near cities are fond of flying out to regional farms to feed during the day, then returning to rest for the day before feeding again just prior to nightfall. Successful hunters scout and note these movements.
Mallards, nicknamed "greenheads," are another popular waterfowl species that is strong in numbers, widespread and fun to hunt. These birds readily come to calls and decoys—and they're tasty.
Bring 'Em In
Decoys that closely resemble live geese and ducks will bring the real thing down for what they assume is a possible meal that other birds are already eating. Combine lifelike decoys with realistic calling, and the ducks and geese will set their wings and drop in for a visit at your site.
You can learn how to call and position your decoys through hunting videos, watching TV hunting shows or by reading books and magazines. Each waterfowl hunting situation is a little different, so the more you know, the easier it is to anticipate where the birds will come from, and what it will take to successfully bring them near your shotgun's muzzle. Plan to hunt where the birds feel comfortable about landing and lingering, and you'll increase your odds for success.
Not only are small ponds and remote lake coves good sites to set out decoys and huddle in a blind, but many waterfowl species will also land in open farm fields after farmers harvest grains. The hungry ducks and geese drop in to eat the leftovers and spilled grains. Ducks and geese are also fond of young green grasses, like winter wheat and rye, that some farmers plant as a ground cover to prevent erosion. In fact, those hungry geese are often considered a nuisance by farmers—so they are more willing to let you hunt their farmland.
State game department websites can also provide clues for places to hunt. Your internet search would also be a good time to check on the required licenses.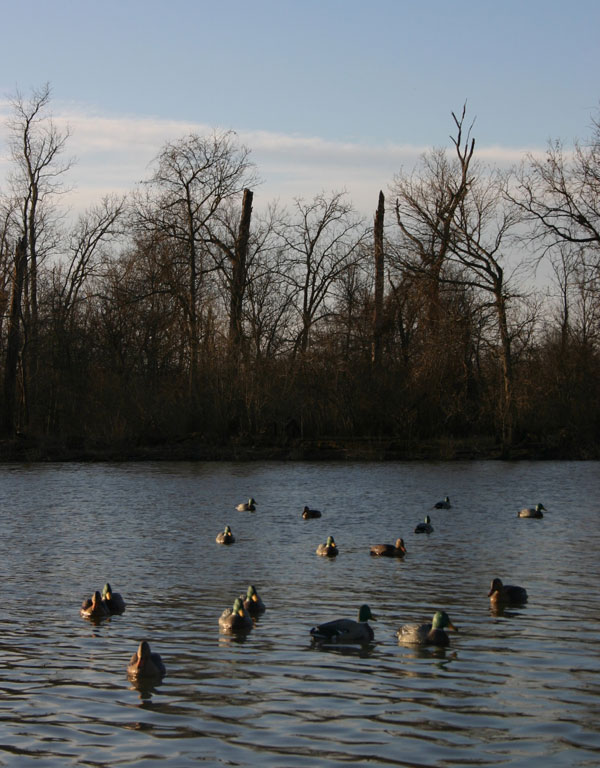 Gear Up to Go
The proper waterfowl hunting gear can help you stay safe, warm and dry. Expect cold, finger-numbing temperatures and dress warmly. Cover your ears with a hat and your hands with gloves. Remember, too, that the right camouflage can help you blend in and avoid detection by the ducks.
Next, be certain to select a shotgun that fits you, and that you can safely operate while wearing bulky layers of clothing. If you hate recoil, consider adding a new recoil pad to increase your comfort, especially when shooting at steep upward angles as birds fly overhead.
You will also need to select the proper shot size and shotshells. Big BBs work best for geese. Most areas now require shot that does not contain lead. Test the shotshells in your shotgun at 30 and 40 yards before you go hunting to determine what type of pattern your shotgun, the choke and the shotshell are creating. After you select the standard hunting gear, now comes the fun part: determining which calls and decoys to buy.
Calls—and learning to use them—are important. In recent years, advances in call designs have made calling ducks and geese easier for most hunters. Many call models now come with instructional tapes or DVDs that give great demonstrations of what the calls sound like, and what they mean. Birds have a language of their own, and you need to learn to speak to them as they fly overhead.
There are many places to buy decoys. You'll need to decide if you want models that float on water, or "dekes" (short for decoys) that sit on stands and are good for placement on land. If you are hunting geese, it's o.k. to toss a few mallard decoys into the mix as you spread decoys around the hunting site. Note also that with all decoy spreads, you should leave an open area just ahead of your blind for the birds to land, and place some decoys atop your blind or just behind so no birds land there. You'll also want to keep all decoys clean of mud and debris, and free of frost on their backs on cold mornings. Waterfowl have good vision, and they will notice if things are not exactly life-like.
One other point to ponder will be the place where you'll hide. The new, small canvas ground blinds are popular with hunters everywhere and comfortable to use. Many ground blinds easily fold and can be carried out into the field. When the birds are within range, you simply sit up and the spring-loaded doors swing open. All you need to do then is raise the shotgun, swing and shoot.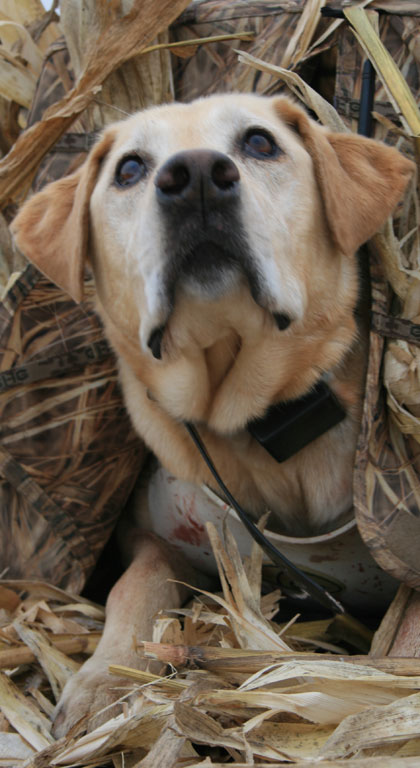 Always Blend In
It's important to pay attention to details at the site where you are hunting. Birds overhead have a great view of your blind, decoys and the area—and they quickly detect things out of place. Don't leave items like shell boxes, gear bags or gun casesout on the ground where they can be spotted by incoming birds. After shooting, pick up shotgun shell hulls. Cover small items with corn stalks and grass if necessary.
If you get hooked on waterfowl hunting, you'll never look at a flock of migrating ducks and geese in the sky with the same thoughts again.