by
posted on September 1, 2022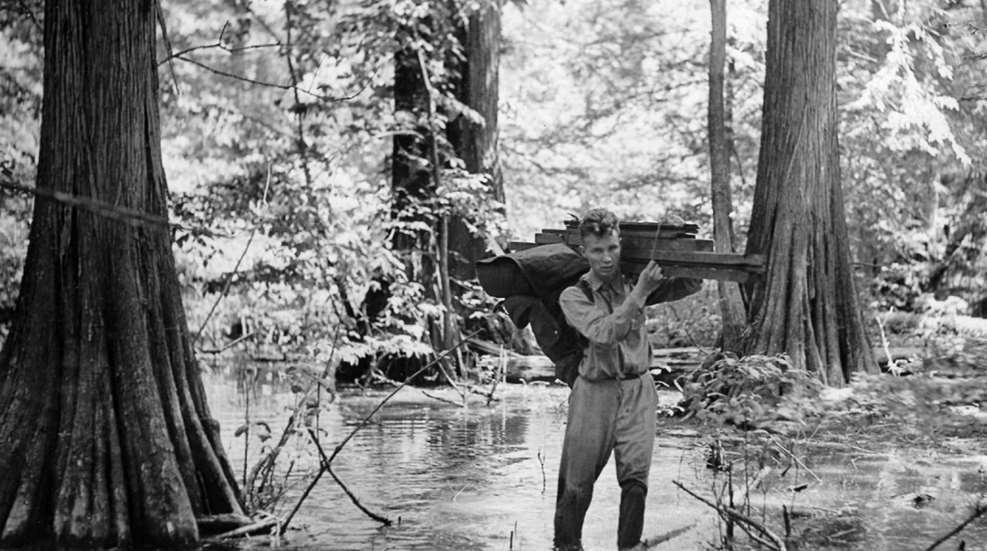 Like most wildlife photographers of the early 20th century—and there were only a handful at the time—Karl Maslowski was a hunter before he became a photographer. "The things I'd learned about hunting animals with a gun stood me in good stead as I began hunting them with a camera," he said.
The son of immigrant parents who arrived in America from Europe in 1911, Karl Maslowski was born in Atlanta, Georgia, in 1913. Two years later, the family of three moved to Cincinnati, Ohio; Karl would call the Queen City home for the rest of his long life.
Karl Maslowski's passion for the outdoors was evident at a young age. Constantly roaming the woods, fields and streams near his home as a kid, he developed an interest in all of nature, not just game animals. And that interest eventually grew into a strong desire to photograph the many wild animals he saw.
It was in 1935, during the middle of the Great Depression, at age 22, when Karl finally scraped together enough money to buy his first camera. A used, bulky Graflex, it cost him $8 and shot black-and-white still photos. But it was a start, and with that camera he taught himself the basics of photography. He also soon learned that the short lenses and slow shutter speeds of such cameras were no match for quick-moving wildlife.
The answer to his problem, he believed, was acquiring one of those newfangled 16mm movie cameras he had been hearing so much about. "But they were just too expensive, and our family was dirt poor," Karl remembered. However, fate sometimes has a way of intervening in such situations.
Ever since age 15, Karl had been hanging out at the Cincinnati Museum of Natural History whenever possible, fascinated by its collections of mounted wild animals. It was at the museum that Maslowski eventually met Christian J. Goetz, a major financial supporter of the museum and head of the Christian Moerlein Brewery in Cincinnati. Goetz's hobby was banding birds, mainly waterfowl—he banded and released some 30,000 during his lifetime—and Maslowski began tagging along with him on banding trips.
One day, Goetz casually asked Karl what type of 16mm movie camera would be best for photographing their banding activities, and waterfowl in general. Maslowski knew exactly what Goetz needed: a Cine-Kodak Special. As a result, Goetz soon bought one of the new movie cameras, handed it to Karl, and told him to "check it out for me, just to make sure everything's working okay." Goetz never asked for the camera to be returned.
"Sadly," Karl admitted, "I didn't realize what that kind, generous man had done for me until years later."
Even though the new movie camera was state-of-the art, it was primitive by today's standards. The focusing screen was smaller than the size of a penny. Winding the spring on the side of the camera ran the camera for a maximum of just 32 seconds, and a roll of film lasted only three minutes. It took longer to load a roll of film than to shoot it. But for the first time in his life Karl Maslowski was now making moving wildlife pictures, and doing so using the world's first commercially available color film, Kodachrome.                     
Other changes soon entered Maslowski's life. He married Edna Hadler in 1940, and together they began raising a family. By 1943, World War II was raging, and Karl was drafted into the Army. He told Edna that since he had to go to war, he wanted to become a combat photographer. She was not pleased. Edna didn't want him anywhere near combat, if that could be prevented. Later in life, their adult son, Pete, a history professor at the University of Nebraska-Lincoln, explained his father's thinking at the time.
"He didn't want anyone to be able to say he hadn't done his part during the war. Dad was a patriotic American."
As a result, Karl Maslowski attended film school with the Army Air Force, became a combat photographer, and safely returned home with invaluable photography training and field experience. It was just what a young man needed to begin a full-time professional freelance career in wildlife photography.
Grateful to be back in the States with his family, Maslowski threw himself into his new career. Always energetic, he let no obstacle stand in the way of getting the wildlife photos he envisioned. For instance, along the shoreline of Lake Erie, he once constructed an 85-foot tower with a blind on top to film nesting bald eagles at eye level. At Reelfoot Lake in Tennessee, he built an even higher tower, 100 feet tall, to photograph nesting cranes, herons and cormorants. The resulting, unprecedented film footage was sold to high-end clients such as Walt Disney's True-Life Adventure Series and turned into wildlife profiles.
Karl also eventually joined the professional lecture circuit, taking his wildlife films on the road nationwide. A gifted speaker with a strong, commanding voice, Maslowski mesmerized his audiences—men, women and children alike—and left them wanting more.
For the Audubon Screen Tour lecture series, Karl joined several other notable natural-history speakers, one of the more famous being Roger Tory Peterson, the field guide creator. For the National Geographic Society, Karl regularly presented his film lectures in Washington D. C.
There seemed to be no limit to his communication skills. In addition to his films, Karl Maslowski wrote thousands of outdoors and nature-related newspaper and magazine articles during his lifetime. The Cincinnati Enquirer ran his weekly Naturalist Afield column for half a century, from 1937 to 1988.
A photo editor of a national magazine who worked with Karl for years described him as "a trailblazer who clearly followed his own outdoor interests." Not surprisingly, Maslowski received many awards during his lifetime. One presenter said of Maslowski, "He interprets to millions the learning of scientists in layperson's language. All aspects of nature have received the scrutiny of his lenses."  
Near the end of his life, while reflecting on his fulfilling career, Karl Maslowski said with a grin, "If I had to come back and live my life over as an animal, I'd want to come back as a red fox. They have outsmarted me so many times…if I had my wish, I'd come back and do the same thing to them!"
Karl Maslowski passed away in 2006 at the age of 92. His son, Steve, carries on his father's legacy as a nationally recognized wildlife filmmaker yet today. And yes, Maslowski Wildlife Productions is still headquartered in Cincinnati. To view Steve Maslowski's recent tribute film to his father, Wildlife Photographer: The Life of Karl Maslowski, click here: https://vimeo.com/668320599.