by
posted on July 6, 2023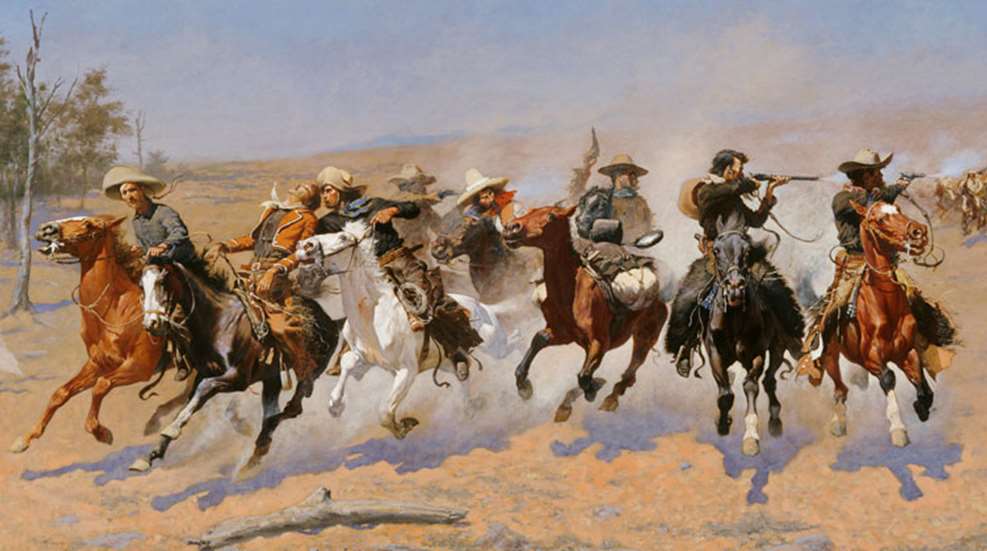 If you have innate art talent—and aspirations to one day become a professional artist—don't give up on your dream too easily. It may take years of hard work to accomplish. Such was the case with Frederic S. Remington (1861-1909).
Born in Canton, New York, located upstate in the Adirondacks, Remington loved the outdoors and painted what he loved. He also loved horses, coming to that affection naturally. His father, Seth Remington, known as "The Colonel," had been a Union cavalry officer during the Civil War.
As a young man Frederic stood a stocky 5 feet, 9 inches tall and weighed about 200 pounds. A bar keeper described Remington as "a bull for size and strength." But Freddie, as he was known, was no bully. Rather, he was quickly liked wherever he went, making friends easily.
One of the places young Remington went was Yale, to study painting at the School of Fine Arts. While there he took advantage of his size and strength by distinguishing himself on the football team of 1879, the team captain being none other than the famous Walter Camp, the "Father of Football."
Remington left Yale after only a year and a half of study, following the loss of his father to tuberculosis. Receiving an inheritance of $18,000, he decided it was time for him to see the American West he had been hearing so much about.
His great adventure did not start off well. He tried sheep farming, then running a saloon, but both enterprises eventually went bust. He then bounced from odd job to odd job, but nothing seemed to fit. Yet what Remington was doing—whether he realized it or not—was gathering hundreds of authentic images of a quickly vanishing Old West. And he was not accumulating those images just in his ever-present sketchbook, but also in his mind's eye. Little did he know that those images would soon be put to good use.
He had an eye for detail, closely studying cowboys, Indians, U.S. Cavalry troops, and the various horses those three groups rode. He once told a drinking buddy that if he could have just one thing recorded on his tombstone it would be, "He knew the horse."
What Frederic Remington eventually realized was that the American West was changing, and changing rapidly. "I knew the wild riders and the vacant land were about to vanish," he said. It's at that point Remington's life work became clear. He would capture the Old West before it was gone, preserving it in paintings for future generations.
Americans of the time were hungry for just such images. Now living in New York City with his young bride, Eva Caten, Remington found freelance work illustrating many of the most popular magazines of the time: Collier's, St. Nicholas, Outing and Century Illustrated, to name just a few. On his introductory visit with the editors of Harper's Weekly, the country's leading magazine, he showed up in full cowboy regalia. As a result, Harper's Weekly published 39 of Remington's drawings and sketches in 1887 alone, and was always asking for more. Three years later, in 1890, the magazine ran more than 100 of his illustrations, seven as double-page spreads.  
In addition to containing authentic detail, another element that made Remington paintings popular was his use of action--an illustration always telling a story. A Dash for the Timber is a prime example. A massive oil painting measuring 4 feet by 7 feet in size, it depicts eight mounted cowboys badly outnumbered and being chased by mounted Apache Indians. The modern-day historian David McCullough writes of the scene:
"The massed riders charge pell-mell, nearly head on at the viewer. Their horses are flying—hardly a hoof touches the ground—and the dead weight of the one rider who has been hit [shot] makes the action of the others, and of the pursuing Indians, all the more alive. The dust flies, guns blaze away, the wind whips the big hat brims. There is no time for second thoughts. It is big action in a big space."   
McCullough concludes his comments by saying that the painting "remains one of the masterpieces of American painting, let alone Western art."
Frederic Remington would ultimately be remembered for his 3,000 drawings and paintings—pen and ink, oils, watercolors—but he also successfully dabbled in writing and sculpture. "Is there anything that man can't do?" a friend exclaimed. By the end of his career he had written 200 magazine articles and two novels. His very first sculpture, a bronze titled The Bronco Buster, was sold at Tiffany's, earning him $6,000 over three years--a tremendous sum of money at the time.
Remington had become so successful by age 28, even a celebrity of sorts, that other artist friends began seeking him out for advice. One of them was a young writer by the name of Owen Wister, who wanted to know how to write a Western novel. Remington wrote in response, jokingly, "Put every person on horseback and let the blood be half a foot deep. Be very profane and have plenty of shooting." How much Wister took that advice to heart is not known, but he would go on to write The Virginian, the first classic "Western" in American literature.
Later in life, Frederic Remington's approach to his art began changing. In trying to impress the art critics of the age—he wanted to be known as a serious artist rather than just an illustrator—he altered his hard-won painting style. Gone was much of the action people enjoyed in his work. And the man who earlier in his career said "No episodes must occur in the dark" began painting night scenes known as nocturnes.     
Remington even went so far as to actually destroy much of his own artwork. In 1907, he built a bonfire behind his studio and burned 75 of his original Western paintings. A year later he destroyed 16 more, paintings that would be worth millions today. "They will never confront me in the future," he said.
By 1909, Remington's lifestyle was catching up with him. A prodigious eater and drinker throughout much of his adult life, he now weighed 300 pounds. Complaining of intense stomach pains, a doctor made a house call and diagnosed Remington with acute appendicitis. An emergency operation was performed on the kitchen table, but it was too late. Remington's appendix had burst and peritonitis had already set in. Frederic Remington lingered for a time but died the day after Christmas. He was 48 years old.
Yet he has left this advice for young artists, "Study good pictures and above all draw—draw—draw—and always from nature." By the way, Frederic Remington was a cousin to Eliphalet Remington, founder of the Remington Arms Company, which is considered America's oldest gunmaker.