by
posted on March 10, 2022
The golden era of double-barrel side-by-side shotguns made in America lasted nearly a century, beginning just after the Civil War in the late 1860s and ending during the 1950s. Since that time, the names of those great old guns have become legendary in shotgunning lore: Parker, Fox, Ithaca, Winchester, Lefever, Stevens and of course, L.C. Smith.
Today, L.C. Smith shotguns are highly sought by gun collectors, clay-target shooters and upland hunters, as well as those who have a special appreciation for firearms history and want to capture a bit of its nostalgia. One of those people is Larry Moore, a longtime outdoor writer and shotgun enthusiast from Jamestown, Ohio.
"Both my grandfather and grandmother in Kentucky shot L.C. Smiths during the very early 1900s," Moore said. "They participated in live-pigeon shooting contests back in the day. Sadly, those guns somehow got away from our family, but it's through that early family connection that I became interested in double-guns in general, and L.C. Smith shotguns in particular. I bird hunt and shoot clay targets with all of the Smiths I own. I've fallen in love with the fit, finish, feel and balance of these finely crafted shotguns."   
Moore currently owns five L.C. Smiths, having sold two from his collection during the past year. "I know some collectors who own 30 to 40," he said. "The joke with gun collectors is that if you own five or more guns of a particular name brand, you're considered a collector; but if you own anything less than five, you're considered an accumulator. That's why I always keep at least five on hand," he grinned. "And I'm always on the lookout for more …"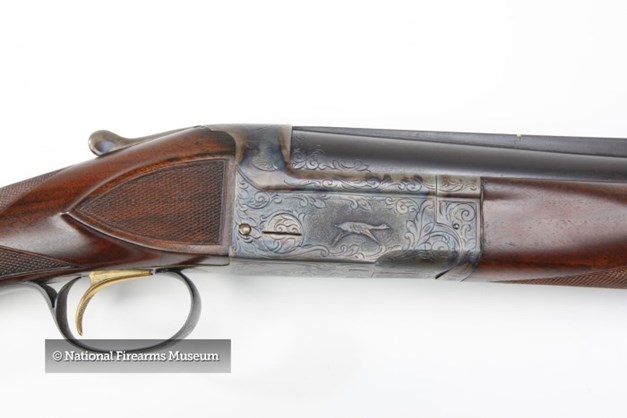 The production history behind the "Sweet Elsie," as L.C. Smith shotguns have come to be known, is complicated. Lyman Cornelius Smith (1850-1910)—not to be confused with Horace Smith of Smith & Wesson fame—was a businessman who first tried his hand at forming a livestock commission in New York City in 1873. The business failed within two years. Undaunted, Smith next tried establishing a lumber company in Syracuse, New York, in 1875. That business, too, floundered, eventually causing him to consider the production of firearms.
In 1877, Smith and his older brother Leroy joined an established firearms designer named William H. Baker, and for the next three years the trio produced Baker-designed shotguns. But in 1880, Leroy Smith and Baker left the company to found the Ithaca Gun Company. They were replaced by the Smiths' younger brother, Wilbert, and a new designer named Alexander T. Brown. The company was then renamed the L.C. Smith Shotgun Company of Syracuse. Their early shotguns had exposed hammers, known as "rabbit-ears," but in 1886 the company produced its first hammerless shotgun, that model becoming its most successful.
Despite finally having found financial success, Smith eventually decided to sell the manufacturing rights to his entire line of L.C. Smith shotguns to the Hunter Arms Company in 1889. Hunter Arms produced the guns until 1945, when the business was sold to the Marlin Firearms Company. Marlin finally ended production of L.C. Smith shotguns in 1950. The brand was briefly revived by Marlin in 1967 before being retired for good in 1972.
In essence, what those various gun manufacturers produced over the years were thousands of L.C. Smith sidelock, side-by-side, double-barrel shotguns in 8, 12, 16, 20 and .410 gauges, in more than 20 grades. What caused the eventual demise of L.C. Smith shotguns—as well as the other double-barrel, side-by-side shotguns of the day—was the increasing popularity of pump-action and semiautomatic shotguns being developed during the first half of the 20th Century. It seemed that shooters and hunters liked having more than two shots, and the new guns were less expensive for manufacturers to produce, increasing profits.
Today, most any L.C. Smith shotgun is worth roughly anywhere from $1,000 to five figures, depending on the condition and grade of a particular gun. "For instance," said Moore, "I was very fortunate to once buy, at a farm auction, a skeet-grade L.C. Smith in excellent condition for $900. I really didn't know what I had until after doing some research. I discovered that the gun was one of just 14 of a particular model. After cleaning up the shotgun and shooting it for a while, I sold it to another collector for several times more than what I had paid for it." 
If you have some extra bucks in your pocket and have an interest in possibly purchasing an L.C. Smith, how should you go about it?  Moore recommends first going online to the L.C. Smith Collectors Association website (https://lcsca.clubexpress.com/) to learn more about the guns. Then begin perusing the many online gun-auction sites offering L.C. Smiths for sale. Moore said that there are still a surprising number of the shotguns in circulation, constantly being bought and sold.
Ultimately, what's the attraction of owning a classic L.C. Smith shotgun? "For me," concluded Larry Moore, "it's the fit and finish, and the fact that they never 'shoot loose.'  Meaning their actions are just as tight today as when the guns were first made. They're a piece of American firearms history that can never be replaced … and the guns only continue to increase in value."
A couple last interesting historical sidenotes about L.C. Smith shotguns. First, the famed female trick-shot artist Annie Oakley (1860-1926) shot more than a few of the shotguns during her many years of trap and exhibition shooting. Secondly, when L.C. Smith sold his gun business, he put the money into a newfangled invention called the typewriter. The "word-processor" of its day, Smith-Corona typewriters became very successful, and as a result L.C. Smith became very wealthy, ending his life as a well-known philanthropist.