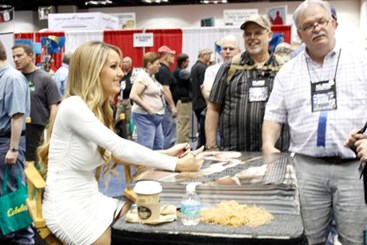 Less than 10 minutes after the doors opened for the second day of the NRA's Annual Meetings & Exhibits, a line stretches around the corner of the EAA booth as attendees await a chance to obtain an autograph from EAA spokesmodel Jessica Bartom.
"She's an accomplished shooter," smiles EAA's Sharon Lacy, "and she's a race car driver, too." I did my best to swallow my envy, asking Lacy to explain how she came up with the vision for the new Witness Pavona line of semi-automatic handguns. Taking a deep breath, Lacy begins, "The simplest of details can be the most beautiful."
She explains that the feedback she had gotten from women shooters was that they were begin pigeonholed into using revolvers because they were not as challenging to use as semi-automatics can be. She charged the engineers to create a pistol with less aggressive slide serrations so that women's hands wouldn't be cut as they racked the slide, as well as a less intense slide spring that doesn't require as much hand strength to work.
But that was just the beginning. "I'm a girly girl," explains Lacy, "but I don't want a pink gun. I want a gun that's unique, and elegant, something attention-grabbing, but with a twist." Hence the polymer-framed line of .380, 9mm and .40-cal. pistols clad in sparkling black, glittering charcoal, mica-flecked purple and others. As she speaks, two show attendees approach, attracted by the display of elegant, polymer-clad handguns. "Go ahead and rack the slide," Lacy encourages.
"Wow, this is so much easier than most guns," she enthuses. "It's perfect."
Sometimes, it really is the simplest of details.
Check out the gun in the video below.