by
posted on June 25, 2014
Generally speaking, the women I know prefer regular guns to the flashy, "girly" guns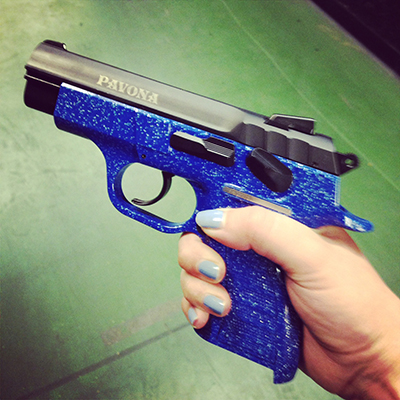 that are marketed to us. However, any gun, no matter the style, that gets more women shooting is good in my book. I hit the range with one such gun: the EAA 9mm Witness Pavona. My first thought when looking at the Pavona is that it looks very similar to the jelly shoes I wore as a child.
I was definitely skeptical about how it would perform. To my surprise, the characteristics I look for in a handgun were all present. Could I easily rack the slide? Yes. Did the gun feel comfortable in my hands? Yes. Was the mag release button accessible without too much grip alteration? Yes. What's more, the felt recoil when shooting both practice and defense loads was virtually nonexistent.
The Witness Pavona was designed specifically for women, by a woman. The Pavona features a sparkling (metal flake) polymer frame with integral checkering and contoured lines, and includes a traditional external hammer. According to EAACorp.com, Tanfoglio engineers fine-tuned the hammer and recoil springs, allowing for smoother function.
For more information, visit EAACorp.com.