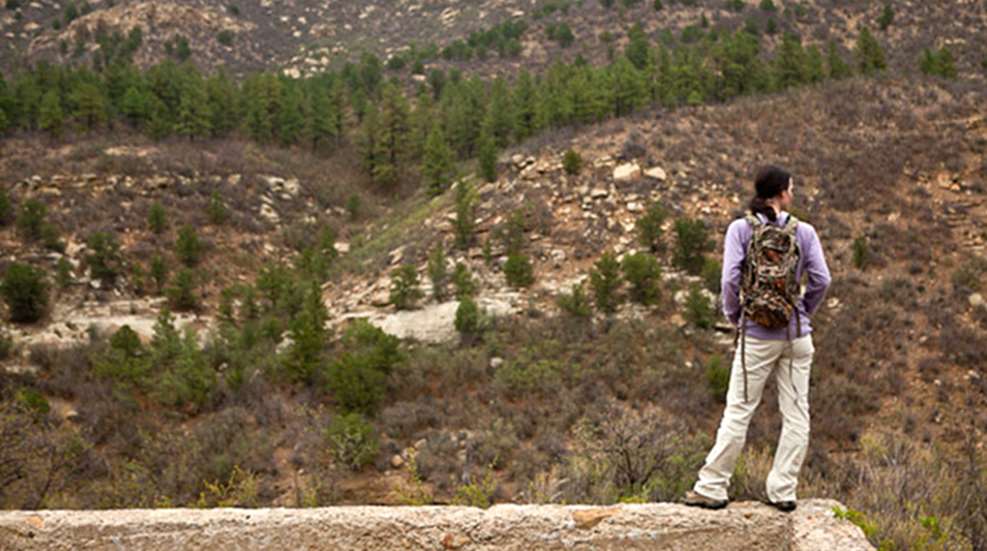 When searching for survival gear to take hunting, camping, or just to keep in your "go-bag" in your car or at home, it can often seem as if the best gear is the most expensive. But don't forget-people have survived the wilderness with gear that's tried-and-true for next to nothing. This list includes items-many of which are basic necessities for hikers, hunters and outdoorsmen alike-which you can find online or at a local retailer for less than $10.
1.)   Light My Fire S-FSSC-4CBS Swedish Firesteel Scout
On the Discovery show "Naked and Afraid" that features survivalists from across the country facing the elements, the contestants are allowed to bring one item. Typically they choose either a knife or some form of a fire starter. The ability to create fire is essential for warmth, for cooking, fending off unwanted critters and more. Rather than risk using a lighter that runs out of fluid or matches that get wet and are useless, a fire starter like the Firesteel Scout is a much better option. This easy-to-use starter lights around 3,000 times for a mere $9. And unlike matches or a lighter, the Swedish Firesteel Scout works in the wet and cold. This product is approved by the international Survival Instructors Association. http://www.lightmyfire.com/products/products/swedish-firesteel-20.aspx
2.)  Tecnu Poison Ivy Scrub
If you've experienced the waking hell that is poison ivy, poison sumac or oak, then you probably already know about Tecnu. As someone who frequents the woods, I've had my fair share of poison ivy, and have tried all manner of ointments. Tecnu is hands-down, the fastest working and most quickly soothing option. The Tecnu Poison Ivy Scrub relieves the pain, while removing the poisonous oils, all for the price of $7 online for a 4 fl. oz. tube that's the perfect size for your hunting pack. http://www.teclabsinc.com/products/poison-oak-ivy/tecnu-extreme/
3.)   Storm Whistle
The Storm Whistle is a useful piece of gear that every outdoorsman should have. In the movie Wild, the main character Cheryl Strayed, played by Reese Witherspoon, uses a similar whistle to scare off an array of night predators that get too close. Scaring away undesirables is just one of the benefits of the storm whistle, which can be heard above the blustering winds of a storm and even underwater. For emergency situations, the Storm Whistle can be heard over a quarter of a mile through the woods and half a mile over open water. The whistle is twice as loud as its regular counterpart, is made in the USA and comes in an array of colors for $9 online. http://www.stormwhistles.com/
4.)    Tear-Aid Repair Patch
Tarps, tents and rafts are all man-made, and that means they are not perfect-they can rip. If you do experience a rip or tear, you'll want to have the Tear-Aid Repair Patch. The patches are made using a matte finish, abrasion-resistant elastomer that stretches and recovers unlike other products, which tend to lift. This industrial-strength patch is airtight, watertight and puncture resistant. The Tear-Aid Repair Patch can withstand moisture, saltwater, UV sunlight and extreme heat and cold. All you have to do is peel and stick the patch to the hole, and it will conform to whatever surface you're dealing with. http://www.tear-aid.com/
5.)  Micropur MP1 Purification Tablets
What could be more important than fresh drinking water? In a survival situation, potable water could be your saving grace. A package for 20 tablets online costs $9.95. Why Micropur over some of the other leading brands? Katadyn's Micropur is the only EPA-registered purification tablet available on the market. Micropur also has a 4.5 star rating on Google's shopping page, which is preferable in a product where taste is a concern. According to user,s there is no unfavorable taste. The tablets are effective against viruses, cryptosporidium, bacteria and Giardia. www.katadyn.com 
6.)  Gerber Shard Keychain Tool
You can't get a handier little tool for $7-even cheaper on Amazon and other online stores-than the Gerber Shard keychain tool. It not only has seven useful functions, but is safe to fly with. The Shard can be used as a pry bar, wire stripper puller, flathead driver, bottle opener, lanyard hole and cross driver. It's lightweight, can be carried anywhere and is made of a titanium nitride coating, making it corrosion resistant. www.gerbergear.com
7.)  Waterproof Medical Kit
Having quick access to medical gear in the field is most definitely an essential. For less than $10 you can get the Ultralight & Watertight .3 Medical Kit, which is good for one to two days in the field. Weighing a mere 2.32 oz., this small kit packs everything you might need on a hunting or camping trip. The kit includes four fabric 1-by-3-inch bandages, two knuckle bandages, two butterfly closure bandages, three gauze dressings, 2 safety pins, one moleskin for blisters or burns, splinter picker/tick remover forceps, two after-bite wipes, two antihistamine pills, two ibuprofen, three antiseptic wipes, two alcohol swabs, ½-inch x 10 yards of tape and a single-use, triple antibiotic ointment. With an MSRP of $9, you can't find a better deal. www.adventuremedicalkits.com
8.)  Emergency Signal Mirror
A plethora of options to signal help during an emergency can be found on the market today-usually for some exorbitant price. Forget the fancy stuff-use a mirror-or better yet use the ultimate survival mirror. The UST Ultimate Survival StarFlash Signal Mirror costs $9.95, is super lightweight and practically indestructible. The built-in precision aiming system can help you find your target precisely, which is beneficial for a situation where you might be easily flustered. The StarFlash works best on a clear day where the sun is above the horizon, but is also effective utilizing flashlights, headlights or even a bright moon to create a signal. The StarFlash is made in the USA, and features a mirror made of 100% Lexan polycarbonate and a targeting star of retroreflective encapsulated bead fabric in a package that weighs just .7 oz. www.knifecenter.com
9.)  UST Deluxe Map Compass
Another great UST product, the Deluxe Map Compass, is just as lightweight and easy to use as the StarFlash. Successfully using this compass will alleviate the need for a signal mirror, and thanks to UST's well-thought-out design, navigating the great outdoors shouldn't be too difficult. The UST Deluxe Map Compass features a break-away lanyard, adjustable marching line, multiple measurement scales for accurate route navigation, an extended clear base plate for map reading and a swivel bezel. For $5.19, this 8 oz. compass could be a lifesaver. www.cheaperthandirt.com
 10.) Coghlan's Bear Bell
If your Storm Whistle happens to break, and you're trying to avoid any bear or cat-astrophes, a Bear Bell from Coghlan is your best bet. The bell attaches to your gear with a Velcro strap, and any movement you make causes a ringing that alerts animals to your presence-similar to a cow. A magnet in the Bear Bell's bag can eliminate any noise.  If you peruse the online reviews of Coghlan's Bear Bell you'll find mixed reviews, but an overall satisfactory rating-and you'll no doubt get a chuckle from some of the user comments. http://www.coghlans.com/products/bear-bell-0425
Whatever you choose to buy, make sure that you test any and all products before relying on them in the field. Even a hike or day trip can turn into a survival situation if you are not prepared!