by
posted on March 24, 2015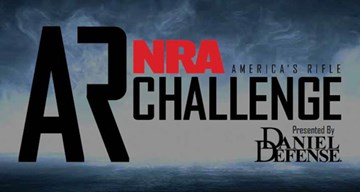 The AR-15-type rifle, also known as the Modern Sporting Rifle, is the most popular rifle in America, and for good reason: Not only are they fun to shoot, but they are extremely accurate, unfailingly reliable and easily customizable with innumerable aftermarket accessories.
Home defense, hunting, target shooting and just plain curiosity have prompted millions of Americans to purchase their first ARs in recent years. But no matter if you are a first-time gun owner or an experienced one, if you are new to the AR platform, you could likely benefit from training on how to operate your rifle.
Recognizing the need for such a training program for AR owners, NRA has created the America's Rifle Challenge (ARC), a recreational training event presented by Daniel Defense that's designed to build safe handling and shooting skills with AR rifles. Hosted by clubs and ranges across the country, ARC events are open to AR owners of all experience levels and are intended to promote proficiency with one's own rifle through hands-on shooting exercises.
If you are interested in hosting or attending an ARC event, please visit arc.nra.org, or contact the NRA Training Department at [email protected] or (703) 267-1500 (option 5).
The following ARC events are already on the schedule for 2015:
May 17
Quinton Sportsmen's Club346 Jericho RoadSalem, NJ 08079Contact: Bruce Harmon, 856-935-9843
May 31
Triangle Sportsmen's Club1200 Triangle RoadBluefield, VA 24605Contact: Terry Owen, [email protected]
June 6
Sangre Shooting Sports Club53003 Colorado 69Westcliffe, CO 81252Contact: Regis Frank, [email protected]
September 20
Triangle Sportsmen's Club1200 Triangle RoadBluefield, VA 24605Contact: Terry Owen, [email protected]