by
posted on August 8, 2023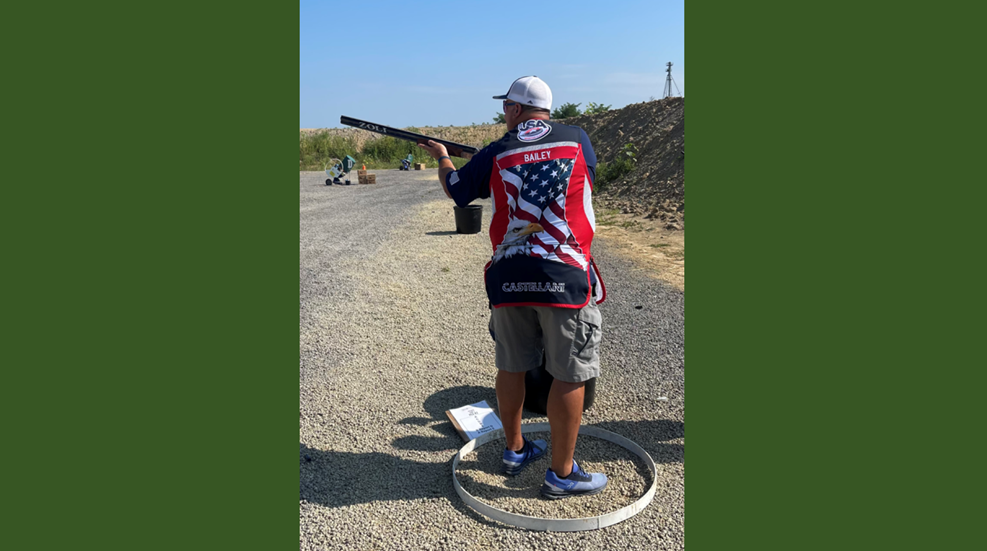 Think you're a pretty good clay-target shooter? The best of the best compete on an international stage, and Dan Bailey of Mt. Vernon, Ohio, experienced that opportunity of a lifetime just last month. He earned a spot on the 25-member Team USA FITASC squad by consistently shooting well during a year-long process of several qualifying events. As a result, he was one of four shooters representing America in the age-55-and-older category at the 45th World Championship, World Beretta Cup Final-Sporting competition in Gant, Hungary, July 13-16, 2023.    
If you're unfamiliar with FITASC (pronounced FEE-task), it's the European version of sporting clays, and simply called "sporting" by the rest of the world. On a FITASC course, also known as a parcour, competitors shoot at a combination of both single and double targets.
"There are more single targets in FITASC than in sporting clays," said Bailey. "And most of the shooting is at distances from 40 to 60 yards, much farther than most American shotgunners are comfortable shooting. At times, there are even a few 70-yard targets, requiring leads of 10 to 15 feet or even a bit more." 
At the recent world competition, competitors shot two parcours per day of 25 targets each, 50 targets per day. They did so four days in a row for a total of 200 targets.
"The courses were set up on huge, abandoned, open-pit aluminum mines," said Bailey. "The terrain reminded me of the abandoned strip mine lands in the eastern U.S. of nearly a century ago, before reclamation. I'd never shot in such rugged terrain in my life. For instance, you'd start at the top of a pit with targets coming up at you from below your feet. Then, as you'd work your way down to the bottom of a pit, the targets were coming over the top of the highwall. It was incredibly difficult shooting."
Bailey also mentioned that, in addition to toting their shotguns, shooters were expected to carry everything they needed for their shoot in a backpack. Unlike sporting clays shooting in America, no golf carts or side-by-side vehicles were allowed for transportation.
"You carried everything," said Bailey, "shotgun, shells, drinking water, snacks and whatever shooting accessories you wanted to take along. Similar to professional golf, competitors are required to walk the entire course, up to a mile at times. And it was just as hot and humid in Hungary as it was in the southern U.S., in the 90s every day. The locals said it was about 10 degrees warmer than normal for that time of year."  
Bailey described traveling with a shotgun in Europe as much more difficult than in the States. "Even though our entire team had filled out the required paperwork online concerning our shotguns ahead of time, an official at the airport still asked us the same questions individually, and there were some 30 people waiting in line in our group. It was very time-consuming, unnecessary and probably cost me $600 in various fees to get my shotgun to Hungary."
In addition to that, Bailey's luggage containing his clothing never arrived. Consequently, he could not wear his Castellani shooting vest during the competition, a team sponsor, as well as his Team USA shirts. His luggage was eventually located by the airlines, but delivered to him a week after he returned home.
All was not frustration, however. Bailey said the opening ceremonies of the competition were held in a large soccer stadium that was absolutely beautiful, state of the art. The various shooting teams from around the world—some 30 in number—paraded into the stadium much like during the summer and winter Olympics. Even Ukraine fielded a shooting team.
"The Ukrainian shooters stood beside us during the opening ceremonies, and were continually thanking us for supporting their country during their ongoing war with Russia," said Bailey. "We took selfies together, and I was never more proud to be an American."
Of the dozen or so age-55-and-older shooting squads entered in the competition, Bailey said his U.S. squad finished somewhere near the middle of the pack. As for Bailey himself, he broke about 75 percent of his 200 targets, a respectable effort but not enough to get him on the medal podium.
"I'm not making excuses for my shooting," he said, "but it was all just so different from what I'm used to. The targets were twice or maybe three times more difficult—faster, farther, higher—the most difficult shooting I've ever seen in my 25 years of shotgunning. And this may sound crazy, but I'll bet a few of those targets were well over 90 yards away and thrown 200 feet into the air. My personal highlight was the parcour sponsored by B&P ammunition where I broke 25 straight targets."
In thinking back over his European shooting experience, Bailey said that if he were to do it again he would arrive at least a week earlier to let his body adjust to the six-hour time difference. For the competition, Bailey shot a 12-gauge, Italian-made Zoli Evo over/under shotgun with 34-inch barrels. Winchester provided the ammunition for Team USA FITASC.
When asked his advice for an American shooter headed to Europe for the first time, Bailey paused thoughtfully then answered, "Be ready for more speed. European targets are thrown much faster than what most North American shooters are used to. I don't think Europeans know how to throw a slow target," he joked.
Bailey hopes to shoot the World FITASC Championship again next year. "My overall experience was phenomenal," he said. "Mainly because it's so different from the way we shoot here in the U.S. Plus, meeting other high-level clay target shooters from around the world and making new friendships was an unexpected pleasure. By the way, the 2024 world competition is scheduled to take place in Wisconsin, USA."          
Dan Bailey is not only a professional shotgun competitor, but also a professional shooting instructor and the owner of Eagle's Nest Sporting Grounds located in north-central Ohio. If you're ever in the Buckeye State and would like to shoot at his club, featuring 140 Promatic target machines set on sporting clays, FITASC, and five-stand courses, details can be found here: www.eaglesnestsportinggrounds.com.